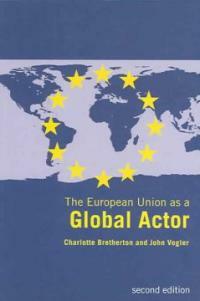 000
01647camuu22003618a 4500
001
000045331314
005
20090326095003
008
050620s2006 nyua b 001 0 eng
010

▼a

2005017285
020

▼a

0415282454 (pbk.)
020

▼a

0415282446 (hbk.)
020

▼a

9780415282451 (pbk.)
020

▼a

9780415282444 (hbk.)
035

▼a

(KERIS)REF000011489694
040

▼a

DLC

▼c

DLC

▼d

DLC

▼d

211009
042

▼a

pcc
043

▼a

e------
050

0

0

▼a

D1060

▼b

.B735 2006
082

0

0

▼a

341.242/2

▼2

22
090

▼a

341.2422

▼b

B844e2
100

1

▼a

Bretherton, Charlotte.
245

1

4

▼a

The European Union as a global actor /

▼c

Charlotte Bretherton and John Vogler.
250

▼a

2nd ed.
260

▼a

New York, NY :

▼b

Routledge ,

▼c

2006

▼g

(2008 printing)
300

▼a

273 p. :

▼b

ill. ;

▼c

24 cm.
500

▼a

"Simultaneously published in the USA and Canada."
504

▼a

Includes bibliographical references and index.
505

0

▼a

Conceptualising actors and actorness -- Nature of the beast: the identity and roles of the EU -- The EU as economic power and trade actor -- Environmental policy: the Union as global leader -- The EU as development and humanitarian actor -- Candidates and neighbours: the Union as regional actor -- Common foreign and security policy: -- a political framework for EU external action -- The EU as a security community and military actor.
651

0

▼a

European Union countries

▼x

Foreign relations.
651

0

▼a

European Union countries

▼x

Foreign economic relations.
700

1

▼a

Vogler, John.
945

▼a

KINS
---
Contents information
Book Introduction
Examines the emergence, role and future of the EU as an actor in world politics. This book looks at the core areas of European foreign policy: economy; trade; the environment; development; common foreign and security policy; international security (including the proposed European defence force) and identity.
Information Provided By: :

Table of Contents
1. Theorizing Actorness  2. The EU as Economic Power and Trade Actor  3. International Environmental Policy  4. Development Co-operation and Humanitarian Assistance  5. Relations with 'Near-Abroad'  6. Common Foreign and Security Policy  7. The EU as a Provider of Security  8. Constructing an EU Identity?
Information Provided By: :