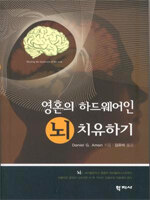 000
00939camccc200289 k 4500
001
000045312693
005
20100805051434
007
ta
008
061002s2006 ulka b 001c kor
020

▼a

8958913444
035

▼a

(KERIS)BIB000010670539
040

▼a

248003

▼d

211009
041

1

▼a

kor

▼h

eng
082

0

4

▼a

616.8/52

▼2

22
090

▼a

616.852

▼b

2006a
100

1

▼a

Amen, Daniel G.

▼0

AUTH(211009)34502
245

2

0

▼a

(영혼의 하드웨어인)뇌 치유하기 /

▼d

Daniel G. Amen 지음 ;

▼e

김유미 옮김.
246

1

9

▼a

Healing the hardware of the soul : how making the brain-soul connection can optimize your life, love, and spiritual growth
260

▼a

서울 :

▼b

학지사 ,

▼c

2006.
300

▼a

341 p. :

▼b

삽도 ;

▼c

23 cm.
504

▼a

참고문헌 및 색인수록
650

0

▼a

Brain

▼x

Religious aspects

▼x

Christianity.
650

0

▼a

Soul

▼x

Christianity.
650

0

▼a

Spiritual life

▼x

Christianity.
700

1

▼a

김유미 ,

▼e

역
945

▼a

KINS
---
Holdings Information
No.
Location
Call Number
Accession No.
Availability
Due Date
Make a Reservation
Service

No.

1

Location

Main Library/Monographs(4F)/

Call Number

616.852 2006a

Accession No.

111388938

Availability

Available

Due Date

Make a Reservation

Service

No.

2

Location

Main Library/Monographs(4F)/

Call Number

616.852 2006a

Accession No.

111388939

Availability

Available

Due Date

Make a Reservation

Service
Contents information
Book Introduction
먼저, 이 책의 1장부터 8장까지는 뇌와 이상심리의 관계에 대한 이해에, 9장 이후부터 14장까지는 뇌와 이상심리의 연결고리를 통한 치료에, 15장에서는 이해를 기반으로 한 용서에 관심을 두고 있다. 이 책에서는 이상심리와 관련된 많은 사례들이 제시되어 있어 이해하기가 용이하다. 뿐만 아니라 정상적인(?) 우리들 자신을 검토할 수 있는 체크리스트가 제시되어 있으며, 가벼운 자기문제를 스스로 해결하거나 주변의 다른 사람들을 도울 수 있는 방안들이 소개되어 있다. 더구나 저자는 치료를 위해 약물 접근뿐만 아니라 정서적, 사회적, 영적 접근을 통해 균형감 있게 접근하고 있다. 또한 저자는 뇌와 종교의 관계에 접근하는 데 있어서도 모든 종교, 심지어 명상까지 포함하고 있어 어느 한 종교에 국한되지 않고 있다. 이 책은 그동안 이상심리, 뇌, 종교, 심리치료, 약물치료 등의 관계에 관심 있던 많은 사람들의 호기심을 충족시켜줄 수 있을 것이다. 이 책은 원래 이상심리에 관심을 두고 쓰여 졌지만, 이 책이 정상적인(?) 우리들 자신, 학생, 주변사람들의 행동을 뇌를 통해 이해하고 치료하며 용서하는 데 유익한 지침서가 되기를 기대한다.
Information Provided By: :

Author Introduction
다니엘 G. 에이멘
(지은이)
임상신경과학자이자 정신과전문의, 뇌 영상 전문가. 뇌의학과 행동의학 분야의 세계적인 권위자다. 뇌 영상 촬영을 통해 정신의학의 수준을 혁명적으로 진일보시켰으며, 그가 설립한 에이멘 클리닉(Amen Clinics)은 복잡한 심리학적 문제를 치료하는 데 있어서 발표된 사례 중 가장 높은 성공률을 기록했다. 세계 최대의 기능성 뇌 영상 데이터베이스를 구축, 30년간 120개 국가의 환자들을 대상으로 거의 160,000장에 이르는 뇌 영상을 확보하고 있다. 그동안의 연구 결과를 토대로 뇌의학과 관련된 여러 책을 집필하였으며, 그중 10종이 〈뉴욕타임스(NYT)〉 베스트셀러로 선정되었다. 또한 공공 텔레비전 방송에서 뇌에 관한 대중 프로그램 13편을 기획, 제작, 진행했다. 〈마지막 라운드 후(After the Last Round)〉, 〈더 크래쉬 릴(The Crash Reel)〉 같은 다큐멘터리에도 출연했고, 〈음주에 관한 진실(The Truth about Drinking)〉과 〈닥터 오즈 쇼(Dr. Oz Show)〉처럼 에미상을 수상한 텔레비전 쇼 프로그램에도 출연했다. 〈워싱턴포스트(WP)〉 는 그를 미국에서 가장 인기 있는 심리학자로 뽑았다. 지은 책으로는 《다니엘 플랜(The Daniel Plan)》, 40주간 〈뉴욕타임스〉 베스트셀러에 올랐던 《당신의 뇌를 점검하라》를 비롯해서 《나이와 상관없는 아름다운 마음(Magnificent Mind at Any Age)》, 《뷰티풀 브레인》, 《뇌는 늙지 않는다(Use Your Brain to Change Your Age)》, 《주의력 결핍증의 치료(Healing ADD)》, 《기억력 구출하기(Memory Rescue)》, 《더 빨리 더 오래 기분이 나아지는 법(Feel Better Fast and Make It Last)》 등이 있다.
김유미
(옮긴이)
서울교육대학교 교수로 뇌와 상담의 연결고리에 관심을 두고 있다. 『두뇌를 알고 가르치자』 『위대한 뇌』 『뇌를 알면 아이가 보인다』 『위너 브레인』 『멋지고 새로운 뇌세계』 『영재의 뇌는 어떻게 학습하는가』 『자연 몰입』 『교육에서의 사회신경과학』 『뉴로사이코테라피』 『아픔에서 선물을 찾다』 등의 저·역서가 있다.
Information Provided By: :

Table of Contents


목차
역자의 말 = 7
저자의 말 = 9
1부 뇌-영혼의 관계를 이해하기
 01 뇌는 영혼의 연약한 거처다 : 뇌-영혼의 피드백 회로가 새로운 답을 제시해 준다 = 15
 02 영혼의 하드웨어인 뇌를 들여다보기 : 뇌 영상과 신경과학으로부터의 새로운 통찰 = 35
 03 사려 깊고 인정 많은 뇌 : 전전두피질 = 51
 04 융통성 있고 성장 지향적인 뇌 : 전대상회와 대뇌 기저핵 = 69
 05 영적이고 열정적인 뇌 : 측두엽과 변연계 = 87
 06 선함, 악함 그리고 추함 : 뇌와 성격발달 = 115
 07 성전에서 : 뇌의 건강과 일요일의 설교 = 139
 08 유혹에 들지 않게 하소서 : 부모와 상사를 비롯한 지도자의 뇌-영혼의 연결과 단절 = 153
2부 뇌-영혼의 관계를 최적화하기
 09 에이멘의 뇌 체계 점검표와 뇌 부위별 최적화 전략 = 171
 10 영혼의 하드웨어인 뇌를 치유하기 : 영원한 가치에 초점을 두고 사고와 행동을 조절하는 훈련 = 193
 11 영혼의 고통스러운 기억을 치유하기 = 225
 12  기도에 의한 뇌의 개선 = 255
 13 영혼에서 영혼으로 : 유대감 = 269
 14 약물치료와 영혼 : 약물치료가 당신을 다른 사람으로 만드는가, 아니면 진정한 당신으로 만드는가? = 297
 15 용서, 새로운 시각 = 315
참고문헌 = 333
찾아보기 = 337