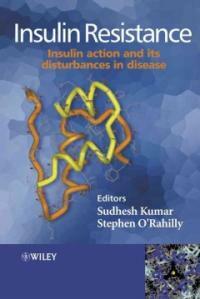 000
00896camuu2200253 a 4500
001
000045305154
005
20061115132716
008
040720s2005 enka b 001 0 eng
010

▼a

2004016888
020

▼a

0470850086
035

▼a

(KERIS)BIB000009701951
040

▼a

DLC

▼c

DLC

▼d

211046

▼d

211046

▼d

244002
042

▼a

pcc
050

0

0

▼a

RC662.4

▼b

.I556 2004
082

0

4

▼a

616.46207

▼2

22
090

▼a

616.46207

▼b

I59
245

0

0

▼a

Insulin resistance :

▼b

insulin action and its disturbances in disease /

▼c

editors, Sudhesh Kumar, Stephen O'Rahilly.
260

▼a

Chichester, West Sussex, England ;

▼a

Hoboken, N.J. :

▼b

John Wiley ,

▼c

c2005.
300

▼a

xv, 599 p. :

▼b

ill. ;

▼c

25 cm.
504

▼a

Includes bibliographical references and index.
650

0

▼a

Insulin resistance.
700

1

▼a

Kumar, Sudhesh
700

1

▼a

O'Rahilly, S.

▼q

(Stephen)
---
Contents information
Table of Contents
Preface.  

List of Contributors

 

1. The Insulin Receptor and Downstream Signalling (Ken Siddle).

 

2. Insulin-Mediated Regulation of Glucose Metabolism (Daniel Konrad, Assaf Rudich and Amira Klip).

 

3. Insulin Action on Lipid Metabolism (Keith N. Frayn and Fredrik Karpe).

 

4. The Effect of Insulin on Protein Metabolism (Laura J. S. Greenlund and K. Sreekumaran Nair).

 

5. Genetically Modified Mouse Models of Insulin Resistance (Gema Medina, Christopher Lelliott and Antonio J. Vidal-Puig).

 

6. Insulin Resistance in Glucose Disposal and Production in Man with Specific Reference to Metabolic Syndrome and Type 2 Diabetes (Henning Beck-Nielsen, Frank Alford and Ole Hother-Nielsen).

 

7. Central Regulation of Peripheral Glucose Metabolism (Stanley M. Hileman and Christian Bjørbæk).

 

8. Relationship Between Fat Distribution and Insulin Resistance (Philip G. McTernan, Aresh Anwar and Sudhesh Kumar).

 

9. PPARy and Glucose Homeostasis (Robert K. Semple and Stephen O'Rahilly).

 

10. Adipokines and Insulin Resistance (Daniel K. Clarke and Vidya Mohamed-Ali).

 

11. Dietary Factors and Insulin Resistance (Jeremy Krebs and Susan Jebb).

 

12. Physical Activity and Insulin Resistance (Nicholas J. Wareham, Søren Brage, Paul W. Franks and Rebecca Abbott).

 

13. Genetics of the Metabolic Syndrome (George Argyropoulos, Steven Smith and Claude Bouchard).

 

14. Insulin Resistance and Dyslipidaemia (Benoît Lamarche and Jean-François Mauger).

 

15. Insulin Resistance, Hypertension and Endothelial Dysfunction (Stephen J. Cleland and John M. C. Connell).

 

16. Insulin Resistance and Polycystic Ovary Syndrome (Neus Potau).

 

17. Syndromes of Severe Insulin Resistance (SSIRs) (David Savage and Stephen O'Rahilly).

 

18. Therapeutic Strategies for Insulin Resistance (Harpal S. Randeva, Margaret Clarke and Sudhesh Kumar).

 

19. Drug Therapy for Insulin Resistance – a Look at the Future (Bei B. Zhang and David E. Moller).

 

Index.
Information Provided By: :