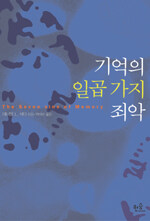 000
00852namccc200289 k 4500
001
000045288010
005
20100807125310
007
ta
008
060512s2006 ggka b 001c kor
020

▼a

8986865270

▼g

03180
035

▼a

(KERIS)BIB000010394744
040

▼a

211029

▼d

211009
041

1

▼a

kor

▼h

eng
082

0

4

▼a

153.1/2

▼2

22
090

▼a

153.12

▼b

2006a
100

1

▼a

Schacter, Daniel L.

▼0

AUTH(211009)125742
245

1

0

▼a

기억의 일곱 가지 죄악 /

▼d

대니얼 L. 샥터 지음 ;

▼e

박미자 옮김.
246

1

9

▼a

(The)seven sins of memory : how the mind forgets and remembers
260

▼a

파주 :

▼b

한승 ,

▼c

2006.
300

▼a

373 p. :

▼b

삽도 ;

▼c

23 cm.
504

▼a

참고문헌(p. [323]-366) 및 색인수록.
650

0

▼a

Memory disorders.
650

0

▼a

Memory.
650

0

▼a

Recollection (Psychology)
700

1

▼a

박미자 ,

▼e

역.
945

▼a

KINS
---
Holdings Information
No.
Location
Call Number
Accession No.
Availability
Due Date
Make a Reservation
Service

No.

1

Location

Main Library/Monographs(3F)/

Call Number

153.12 2006a

Accession No.

111375366

Availability

In loan

Due Date

2022-05-24

Make a Reservation

Available for Reserve(3persons reqested this item)

Service

No.

2

Location

Main Library/Monographs(3F)/

Call Number

153.12 2006a

Accession No.

111375367

Availability

In loan

Due Date

2022-06-18

Make a Reservation

Service

No.

3

Location

Sejong Academic Information Center/Humanities 1/

Call Number

153.12 2006a

Accession No.

151211002

Availability

Available

Due Date

Make a Reservation

Service

No.

4

Location

Sejong Academic Information Center/Humanities 1/

Call Number

153.12 2006a

Accession No.

151211003

Availability

In loan

Due Date

2022-04-13

Make a Reservation

Service
No.
Location
Call Number
Accession No.
Availability
Due Date
Make a Reservation
Service

No.

1

Location

Main Library/Monographs(3F)/

Call Number

153.12 2006a

Accession No.

111375366

Availability

In loan

Due Date

2022-05-24

Make a Reservation

Available for Reserve(3persons reqested this item)

Service

No.

2

Location

Main Library/Monographs(3F)/

Call Number

153.12 2006a

Accession No.

111375367

Availability

In loan

Due Date

2022-06-18

Make a Reservation

Service
Contents information
Book Introduction
상대방의 이름이 떠오르지 않아 당황한 경험, 손에 쥐고 있는 열쇠를 찾아 집안을 헤멘 경험 같이, 우리 인간의 기억이 만들어내는 오류들을 살펴본다. 하버드대 심리학과 교수로 세계적인 인지심리학자로 활동 중인 지은이가 신경과학, 인지과학, 임상경험, 그리고 문화적 증거와 여러 일화들을 통해 기억의 오류로부터 인간 기억의 작동 방식을 알아본다.

기억의 오류를 '탐욕', '오만' 같은 기독교의 일곱 가지 죄악에 빗대어 지은 제목이 눈길을 끈다. 이 책이 제시하는 기억의 일곱 가지 오류들은 다음과 같다.

- 시간이 지나면서 기억이 단순히 약해지는 '소멸'
- 주의와 기억 간의 접촉에 이상이 생겨 발생하는 '정신없음'
- 어떤 정보를 필사적으로 인출하려고 하지만 그것이 불가능한 '막힘'
- 잘못된 기억을 사실이라고 착각하는 '오귀인'
- 과거 경험을 상기하려고 할 때 새롭게 생겨나는 기억들 '피암시성'
- 현재의 지식과 믿음이 과거 기억에 강력하게 영향을 미치는 '편향'
- 마음에서 모두 사라져 버리기를 원하는 고통스러운 정보나 사건들이 반복해서 떠오르는 '지속성' 등이다.

'정신없음'으로 인해 250만 달러짜리 악기를 택시에 두고 내린 첼리스트 요요마, 홈런을 맞고 자기 팀의 월드 시리즈 진출이 좌절된 것 때문에 괴로워했던 메이저리그 투수 도니 무어 같은 여러 에피소드를 제시하여 흥미를 높이고, 이를 통해 이들 오류의 기원을 찾아나간다.

또한 이들 오류가 인간의 정상적인 진화 결과임을 강조하여, 독자들로 하여금 스스로 이러한 오류를 극복할 자신만의 해결책을 찾아보도록 제안한다.
Information Provided By: :

Author Introduction
Daniel L. Schacter
(지은이)
하버드대학교 심리학과 William R. Kenan, Jr 교수이다. 채플 힐에 위치한 노스캐롤라이나대학교에서 학사학위를 받았다. 그때부터 여러 종류의 뇌 손상과 연계된 실어증상에 깊은 관심을 갖게 되었다. 그 후 토론토대학교에서 연구와 교육을 계속하여, 그 곳에서 1981년에 박사학위를 받았다. 그 후 1987년 애리조나대학교 심리학과에 합류할 때까지, 6년 동안 토론토대학교에서 교수로 복무하였다. 1991년에 하버드대학교 교수로 이동하였다. 그는 의식과 무의식적인 기억형태 간의 관계, 기억의 왜곡과 오류의 본질, 기억을 활용한 미래사건 심상화 등을 탐구하는 연구를 수행하였다. 그의 많은 연구들은 1996년에 발간된 기억을 찾아서:두뇌, 마음 및 과거(Searching for Memory: Th e Brain, the Mind, and the Past), 2001년에 발간된 기억의 일곱 가지 죄악:마음의 망각과 기억(The Seven Sins of Memory: How the Mind Forgets and Remembers)으로 출간되었으며, 두 책 모두 미국심리학회에서 수여하는 윌리엄 제임스 기념상을 받았다. Schacter는 다수의 우수 교수상과 연구상을 수상하였는데, 미국실험심리학회에서 수여하는 하버드 레드클리프 파이베타카파 교수상과 워렌 메달을 수상하였고, 미국심리학회가 수여하는 우수 과학공로상을 수상하였다. 2013년에는 국립 과학아카데미 회원으로 선출되었다.
박미자
(옮긴이)
연세대학교 심리학과를 졸업하였으며, 동 대학원에서 석사학위를, 미국 텍사스 대학(오스틴 소재)에서 심리학 박사학위를 받았다. 연세대학교 인지과학연구소 연구원 및 성균관대학교 심리학과 연구교수를 역임하였다. 현재 연세대학교 인지과학연구소에서 연구교수로 재직하고 있다. 감성과학과 뇌과학 프로젝트에 참여했으며 암묵기억과 외현기억을 비롯해 기억 관련 연구를 주로 수행했다. 최근에 오기억 연구를 주로 하고 있으며 긍정의 심리학과 행복과학에 관련된 연구를 시작했다.
Information Provided By: :

Table of Contents


목차
서문 = 5
1 소멸의 죄 = 23
2 정신없음의 죄 = 63
3 막힘의 죄 = 91
4 오귀인(誤歸因)의 죄 = 127
5 피암시성의 죄 = 161
6 편향의 죄 = 197
7 지속성의 죄 = 229
8 일곱 가지 죄악, 악덕인가 미덕인가? = 263
주석 = 295
참고문헌 = 323
옮긴이 후기 = 367
찾아보기 = 371