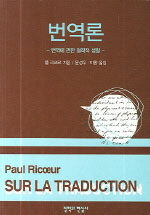 000
00000nam c2200205 c 4500
001
000045286994
005
20170220094923
007
ta
008
060816s2006 ulk 000c kor
020

▼a

8977755891
040

▼a

211009

▼c

211009

▼d

211009
041

1

▼a

kor

▼h

fre
082

0

4

▼a

418/.02

▼2

22
085

▼a

418.02

▼2

DDCK
090

▼a

418.02

▼b

2006f
100

1

▼a

Ricœur, Paul

▼0

AUTH(211009)143535
245

1

0

▼a

번역론 :

▼b

번역에 관한 철학적 성찰 /

▼d

폴 리쾨르 지음 ;

▼e

윤성우,

▼e

이향 옮김
246

1

9

▼a

Sur la traduction
260

▼a

서울 :

▼b

철학과현실사,

▼c

2006
300

▼a

166 p. ;

▼c

21 cm
650

0

▼a

Translating and interpreting
700

1

▼a

윤성우,

▼e

역

▼0

AUTH(211009)7862
700

1

▼a

이향,

▼e

역

▼0

AUTH(211009)9503
900

1

0

▼a

리쾨르, 폴,

▼e

저
945

▼a

KINS
---
Holdings Information
No.
Location
Call Number
Accession No.
Availability
Due Date
Make a Reservation
Service

No.

1

Location

Main Library/Monographs(3F)/

Call Number

418.02 2006f

Accession No.

111374682

Availability

Available

Due Date

Make a Reservation

Service

No.

2

Location

Main Library/Monographs(3F)/

Call Number

418.02 2006f

Accession No.

111374683

Availability

In loan

Due Date

2021-07-21

Make a Reservation

Service
Contents information
Author Introduction
폴 리쾨르
(지은이)
1913년 프랑스 남동부 발랑 시에서 출생하였다. 그의 집안은 독실한 프로테스탄트 가정이었다. 2세 때 부모가 사망하여 브르타뉴 렌느 시로 이주하여 그곳에서 성장하고 대학을 졸업하였다. 1935년 파리대학에서 철학을 공부하였고 유신론적 실존주의 철학자로 알려진 가브리엘 마르셀에게 철학과 신학을 배웠다. 제2차 세계대전에 참전하였다가 독일군에 잡혀 스위스에서 5년간 포로생활을 하였다. 당시 후설의 저서들을 탐독한 것이 계기가 되어 후설 연구가로도 알려졌다. 1950년 후설의 《현상학의 이념들》을 프랑스어로 번역하여 프랑스에 소개하였다. 이 책에서 그는 현상학을 통하여 인간 존재의 유한성을 밝히고 그러한 유한성으로 초월적 존재인 신을 해명하려고 노력하였다. 1948∼1956년 스트라스부르대학, 1956년부터는 파리대학 철학교수로 재직하였다. 이 기간 동안 《의지적인 것과 비의지적인 것 Le volontaire et l'involontaire》(1949)에서 의지에 관한 현상학적 기술을, 《유한성과 죄악 가능성 Finitude et culpabilit?》(1960)에서 종교적인 상징에 대한 해석학을, 《해석에 대하여 De l'interpr?tation》(1965)에서 프로이트를 재해석하는 등 활발한 연구활동을 하였다. 1966년 그리스도교 좌파 지식인으로서 자신의 주장을 펼치기 위하여 낭트대학으로 자리를 옮겼으나, 1968년 학생혁명이 좌절되자 급진적인 학생들과 지식인들로부터 외면당하여 1970년 해임되었다. 그 뒤 시카고대학과 파리대학을 중심으로 강의와 저술활동을 하였다. 이후 그 동안 몰두했던 해석학의 주제도 상징에서 텍스트로 바뀌게 되었다. 그는 상징언어에 대한 해석의 폭이 너무 좁다고 여겨, 텍스트에 대한 연구를 통해 인간 존재를 이해하려고 시도하였다. 이러한 노력의 결과물로 1975년에 《살아 있는 메타포 La m?taphore vive》를, 1983·1984·1985년에 연속으로 《시간과 이야기 Temps et r?cit 1, 2, 3》를 펴냈다. 1990년에는 《타자로서의 자기 자신 Soi-m?me comme un autre》을, 1992년에는 대표 논문을 모은 《강좌 Lecture》를 출간하였다. 2005년 별세하였다.
이향
(옮긴이)
성신여고를 거쳐 한국외국어대학교 프랑스어과, 한국외대 통번역대학원 한불과를 졸업하고 2006년 동 대학원에서 『번역물 감수의 심층 분석을 통한 번역교육 응용방안 연구』 로통번역학 박사학위를 취득하였다. 1997년부터 2013년까지 통번역대학원 한불과 및 동 대학 프랑스어과에서 동시통역, 번역, 순차통역, 등을 가르쳤다. 한국외대 통역대학원 통역번역특화사업단 상임연구원, 고려대학교 BK 21 번역비평가 양성사업팀 연구교수를 거치면서 통번역 교육, 통번역 이론, 통번역 실무 등에 대한 포괄적 경험을 축적해 왔으며 특히 통번역에 대한 이론적 담론과 실무 간의 틈새를 좁히고자 노력해 왔다. 현재 한국외국어대학교 국제지역대학 프랑스학과 교수로 재직 중이며, 번역학 국제 학술지 FORUM의 편집이사로 활동하고 있다. 저서로 '번역이란 무엇인가', '번역에서 번역학으로'가 있으며 공역서로는 '번역론: 번역에 관한 철학적 성찰', '낯선 것으로부터 오는 시련', '번역과 문자: 먼 것의 거처' 등이 있다.
윤성우
(옮긴이)
한국외국어대학교 프랑스어과를 다니며 철학을 부전공했고, 졸업 후 한국외국어대학교 대학원 철학과에서 석사학위와 박사과정을 수료했다. 2002년 프랑스 파리 12대학교에서 철학박사를 받았다. 현재 한국외국어대학교 철학과 교수로 재직 중이며, 해석학, 번역철학, 서양현대철학, 정치철학 등을 강의하고 있다. 관심 연구 주제는 주체, 의미, 언어, 타자, 번역 등이며, 대표 논문으로는 "RICOEUR AND BERMAN: AN ENCOUNTER BETWEEN HERMENEUTICSAND TRANSLATION STUDIES"(2012, 공저), "RICOEUR AND THE PARIS SCHOOL: AN IMAGINARY ENCOUNTER ON THE NOTION OF INTERPRETATION"(2015,공저) 등이 있다.
Information Provided By: :

Table of Contents


목차
저자에 관하여 : 폴 리쾨르를 말한다 = 9
역자 해제 : 번역학과 해석학은 어디서 그리고 어떻게 만날 수 있을까? = 21
제1장 번역은 행복한 도전이다 = 67
제2장 번역의 패러다임 = 91
제3장 번역 불가능한 것에서 번역 가능한 것으로의 이행 = 131
역자 후기 : 철학과 번역학의 만남 = 159