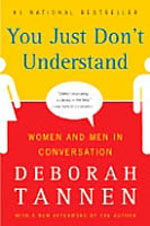 000
00850camuu2200265 a 4500
001
000045286899
005
20140424142337
008
020917s2001 nyu b 001 0 eng d
020

▼a

0060959622 (pbk.)
035

▼a

(KERIS)REF000009956268
040

▼a

P@N

▼c

P@N

▼d

PGM

▼d

211009
082

0

4

▼a

302

▼2

23
084

▼a

302

▼2

DDCK
090

▼a

302

▼b

T166y
100

1

▼a

Tannen, Deborah.
245

1

0

▼a

You just don't understand :

▼b

women and men in conversation /

▼c

Deborah Tannen.
250

▼a

1st Quill ed.
260

▼a

New York :

▼b

Quill,

▼c

c2001.
300

▼a

342 p. ;

▼c

21 cm.
504

▼a

Includes bibliographical references (p. 323-332) and index.
650

0

▼a

Communication in marriage.
650

0

▼a

Interpersonal communication.
650

0

▼a

Sex differences (Psychology)
945

▼a

KINS
---
Holdings Information
No.
Location
Call Number
Accession No.
Availability
Due Date
Make a Reservation
Service

No.

1

Location

Main Library/Western Books/

Call Number

302 T166y

Accession No.

111374639

Availability

Available

Due Date

Make a Reservation

Service

No.

2

Location

Main Library/Education Reserves(Large Size)/

Call Number

302 T166y

Accession No.

111716768

Availability

Available

Due Date

Make a Reservation

Service
No.
Location
Call Number
Accession No.
Availability
Due Date
Make a Reservation
Service

No.

1

Location

Sejong Academic Information Center/Social Science/

Call Number

302 T166y

Accession No.

151229752

Availability

Available

Due Date

Make a Reservation

Service
Contents information
Book Introduction
이 책은 남성과 여성의 언어와 대화방식에 보다 초점을 맞추어 그 해결책을 제시하는 책이다.

세계적인 언어학자이자 이 분야의 최고 전문가로 꼽히는 데보라 태넌 박사는 남자와 여자는 각기 다른 성(性) 방언을 쓰고 있다며, 이 책을 통해 왜 남녀의 대화가 그토록 어긋나는지, 그리고 그 해결책은 무엇인지를 수많은 임상사례를 통해 흥미진진하게 들려준다.

또한 태넌 박사는 우리가 일반적으로 생각하는 편견, 즉 여자가 남자보다 더 말을 많이 하고 수다스럽다든가, 여자들이 가십거리를 즐기는 통속적인 동물이라는 생각에 대해서도 다른 각도에서 해석하고 있다.

A critique of male/female relationships stresses the importance of the language barrier that separates the genders and offers ways to improve relationships between the sexes.
Information Provided By: :

Author Introduction
데보라 태넌
(지은이)
미국 워싱턴 조지타운대학교 언어학과 교수이며, 사회언어학자, 시인이기도 하다. 그동안 남자와 여자, 가족 구성원들 그리고 절친한 친구 간에 주고받는 대화방식에 대한 흥미롭고 생생한 사례들을 연구해왔으며, 그 결과 어떻게 하면 가장 가까운 사람들 사이의 관계를 개선시킬 수 있는지 저자만의 특별한 방법들을 제시해왔다. 지은 책으로 《가족이니까 그렇게 말해도 되는 줄 알았다》 《그래도 당신을 이해하고 싶다》 《일터에서의 남vs여 대화의 법칙》 등이 있다. 특히 《가족이니까 그렇게 말해도 되는 줄 알았다》는 '더 나은 삶을 위한 책'으로 선정되었으며, 《그래도 당신을 이해하고 싶다》는 <뉴욕타임스> 베스트셀러 목록에서 8개월 동안 1위를 차지했고 31개 언어로 번역되었다. 인기 토크쇼와 TV 뉴스에서 자주 찾는 초대 손님으로 말로 인해 벌어지는 여러 가지 갈등 양상과 그 해결 방법을 사람들과 함께 고민해오고 있으며, <뉴욕타임스> <워싱턴 포스트> <타임> <뉴스위크> 등 주요 신문 잡지에 글을 기고하고 있다. 홈페이지 www.deborahtannen.com
Information Provided By: :