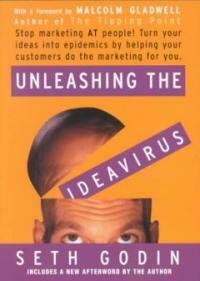 Unleashing the ideavirus : stop marketing at people! turn your ideas into epidemics by helping your customers do the marketing for you 1st ed
000
00919camuu22002774a 4500
001
000045283092
005
20060801164511
008
010329s2001 nyua 001 0 eng
010

▼a

2001024492
020

▼a

0786887176
035

▼a

(KERIS)REF000006832441
040

▼a

DLC

▼c

DLC

▼d

DLC

▼d

211009
042

▼a

pcc
050

0

0

▼a

HF5827.95

▼b

.G63 2001
082

0

0

▼a

659.13/3

▼2

21
090

▼a

659.133

▼b

G585u
100

1

▼a

Godin, Seth.
245

1

0

▼a

Unleashing the ideavirus :

▼b

stop marketing at people! turn your ideas into epidemics by helping your customers do the marketing for you /

▼c

by Seth Godin ; with a foreword by Malcolm Gladwell.
250

▼a

1st ed.
260

▼a

New York :

▼b

Hyperion ,

▼c

c2001.
300

▼a

234 p. :

▼b

ill ;

▼c

19 cm.
500

▼a

Includes index.
650

0

▼a

Word-of-mouth advertising.
650

0

▼a

Marketing.
945

▼a

KINS
---
Holdings Information
No.
Location
Call Number
Accession No.
Availability
Due Date
Make a Reservation
Service

No.

1

Location

Main Library/Western Books/

Call Number

659.133 G585u

Accession No.

111372785

Availability

Available

Due Date

Make a Reservation

Service
Contents information
Book Introduction
Explains how to launch big concepts that become very popular across large audiences, emphasizing the power of Internet marketing.

Shows how to spark a customer-to-customer dialogue that spreads like a virus, costs companies next to nothing, and dispenses of traditional marketing methods. Reprint. 100,000 first printing.
Information Provided By: :

Author Introduction
세스 고딘
(지은이)
세계에서 가장 영향력 있는 책을 쓰는 베스트셀러 작가, 강연가, 기업가, 그리고 다른 무엇보다 명실상부한 선생님. 세상에서 가장 유명한 블로그를 만들었고, 《보랏빛 소가 온다》 《마케터는 새빨간 거짓말쟁이》 《퍼미션 마케팅》 《더 딥》을 비롯해 19권의 베스트셀러를 썼다. 지난 30여 년간 마케팅, 경영, 기업가 정신에 관한 통찰력 있는 글쓰기와 강연으로 가장 영향력 있는 인물로 손꼽힌다. 온라인 커뮤니티 서비스 스퀴두(Squidoo)와 온라인 마케팅 기업 요요다인(Yoyodyne)을 설립해 수백 개의 기업에 온라인 다이렉트 마케팅 기법을 전파했다. 2013년 다이렉트 마케팅 협회(DMN) 명예의 전당에, 2018년 미국마케팅협회(AMA) 명예의 전당에 헌액되었다. 그는 조직과 사람들 사이에서 의미 있는 상호작용을 만들어냄으로써 대체 불가능한 사람이 되는 방법에 대해 늘 강조한다. 새로운 길을 열고, 사람들을 이끌고, 사람들을 이어주고, 일을 만들어내고, 혼란 속에서 질서를 창조하는, 어떤 규칙도 없는 상황에서 무엇을 해야 하는지 찾아내는 모방 불가능한 사람들에 대해서 말한다. 자신과 동료들을 즐겁게 만들고, 자신의 일을 사랑하고, 하루하루를 작품과 같은 날로 만드는 예술가 기질을 발견한 사람들에 대해 말한다. 그를 보고 있으면 다른 말은 떠오르지 않는다. 그가 바로 린치핀이다.
말콤 글래드웰
(지은이)
1984년 저널리즘계에 뛰어든 그는 명료하면서도 비범한 필력, 차별화된 이슈를 고르는 탁월한 감각에 힘입어 곧 〈워싱턴포스트〉에 입성했다. 이후 '문학적 저널리즘의 최고봉'이라 할 수 있는 〈뉴요커〉로 자리를 옮겨 그동안 밝혀지지 않았던 세상의 다양한 패턴과 행동양식, 심리적 아이디어로 가득 찬 기사들을 썼다. 이 기사들은 훗날 그를 베스트셀러 작가이자 21세기 가장 영향력 있는 저널리스트의 반열에 오르게 했다. 영국에서 태어나 캐나다 온타리오에서 자랐고, 토론토대학교와 트리니티대학에서 역사학을 공부했다. 1987년부터 1996년까지 〈워싱턴포스트〉의 경제부·과학부 기자, 뉴욕 지부장을 지냈다. 1999년, 이 시대 최고의 마케터 중 한 명인 론 포페일에 대한 기사로 '내셔널 매거진 어워드'를 수상했으며, 〈타임〉 '가장 영향력 있는 100인', 〈월스트리트저널〉 '세계에서 가장 영향력 있는 경영사상가 10인', 〈포린폴리시〉 '최고의 세계사상가'에 선정되었다. 저자는 발표한 여섯 권의 책을 모두 〈뉴욕타임스〉 베스트 셀러에 올린 최고의 경영저술가이다. 《티핑 포인트》는 아이디어, 트렌드, 사회적 행동이 임계점을 넘어서 산불처럼 퍼지는 변화를 사회적 전염의 틀로 분석한 책이다. 저서로 《타인의 해석》 《아웃라이어》 《다윗과 골리앗》 《블링크》 《당신이 무언가에 끌리는 이유》가 있다.
Information Provided By: :