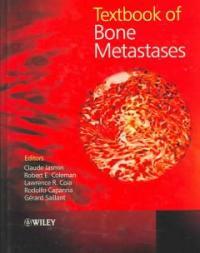 000
00901namuu2200265 a 4500
001
000045272285
005
20071126163559
008
051031s2005 enka b 001 0 eng
010

▼a

2004053705
020

▼a

0471877425 (alk. paper)
035

▼a

(DNLM)101222801
040

▼a

DNLM/DLC

▼c

DLC

▼d

DLC

▼d

211010

▼d

211009
042

▼a

pcc
050

1

0

▼a

RC280.B6

▼b

T445 2005
082

0

0

▼a

616.99/471

▼2

22
090

▼a

616.99471

▼b

T355
245

0

0

▼a

Textbook of bone metastases /

▼c

editors, Claude Jasmin ... [et al.].
260

▼a

Chichester ;

▼a

Hoboken, NJ :

▼b

J. Wiley & Sons ,

▼c

c2005.
300

▼a

xiv, 568 p. :

▼b

ill. ;

▼c

26 cm.
504

▼a

Includes bibliographical references and index.
650

0

▼a

Bone metastasis.
650

1

2

▼a

Bone Neoplasms

▼x

secondary.
650

2

2

▼a

Bone Neoplasms

▼x

therapy.
700

1

▼a

Jasmin, Claude ,

▼d

1938-
---
Holdings Information
No.
Location
Call Number
Accession No.
Availability
Due Date
Make a Reservation
Service

No.

1

Location

Medical Library/Closed Stacks3/

Call Number

616.99471 T355

Accession No.

141047130

Availability

Available

Due Date

Make a Reservation

Service
Contents information
Table of Contents
Contributors  

Preface.

 

SECTION 1: BIOLOGY OF BONE METASTASES (R. Coleman).

 

1. General mechanisms of metastasis (S. Eccles).

 

2. Parathyroid hormone-related Protein and Bone metastases (T. Martin, et al.).

 

3. Osteoblastic Metastases (P. Croucher).

 

4. The Role of RANK, RANK Ligand and Osteoprotegerin in the Lytic Effects and Growth of Bone Metastases (C. Dunstan).

 

SECTION 2: CLINICAL FEATURES AND ASSESSMENT (R. Coleman).

 

5. Clinical Features and Prognosis of Bone Metastases (T. Plunkett & R. Rubens).

 

6. Radio-isotope and PET Imaging of Bone Metastases (G. Cook & I. Fogelman).

 

7. Imaging of Spinal Bone Metastases (R. Guillevin, et al.).

 

8. Monitoring Response to Treatment - the Role of Biochemical Markers (R. Coleman & J. Brown).

 

9.Surgical Biopsy of Bone Metastases (M. Salaï & I. Dudliewicz).

 

SECTION 3: SURGICAL TREATMENT (R. Capanna).

 

10. Indications for the Surgical Treatment of Long Bone Metastases (R. Capanna & D. Campanacci).

 

11. Prosthetic Replacement in Long Bone Metastases (B. Fuchs, et al.).

 

12. Osteosynthesis for Pathological Fractures in Long Bones (P. Dijksta & A. Taminiau).

 

13. Surgical Treatment of Pelvic Metastases (R. Windhager).

 

14. Indications and Strategy for the Treatment of Spinal Metastases (E. Enkaoua).

 

15. Surgical Techniques for the Treatment of Bone Metastases of the Spine (S.Boriani) .

 

16. Total En Bloc Spondylectomy for Spinal Metastases (N. Kawahara, et al.).

 

SECTION 4: LOCAL TREATMENTS (L. Coia).

 

17. External Beam Radiation Therapy for the Treatment of Bone Metastases - (P. Anderson & L. Coia) .

 

18. Interventional Radiology for Bone Metastases (J. Chiras, et al.).

 

19. Percutaneous Injection of Ethanol (A. Cotten & L. Ceugnari).

 

SECTION 5: SYSTEMIC TREATMENTS (C. Jasmin).

 

20. Chemotherapy - (M. Green & G. Hortobagyi).

 

21. Endocrine Treatment of Bone Metastases (S. Agelaki & V. Georgoulias).

 

22. Overview of Osteoclast Inhibitors (J. Body).

 

23. Radioisotopes and Radioimmunoisotopes (I. Resche, et al.).

 

24. Immunotherapy (T. Plunkett & D. Miles).

 

SECTION 6: BISPHOSPHONATES (R. Coleman). 

 

25. Mechanisms of Action of Bisphosphonates (M. Rogers).

 

26. Antitumor Effects of Bisphosphonates (P. Clézardin).

 

27. Management of Hypercalcaemia (S. Ralston).

 

28. Treatment of Lytic Bone Metastases (K. Gwyn & R. Theriault).

 

29. Use in Multiple Myeloma (J. Berenson).

 

30. Use in Prostate Cancer (R. Coleman).

 

31. Prevention of Bone Metastases (R. Coleman &H. Neville-Webbe).

 

32 Prevention of Bone Loss (R. Ashford, et al.).

 

33. Cost Implications of Bisphosphonates (E. McCloskey, et al.).

 

SECTION 7: THE GLOBAL APPROACH (C. Jasmin).

 

34. Treatment of Bone Pain (D. Lossignol).

 

35. Specific Approaches to Cancer in the Elderly (L. Balducci).

 

36. Psychological and Social Aspects (O. Gilbar).

 

37. Metabolic Bone Diseases in Childhood Cancer (V. Tillman, et al.).

 

SECTION 8: BONE METASTASES IN SPECIFIC TUMOURS (L. Coia).

 

38. Breast Cancer (W. Hartsell).

 

39. Prostate Cancer (E. Chow, et al.).

 

40. Multiple Myeloma (R. Kyle).

 

41. Malignant Non-Hodgkin's Lymphoma (O. Reman).

 

42. Lung Cancer (D. Roos).

 

43. Kidney Cancer (U Malik & M. Mohiuddin).

 

44. Evaluation of the Patient with Bone Metastases at Presentation (P. Hoskin).

 

Index.
Information Provided By: :