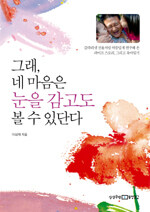 000
00618namccc200205 k 4500
001
000045250854
005
20100807053529
007
ta
008
060508s2006 ulka 000a kor
020

▼a

8983004738

▼g

03810
040

▼a

211009

▼c

211009

▼d

211009
085

▼a

897.87

▼2

DDCK
090

▼a

897.87

▼b

이상재 그
100

1

▼a

이상재

▼0

AUTH(211009)116190
245

1

0

▼a

그래, 네 마음은 눈을 감고도 볼 수 있단다 /

▼d

저자: 이상재.
246

0

3

▼a

클라리넷 선율처럼 아름답게 연주해 온 라이프 스토리, 그리고 육아일기
260

▼a

서울 :

▼b

상상공방 :

▼b

동양문고 ,

▼c

2006.
300

▼a

205 p. :

▼b

삽도 ;

▼c

23 cm.
945

▼a

KINS
---
Contents information
Book Introduction
미국 피바디 음대 최초의 시각장애인 음악박사, 이상재 교수의 자전적 에세이. 교통사고로 시력을 잃은 이후, 클라리넷 연주로 세상과 소통해 온 삶의 이야기를 담았다. 또 아내와 함께 두 딸을 키우며 쓴 육아일기를 함께 실었다. 시각장애인용 음성인식 컴퓨터로 쓴 육아일기에서 따뜻한 가족 사랑이 느껴진다.

지은이는 동료 장애인 3명과 함께 전국 초.중.고교 34개 학교를 도는 순회공연 연주회를 2005년부터 시작했다. 이 순회공연의 이름은 '희망으로 콘서트'. 소아마비로 다리가 불편한 테너 최승원 씨와 가수 박마루 씨, '네 손가락의 피아니스트'로 불리는 이희아 씨가 이 콘서트의 멤버이다.
Information Provided By: :

Author Introduction
이상재
(지은이)
중앙대 음악대학 관현악과를 졸업하고, 미국 피바디음악대학(Peabody Conservatory of Music of Johns Hopkins University)에서 석.박사학위를 받았다. 1997년 Peabody Lynn Taylor Hebden Prize Performance.를 수상했으며, 제5회 부산음악콩쿠르에서 입상했다. 예술의전당, 세종문화회관, 호암아트홀 등에서 20여회 독주회를 열었고, 코리안심포니 오케스트라 제132회 정기연주회 협연을 비롯하여 서울바로크, 우크라이나 심포니 등을 협연했다. 1998년부터 장애인과 청소년을 위한 '사랑 그리고 희망의 콘서트'에서 협연을 했다. 2003년 브람스탄생 170주년기념음반 'Brahms Sonatas,Schumann Romances'(EMI Music Korea)를 발매하였다. 2006년 클래식소품과 가요, 창작곡을 담은 'Paints Time' 크로스음반을 냈다. 2006년 현재 백석대 음악학부 겸임교수로 재직 중이다.
Information Provided By: :

Table of Contents


목차
프롤로그
 이 책을 펼쳐보시는 분들께 = 6
육아일기, 하나
 "우리 아이는 괜찮을까요?" = 20
 정말 태교는 이렇게 하면 되는 걸까? = 23
 "좀 적당히 골고루 넣어요." = 26
 하나만이라도 좀 좋은 걸로 = 29
 "아기 건강해요?" = 32
 제발 더 이상의 아픔은 없기를 = 36
 정윤이를 재우고 나서 = 39
흐린 하늘에서 좋은 아침을 맞을 때까지
 그림이 하나씩 지워진 골목에서 술래로 남아 = 44
 클라리넷을 들고 다시 세상 속으로 = 50
 닫힌 마음, 비뚤어진 첫사랑의 비애 = 54
 질풍노도의 시기, 술에 관한 보고서 = 58
 고3 시절의 방황과 중앙대 음악대 시절 = 62
 미국 피바디음악대학 최초 시각장애인 유학생 = 68
 피바디 140년 역사 이래 최초 시각장애인 음악박사 = 73
 세상에서 가장 아름다운 불륜(?) = 79
 마술 지팡이가 된 베아트리체 = 82
육아일기, 둘
 이유식 잘 알고 해야죠 = 90
 "아빠, 내 몸 속에 아가 씨가 있대요." = 94
 "아빠, 아스끄 먹어요?" = 98
 지윤이의 말, 말, 말 = 101
 다시 볼티모어에서 = 104
 지윤이에게! = 108
 첫 휴가 = 113
행복의 조건은 같습니다
 거북이와 토끼 이야기로 끝나는 하루 = 128
 당신의 빛깔과 향기에 알맞은 이름을 불러본다 = 134
 독서는 불안한 영혼을 구원하고 = 140
 판타스틱 모멘트를 좇는 음악인생 = 146
 아직은 미완성이지만… = 150
 아직 끝나지 않은 연주, '희망으로' 콘서트 = 154
 편견이야말로 가장 불행한 장애 = 160
 마흔 즈음에 = 166
육아일기, 셋
 정윤이에게! = 172
 "감사합니다. 정말 감사합니다." = 176
 정윤이가 걸어요 = 180
 지윤이와 정윤이 = 184
 봄 소풍 = 187
 미아방지용 팔찌 = 190
 사랑하는 가족이 있으니까 = 194
 첫눈 = 198
에필로그
 내가 만약 눈을 뜬다면 = 202