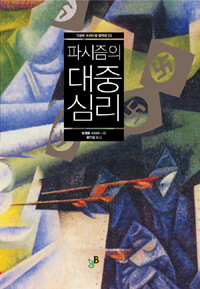 000
00728camccc200253 k 4500
001
000045237110
005
20100807024422
007
ta
008
060216s2006 ulkaj 001c kor
020

▼a

8976829565

▼g

03300
035

▼a

(KERIS)BIB000010265828
040

▼a

211014

▼c

211014

▼d

211009
041

1

▼a

kor

▼h

ger
082

0

4

▼a

320.533019

▼2

22
090

▼a

320.533

▼b

2006
100

1

▼a

Reich, Wilhelm ,

▼d

1897-1957.

▼0

AUTH(211009)109747
245

1

0

▼a

파시즘의 대중심리 /

▼d

지은이: 빌헬름 라이히 ;

▼e

옮긴이: 황선길.
246

1

9

▼a

(Die)Massenpsychologie des Faschismus
260

▼a

서울 :

▼b

그린비 ,

▼c

2006.
300

▼a

551 p. :

▼b

삽도, 연보 ;

▼c

23 cm.
500

▼a

색인수록
700

1

▼a

황선길 ,

▼e

역.
945

▼a

KINS
---
Holdings Information
No.
Location
Call Number
Accession No.
Availability
Due Date
Make a Reservation
Service

No.

1

Location

Main Library/Monographs(3F)/

Call Number

320.533 2006

Accession No.

111355663

Availability

In loan

Due Date

2007-10-10

Make a Reservation

Available for Reserve

Service

No.

2

Location

Main Library/Monographs(3F)/

Call Number

320.533 2006

Accession No.

111355664

Availability

In loan

Due Date

2022-08-16

Make a Reservation

Service
Contents information
Book Introduction
히틀러의 나치즘이 독일에서 성공을 거둔 과정을 추적하며 "대중들은 어째서 그것이 자신을 위한 것이라도 되는 양 자신에 대한 억압을 욕망하는가?"라는 질문에 답하면서 대중들의 파시스트적 심성을 파헤친 고전이다.

라이히는 히틀러에 대한 맹신으로 상징되는 당대의 비합리성을 대중들이 스스로 욕망하게 된 이유를 제일 먼저 지도자의 성격구조와 대중들의 성격구조 사이의 상동성(相同性)에서 찾는다. 대중들이 무지하거나 환상에 빠져 있어서가 아니라 지도자, 즉 히틀러의 성격구조와 동일한 성격구조를 갖고 있었기 때문에 기꺼이 히틀러에게 속았다는 것이다. 즉 파시즘은 '대중의 비합리적 성격구조'의 표현이라는 것이다.

라이히는 히틀러와 대중들이 공유했던 성격구조의 발생을 설명하기 위해 권위주의적 가족 이데올로기, 인종으로 대변되는 민족주의적 국가, 그리고 양자에 공통되는 성의 억압경향에 주목한다.

* 번역 대본으로는 빌헬름라이히유아신탁재단에서 제공한 독일어 수고를 기준으로 하였으며, 영어판(The Mass Psychology of Fascism. trans. Vincent R. Carfagno, New York : Farrar, Straus and Giroux, 1970)을 참조했다.
Information Provided By: :

Author Introduction
빌헬름 라이히
(지은이)
갈리시아(폴란드 남부 지방)의 도브르치니카에서 1897년에 태어났다. 1920년에 라이히는 비인 정신 분석학 협회에 들어갔다. 1928년 비인에서 사회주의 성 상담 및 성 조사 연구소를 설립하고 활동하였다. 한편으로 코민테른, 오스트리아 맑스주의, 독일 공산당과, 다른 한편으로는 프로이트 학파와 대결한 뒤에, 라이히는 1934년 공산당에서, 그리고 국제 정신 분석 협회에서 추방당했다. 1939년 미국으로 이민간 후 라이히는 '오르곤 에너지'를 발견하였고, 1957년에 죽을 때까지 오르곤 에너지 연구에 몰두하였다. 요컨대, 라이히는 오스트리아의 '프로이트 맑스주의자'로서, 성 문제를 중심으로 한 '욕망'을 탐구한 정신 분석가이다. 주요 저작으로는 <강제적 성 도덕의 출현>(1932), <문화적 투쟁에서의 성>(1936), <성 혁명>(1966), <파시즘의 대중 심리>(1933), <성격 분석>(1933) 등 다수가 있다.
황선길
(옮긴이)
독일 브레멘 대학에서 정치경제학과 사회심리학을 공부했고, 빌헬름 라이히의 <파시즘과 대중심리>, 안톤 판넨쿡의 <노동자평의회>, 로자 룩셈부르크의 <자본의 축적 1.2> <정치경제학 입문> 등을 번역했으며, 인천대학교에서 정치경제학 등을 강의하고 있다.
Information Provided By: :

Table of Contents


목차
머리글(증보개정 3판) = 9
1장 물질적 힘으로서의 이데올로기 = 33
2장 파시즘적 대중심리의 권위주의적 가족 이데올로기 = 71
3장 인종이론 = 123
4장 하켄크로이츠의 상징적 의의 = 153
5장 권위주의적 가족의 성경제학적 전제 = 161
6장 국제적인 반(反)성적 조직으로서의 신비주의 = 177
7장 신비주의에 맞서 투쟁하는 성경제학 = 215
8장 성정치적 실천의 몇 가지 문제들 = 253
9장 대중과 국가 = 297
10장 노동의 생체사회적 기능 = 395
11장 삶에 필수적인 노동에 책임을 부여하라! = 427
12장 자유투쟁에서의 생물학적 오산 = 435
13장 자연스러운 노동민주주의에 관하여 = 489
옮긴이 후기 = 533
용어설명 = 537
빌헬름 라이히 연보 = 541
라이히의 주요 저작들 = 545
찾아보기 = 547