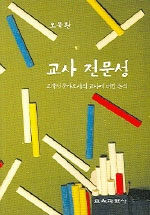 000
00700camccc200229 k 4500
001
000045230551
005
20100807011758
007
ta
008
051227s2005 ulk b 001c kor
020

▼a

898287934X

▼g

93370
035

▼a

(KERIS)BIB000010248398
040

▼a

211062

▼d

211009
082

0

4

▼a

371.12

▼2

22
090

▼a

371.12

▼b

2005b
100

1

▼a

오욱환

▼0

AUTH(211009)113737
245

1

0

▼a

교사 전문성 :

▼b

교육전문가로서의 교사에 대한 논의 /

▼d

오욱환.
260

▼a

서울 :

▼b

교육과학사 ,

▼c

2005.
300

▼a

204 p. ;

▼c

23 cm.
500

▼a

부록: 가르침을 무엇보다 중요하게 생각하는 교사의 일상적 행동과 사고, 성공적인 수업을 위한 제언
504

▼a

참고문헌(p. 175-190), 색인수록
945

▼a

KINS
---
Contents information
Book Introduction
분필은 전통적인 교실수업의 필수품이며 상징이다. 교사들은 분필가루의 독성을 해독한다는 이유를 대면서 퇴근 후의 한잔 모임을 정다화하였다. 이 모임을 통해서 교사들은 쉽게 만날 수 있었고 서로 배웠으며 격려하고 비판하였다.

학생들에게 분필은 선생님을 상징하였다. 분필통에서 새 분필을 꺼내 칠판에 글을 쓰는 특권은 아무나 가질 수 없었다.

분필은 항상 휜색이었다. 그런데 어느때부터인가 빨강, 노랑, 파랑 분필이 등장하였다. 실로 놀라운 사건으로서 칠판에 천연색이 등장하였다. 이제는 화이트보드에 마커가 사용되는 있다.

컴퓨터를 이용한 프리젠테이션 소프트웨어가 등장하면서 스크린이 칠판을 가리고 있다. 무독성 분필이 공급되면서, 분필유해론에 힘입은 교사모임도 명분을 잃게 되었다.

그리고 포인터로 스크린의 화면을 가리키게 되면서, 교사들은 학생들과 마주 보지 않게 되었다.
분필과 같은 권위를 유지하고 있는 교사로부터 그 권위마저 박탈하려는 비교육적 움직임이 교육의 효율성 제고라는 구호 아래 시대적 흐름처럼 일어나고 있다. 이 움직임은 너무나 도도하여 '권위를 잃은 교사는 효율적인 수업을 할 수 없다'는 엄연한 사실을 전해 개의치 않는다.

그리서 나는 교사 스스로 자신의 권위를 지키기 위한 방법으로 전문가교사가 되기를 권유하였다.
Information Provided By: :

Author Introduction
오욱환
(지은이)
오욱환은 1971년 서울대학교 교육학과를 졸업하고, 1976년 서울대학교 대학원에서 교육행정으로 석사학위를 받았다. 1983년 미국 일리노이주(州) 어바나-샴페인시(市)에 있는 일리노이대학교(University of Illinois at Urbana-Champaign) 대학원 교육정책학과(Department of Educational Policy Studies)에서 교육사회학을 전공하고 박사학위를 취득하였다. 1984년 3월 이후 이화여자대학교 교육학과 교수로 재직하고 있으며, 1992년 6월부터 2년 동안 한국교육사회학회 회장을 맡았다. 그는 교육학을 종합학문과 실천학문으로 규정하고 교육학의 통합을 주장하고 있다. 교육학이 종합적 속성을 되찾으려면 하위 영역 사이에 인위적으로 만들어진 경계를 허물어야 하며 실천적 속성을 잃지 않으려면 교육현장에 더 많은 관심을 기울여야 한다고 역설하고 있다. 이러한 주장과 확신에 스스로 충실하기 위해, 교육학 하위 영역들의 접목과 교육현상에 대한 통합적 접근을 시도해 왔다. 교육사회학, 비교교육학, 교과과정사회학, 여성교육학, 사회교육학, 교육정책학, 고등교육, 교육사회심리학, 교육역사사회학 등을 가르쳤거나 가르치고 있다. 그는 2004년도에 이화여자대학교에서 강의우수교수로 선정되었으며, 같은 해 한국교육학회로부터 『한국사회의 교육열: 기원과 심화』로 한국교육학회 학술상을 수상하였다. 2010년에는 교육과학기술부와 한국연구재단이 지원하는 '인문사회과학연구역량강화사업'의 '우수학자'로 지정되었으며, 이화여자대학으로부터 "탁월한 연구성과를 통하여 학술발전에 크게 기여한 공로"를 인정받아 이화학술상을 수상하였다. 개인홈페이지에 출판된 논문과 저서 그리고 그동안 담당했던 과목들의 수업계획안을 제시하고 있다.
Information Provided By: :

Table of Contents


목차
서문: 생각하는 교육 = 3
감사문 = 11
Ⅰ. 교육에서 효율성과 전문성 = 15
Ⅱ. 학교교육의 현실: 상식과 사실 = 31
 1. 학교와 교실의 현실 = 33
 2. 교직 효율성과 교사 전문성 = 42
Ⅲ. 교사의 탈전문화와 지위 하락 = 51
 1. 교수학습 과정: 사실, 이해, 해석 = 52
 2. 교사의 지위 하락과 역할 약화 = 57
Ⅳ. 교사의 전문성: 현실 파악과 재개념화 = 63
 1. 교사 전문성: 현실적 맥락에서 재개념화 = 64
 2. 교사 전문성과 교육효과 = 69
 3. 교수와 학습의 현실 = 78
 4. 국제비교 연구의 시사: '일본교육'에 대한 논저 = 88
  (1) 일본의 교육적 도전 = 89
  (2) 학습 격차 = 92
  (3) 교수 격차 = 99
Ⅴ. 직업으로서 교직, 전문가로서 교사 = 109
 1. 교직 전문화의 의미 = 114
 2. '전문가교사'를 위한 제언 = 121
  (1) 교육주체 의식 = 122
  (2) 환경통제감 = 126
  (3) 목적지향성 = 128
  (4) 자기개발 = 129
  (5) 실험정신 = 133
  (6) 공동체 구성 = 135
  (7) 반성적 실천 = 138
  (8) 평가의 수용 = 140
  (9) 교육가능성에 대한 확신 = 141
  (10) 인내와 감정 조절 = 143
  (11) 삶의 과정으로서 학교교육 = 146
  (12) 수업과 학생지도의 우선 = 149
  (13) 개별성의 중시 = 151
  (14) 심리와 감성의 고려 = 155
  (15) 상호교섭의 중시 = 157
  (16) 전략의 구사 = 160
 3. 교육전문가로서 교사 = 163
참고문헌 = 175
[부록 1] 가르침을 무엇보다 중요하게 생각하는 교사의 일상적 행동과 사고 = 191
[부록 2] 성공적인 수업을 위한 제언 = 195
찾아보기 = 199
저자에 대하여 = 205
표지설명 = 206