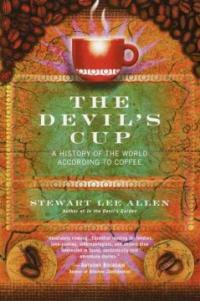 000
00941camuu2200277ia 4500
001
000045230417
005
20060222095122
008
060222r20031999nyua b 000 0 eng d
010

▼a

2001117578
020

▼a

0345441494 (pbk.)
040

▼a

BAY

▼c

BAY

▼d

OCLCQ

▼d

OCL

▼d

BAKER

▼d

211009
049

▼a

KUBA
082

0

4

▼a

641.3373

▼2

22
090

▼a

641.3373

▼b

A429d
100

1

▼a

Allen, Stewart Lee.
245

1

4

▼a

The devil's cup :

▼b

a history of the world according to coffee /

▼c

Stewart Lee Allen.
260

▼a

New York :

▼b

Ballantine Books ,

▼c

2003, c1999.
300

▼a

232 p. :

▼b

ill. ;

▼c

21 cm.
504

▼a

Include bibliographical references (p. 227-232).
650

0

▼a

Coffee.
650

0

▼a

Coffee

▼x

History.
650

0

▼a

Coffee

▼x

Social aspects.
938

▼a

Baker & Taylor

▼b

BKTY

▼c

13.95

▼d

10.46

▼i

0345441494

▼n

0003658010

▼s

active
945

▼a

KINS
994

▼a

C0

▼b

KUB
---
Holdings Information
No.
Location
Call Number
Accession No.
Availability
Due Date
Make a Reservation
Service

No.

1

Location

Main Library/Western Books/

Call Number

641.3373 A429d

Accession No.

111353510

Availability

Available

Due Date

Make a Reservation

Service
Contents information
Book Introduction
여행서의 독특한 형식에 담아낸 커피의 문화사. 커피광이자 여행관인 지은이는 이제까지 커피의 진실을 찾아 2920리터의 커피를 마신 것으로도 부족하여, 아예 역사적 장소들을 직접 찾아나섰다. 3만 킬로미터를 돌아다닌 이 여정의 목적은 단 한 가지, 일부의 주장처럼 커피가 과연 역사를 움직여왔는가 그 진위를 직접 확인하기 위해서였다.

넘을 수 없는 국경과 접전 중인 지역도 불사하며, 커피의 고향에서부터 증권가로 변모한 유럽 대도시의 커피 명소들과 남루한 고속도로 휴게소에 이르기까지 각기 다른 향미의 커피들과 그 문화를 일일이 맛본 지은이의 체험은 이 거부할 수 없는 '악마의 음료' 커피가 인류에게 끼친 영향, 그 알려지지 않은 진실을 하나 둘 밝혀내고 있다.

A wild ride through the history of coffee offers a humorous revisionist take on world events with this magic bean as the prime mover of everything from Napoleon's downfall to the prosperity of America. Reprint.
Information Provided By: :