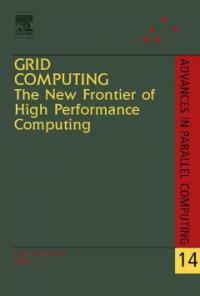 000
00884namuu22002658a 4500
001
000045225119
005
20060310110604
008
050802s2005 ne a b 001 0 eng
010

▼a

2005044434
020

▼a

0444519998
035

▼a

(KERIS)REF000011875993
040

▼a

DLC

▼c

DLC

▼d

211009
042

▼a

pcc
050

0

0

▼a

QA76.9.C58

▼b

G7553 2005
082

0

0

▼a

004.36

▼2

22
090

▼a

004.36

▼b

G847
245

0

0

▼a

Grid computing :

▼b

the new frontier of high performance computing /

▼c

edited by Lucio Grandinetti.
260

▼a

Amsterdam ;

▼a

Boston :

▼b

Elsevier ,

▼c

2005.
300

▼a

428 p. :

▼b

ill. ;

▼c

25 cm.
440

0

▼a

Advances in parallel computing ;

▼v

v. 14
504

▼a

Includes bibliographical references and index.
650

0

▼a

Computational grids (Computer systems)
700

1

▼a

Grandinetti, Lucio

▼d

1941-
945

▼a

KINS
---
Holdings Information
No.
Location
Call Number
Accession No.
Availability
Due Date
Make a Reservation
Service

No.

1

Location

Science & Engineering Library/Sci-Info(Stacks2)/

Call Number

004.36 G847

Accession No.

121121679

Availability

Available

Due Date

Make a Reservation

Service
Contents information
Table of Contents
EDITOR PREFACE
FOREWORD
LIST OF CONTRIBUTORS

PART 1  GENERAL ISSUES
The Advanced Networks and Services Underpinning Modern, Large-Scale Science: DOE's Esnet, W. E. Johnston.
Netsolve: Grid Enabling Scientific Computing Environments, K. Seymour, A. Yarkhan, S. Agrawal, and J. Dongarra.
Operations Research Methods for Resource Management and Scheduling in a Computational Grid: a Survey,
A. Attanasio, G. Ghiani, L. Grandinetti, E. Guerriero and F. Guerriero.
Peer-to-Peer Protocols and Grid Services for Resource Discovery on Grids, D. Talia and P. Trunfio.
Data Placement in Widely Distributed Environments, 
T. Kosar, S.-C. Son, G. Kola and M. Livny.
The Grid Relational Catalog Project, G. Aloisio, M. Cafaro, S. Fiore and M. Mirto.

PART 2  PERFORMANCE
The "MIND" Scalable PIM Architecture, T. Sterling and M. Brodowicz.
SLA-aware Job Migration in Grid Environments, 
F. Heine, M. Hovestadt, O. Kao and A. Keller
Micro-grids - the exploitation of massive on-chip concurrency, C. R. Jesshope
Autonomous Performance and Risk Management in Large
Distributed Systems and Grids, M. Brittan and J. Kowalik
Optimization Techniques for Skeletons on Grids,
M. Aldinucci, M. Danelutto, J. Duennweber and S. Gorlatch
Towards a Middleware Framework for Dynamically Reconfigurable Scientific Computing, K. El Maghraoui, T. Desell, B. K. Szymanski, J. D. Teresco, and C. A. Varela.

PART 3  APPLICATIONS
Messaging in Web Service Grid with Applications to Geographical Information Systems, G. Fox, S. Pallickara, G. Aydin and M. Pierce
NewsGrid, S. Geisler, G. R. Joubert
UNICORE ? From Project Results to Production Grids, 
A. Streit, D. Erwin, Th. Lippert, D. Mallmann, R. Menday, M. Rambadt, M. Riedel, M. Romberg, B. Schuller and Ph. Wieder
Developing Innovative Technologies for the Grid, 
J.-P. Prost, L. Berman,  R. Chang, M. Devarakonda, M. Haynos, W.-S. Li, Y. Li, I. Narang, J. Unger and D. Verma
Tools for Efficient Subsetting and Pipelined Processing of Large Scale, Distributed Biomedical Image Data, M. Ribeiro, T. Kurc,Tony Pan, K. Huang, U. Catalyurek, X. Zhang, S. Langella, S. Hastings, S. Oster, R. Ferreira and J. Saltz.
Information Provided By: :