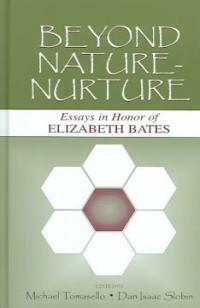 000
01101namuu2200325 a 4500
001
000045210046
005
20051205153441
008
051130s2005 njua b 001 0 eng d
010

▼a

2004042516
020

▼a

0805850279
040

▼a

211009

▼c

211009

▼d

211009
082

0

0

▼a

401.93

▼2

22
090

▼a

401.93

▼b

B573
245

0

0

▼a

Beyond nature-nurture :

▼b

essays in honor of Elizabeth Bates /

▼c

edited by Michael Tomasello, Dan Isaac Slobin.
260

▼a

Mahwah, N.J. :

▼b

Lawrence Erlbaum Associates, Publishers ,

▼c

2005.
300

▼a

il, 339 p. :

▼b

ill. ;

▼c

24 cm.
504

▼a

Includes bibliographical references and indexes.
600

1

0

▼a

Bates, Elizabeth.
650

0

▼a

Language acquisition.
650

0

▼a

Language development.
650

0

▼a

Psycholinguistics.
650

0

▼a

Nature and nurture.
650

0

▼a

Culture and cognition.
650

0

▼a

Language and culture.
650

0

▼a

Communication and culture.
700

1

▼a

Bates, Elizabeth.
700

1

▼a

Tomasello, Michael.
700

1

▼a

Slobin, Dan Isaac

▼d

1939-
945

▼a

KINS
---
Holdings Information
No.
Location
Call Number
Accession No.
Availability
Due Date
Make a Reservation
Service

No.

1

Location

Main Library/Western Books/

Call Number

401.93 B573

Accession No.

111340917

Availability

Available

Due Date

Make a Reservation

Service
Contents information
Author Introduction
마이클 토마셀로
(엮은이)
독일의 막스플랑크 진화인류학연구소 공동 소장을 맡고 있는 세계적인 영장류학자이다. 심리학을 전공하고 영장류의 인지능력과 문화가 인간과 어떻게 다른지 비교하는 연구 및 아이들의 언어 습득에 관한 연구에서 큰 업적을 남겼다. 인지과학과 심리철학에 중요한 기여를 한 연구자에게 수여하는 '장 니코드 상Jean Nicod Prize' 외에 다수의 학술상을 수상했으며, 세계적으로 몇 손가락 안에 꼽히는 다학제적 연구자로 인정받는다. 사회성과 협력에 초점을 두고 인간의 사회적 인지능력의 기원을 연구했으며, 영장류의 인지 과정의 이해에 큰 기여를 했다. 구겐하임 재단, 영국 아카데미, 네덜란드 왕립아카데미, 독일 국립과학아카데미 등에서 과학적 업적을 인정받았다. 지은 책으로 《생각의 기원A Natural History of Human Thinking》을 비롯해 《이기적 원숭이와 이타적 인간Why We Cooperate》, 《인간의 의사소통 기원Origins of Human Communications》, 《인간 인지의 문화적 기원The Cultural Origins of Human Cognition》 등이 있다.
Information Provided By: :

Table of Contents
Contents: D.I. Slobin, M. Tomasello, Introduction. Elizabeth Bates's Aphorisms for the Study of Language, Cognition, Development, Biology, and Evolution. Vita and Publications of Elizabeth Bates. Part I:Gestures and Word Meaning. V. Volterra, M.C. Caselli, O. Capirci, E. Pizzuto, Gesture and the Emergence and Development of Language. P. Dale, J. Goodman, Commonality and Individual Differences in Vocabulary Growth. Part II:The Competition Model and Connectionism. B. MacWhinney, New Directions in the Competition Model. J.L. Elman, M. Hare, K. McRae, Cues, Constraints, and Competition in Sentence Processing. Part III:Grammar. V. Marchman, D. Thal, Words and Grammar. A. Devescovi, S. D'Amico, The Competition Model: Crosslinguistic Studies of Online Processing. Part IV:Biology and Language. B.L. Finlay, Rethinking Developmental Neurobiology. A. Karmiloff-Smith, Bates's Emergentist Theory and Its Relevance to Understanding Genotype/Phenotype Relations. F. Dick, N.F. Dronkers, L. Pizzamiglio, A.P. Saygin, S.L. Small, S. Wilson, Language and the Brain. Part V:Language Processing. W.D. Marslen-Wilson, L.K. Tyler, The Lexicon, Grammar, and the Past Tense: Dissociation Revisited. J. Aydelott, M. Kutas, K.D. Federmeir, Perceptual and Attentional Factors in Language Comprehension: A Domain-General Approach. J. Aydelott, Addendum: About Liz.

Information Provided By: :