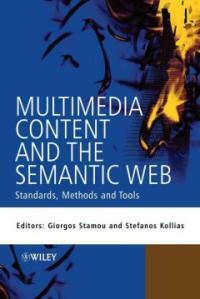 000
01132namuu22003257a 4500
001
000045209766
005
20051205173905
008
040330s2005 enka b 001 0 eng d
010

▼a

2005440761
015

▼a

GBA4X1417

▼2

bnb
016

7

▼a

012879617

▼2

Uk
020

▼a

9780470857533
020

▼a

0470857536
035

▼a

(OCoLC)ocm60606075
040

▼a

UKM

▼b

eng

▼c

UKM

▼d

BAKER

▼d

DLC

▼d

211009
042

▼a

ukblsr

▼a

lccopycat
050

0

0

▼a

QA76.575

▼b

.M7915 2005
082

0

4

▼a

006.7

▼2

22
090

▼a

006.7

▼b

M9615
245

0

0

▼a

Multimedia content and the semantic Web :

▼b

methods, standards, and tools /

▼c

edited by Giorgos Stamou and Stefanos Kollias.
260

▼a

Chichester, West Sussex, England ;

▼a

Hoboken, NJ :

▼b

John Wiley & Sons ,

▼c

c2005.
300

▼a

xxii, 392 p. :

▼b

ill. ;

▼c

26 cm.
504

▼a

Includes bibliographical references and index.
650

0

▼a

Multimedia systems.
650

0

▼a

Semantic Web.
650

0

▼a

Information storage and retrieval systems.
700

1

▼a

Stamou, Giorgos.
700

1

▼a

Kollias, Stefanos.
945

▼a

KINS
---
Holdings Information
No.
Location
Call Number
Accession No.
Availability
Due Date
Make a Reservation
Service

No.

1

Location

Science & Engineering Library/Sci-Info(Stacks2)/

Call Number

006.7 M9615

Accession No.

121117592

Availability

Available

Due Date

Make a Reservation

Service
Contents information
Table of Contents
List of Contributors.  

Foreword (Rudi Studer).

 

Foreword (A. Murat Tekalp).

 

Introduction.

 

PART ONE: KNOWLEDGE AND MULTIMEDIA.

 

1. Multimedia Content Description in MPEG-7 and MPEG-21 (Fernando Pereira and Rik Van de Walkle).

 

2. Ontology Representation and Querying for Realizing Semantics-driven Applications (Boris Motik, Alexander Maedche and Raphael Volz).

 

3. Adding Multimedia to the Semantic Web: Building and Applying an MPEG-7 Ontology (Jane Hunter).

 

4. A Fuzzy Knowledge-Based System for Multimedia Applications (Vassilis Tzouvaras, Giorgos Stamou and Stefanos Kollias).

 

PART TWO: MULTIMEDIA CONTENT ANALYSIS.

 

5. Structure Identification in an Audiovisual Document (Philippe Joly).

 

6. Object-Based Video Indexing (Jenny Benois-Pineau).

 

7. Automatic Extraction and Analysis of Visual Objects Information (Xavier Gir´o, Ver´onica Vilaplana, Ferran Marqu´es, Philippe Salembier).

 

8. Mining the Semantics of Visual Concepts and Context (Milind R. Naphade and John R. Smith).

 

9. Machine Learning in Multimedia (Nemanja Petrovic, Ira Cohen and Thomas S. Huang).

 

PART THREE: MULTIMEDIA CONTENT MANAGEMENT SYSTEMS AND THE SEMANTIC WEB.

 

10. SemanticWeb Applications (Alain L´eger, Pramila Mullan, Shishir Garg and Jean Charlet).

 

11. Multimedia Indexing and Retrieval Using Natural Language, Speech and Image Processing Methods (Harris Papageorgiou, Prokopis Prokopidis, Athanassios Protopapas and George Carayannis).

 

12. Knowledge-Based Multimedia Content Indexing and Retrieval (Manolis Wallace, Yannis Avrithis, Giorgos Stamou and Stefanos Kollias).

 

13. Multimedia Content Indexing and Retrieval Using an Object Ontology (Ioannis Kompatsiaris, Vasileios Mezaris and Michael G. Strintzis).

 

14. Context-Based Video Retrieval for Life-Log Applications (Kiyoharu Aizawa and Tetsuro Hori).

 

Index.
Information Provided By: :