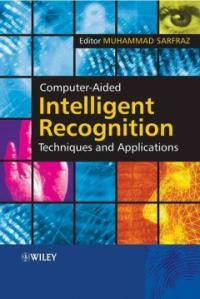 000
00927camuu2200253 a 4500
001
000045202944
005
20051104171921
008
041229s2005 enka b 001 0 eng
010

▼a

2004030987
020

▼a

0470094141 (cloth)
040

▼a

DLC

▼c

DLC

▼d

DLC

▼d

244002
042

▼a

pcc
050

0

0

▼a

TK7868.L6

▼b

C67 2005
082

0

0

▼a

006.3

▼2

22
090

▼a

006.3

▼b

C7384
245

0

0

▼a

Computer-aided intelligent recognition techniques and applications /

▼c

edited by Muhammad Sarfraz.
260

▼a

Chichester, West Sussex, England ;

▼a

Hoboken, NJ :

▼b

J. Wiley,

▼c

c2005.
300

▼a

xx, 497 p. :

▼b

ill. ;

▼c

25 cm.
504

▼a

Includes bibliographical references and index.
650

0

▼a

Logic circuits

▼x

Computer-aided design.
650

0

▼a

Pattern perception.
700

1

▼a

Sarfraz, Muhammad.
---
Holdings Information
No.
Location
Call Number
Accession No.
Availability
Due Date
Make a Reservation
Service

No.

1

Location

Science & Engineering Library/Sci-Info(Stacks2)/

Call Number

006.3 C7384

Accession No.

121117523

Availability

Available

Due Date

Make a Reservation

Service
Contents information
Table of Contents
Preface.  

List of Contributors.

 

1. On Offline Arabic Character Recognition (Muhammad Sarfraz, Abdulmalek Zidouri, and Syed Nazim Nawaz (Saudi Arabia).

 

2. License Plate Recognition System: Saudi Arabian Case (Muhammad Sarfraz and Mohammed Jameel Ahmed (Saudi Arabia).

 

3. Algorithms for Extracting Textual Characters in Color Video (Edward K. Wong and  Minya Chen(USA).

 

4. Separation of Handwritten Touching Digits: A Multi-Agents Approach (Ashraf Elnagar (UAE ) and Reda Al-Hajj (Canada).

 

5. Prototype-based Handwriting Recognition using Shape and Execution Prototypes (Miguel L. Bote-Lorenzo, Eduardo Gómez-Sánchez, Yannis A. Dimitriadis (Spain).

 

6. Logo Detection in Document Images with Complex Backgrounds (Tuan D. Pham and Jinsong Yang (Australia).

 

7. An Intelligent On-line Signature Verification System (Bin Li (China) and David Zhang (Hong Kong).

 

8. Hybrid Fingerprint Recognition using Minutiae and Shape (Asker Bazen, Raymond Veldhuis, and Sabih Gerez (The Netherlands).

 

9. Personal Authentication Using the Fusion of Multiple Palm-print Features (Chin-Chuan Han ( Taiwan, R.O.C.).

 

10. Intelligent Iris Recognition Using Neural Networks (Muhammad Sarfraz, Mohamed Deriche, Muhammad Moinuddin, and Syed Saad Azhar Ali (Saudi Arabia).

 

11. Pose Invariant Face Recognition using Subspaces Techniques (Mohamed Deriche and Mohammed Aleemuddin (Saudi Arabia).

 

12. Developmental Vision: Adaptive Recognition of Human Faces by Humanoid Robots (Hon-fai Chia and Ming Xie (Singapore).

 

13. Empirical Study on Appearance-based Binary Age Classification (Mohammed Yeasin, Rahul Khare, and Rajeev Sharma (USA).

 

14. Intelligent Recognition in Medical Pattern Understanding and Cognitive Analysis (Marek R. Ogiela and Ryszard Tadeusiewicz (Poland).

 

15. The Road Map for Recognizing Regions of Interest in Medical Images (Sabah M.A. Mohammed, Jinan A.W. Fiaidhi, and Lei Yang (Canada).

 

16. Feature Extraction and Compression with Discriminative and Nonlinear Classifiers and Applications in Speech Recognition (Xuechuan Wang (Canada).

 

17. Improving Mine Recognition through Processing and Dempster-Shafer Fusion of Multisensor Data (Nada Milisavljević (Belgium) and Isabelle Bloch (France).

 

18. Fast Object Recognition Using Dynamic Programming from Combination of Salient Line Groups (Dong Joong Kang, Jong Eun Ha, and In So Kweon (Korea).

 

19. Holo-Extraction and Intelligent Recognition of Digital Curves Scanned from Paper Drawings (Ke-Zhang Chen, Xi-Wen Zhang, Zong-Ying Ou, and Xin-An Feng(China).

 

20.  Topological Segmentation and Smoothing of Discrete Curve Skeletons (Wenjie Xie, Renato Perucchio, David Sedmera, and Robert P. Thompson (USA).

 

21. Applications of Clifford Valued Neural Networks to Pattern Classification and Pose Estimation (Eduardo Bayro-Corrochano and Nancy Arana-Daniel (México).

 

22. Intelligent Recognition: Components of the Short Time Fourier Transform vs. Conventional Approaches(Leonid Gelman, Mike Sanderson, Chris Thompson, and Paul Anuzis (UK).

 

23. Conceptual Data Classification: Application for Knowledge Extraction(Ahmed Hasnah, Ali Jaoua, and Jihad Jaam (Qatar).

 

24.  Cryptographic Communications With Chaotic Semiconductor Lasers (Andrés Iglesias (Spain).

 

Index.
Information Provided By: :