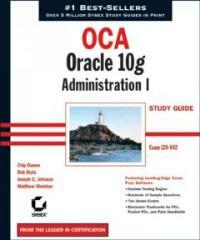 000
01185camuu22003257a 4500
001
000045202378
005
20051103144930
008
050321s2005 caua 001 0 eng d
010

▼a

2005297155
015

▼a

GBA468313

▼2

bnb
020

▼a

0782143679 (pbk.)
035

▼a

(OCoLC)ocm58430433
040

▼a

EQO

▼c

EQO

▼d

DLC

▼d

211009
042

▼a

lccopycat
050

0

0

▼a

QA76.3

▼b

.O28 2005
082

0

0

▼a

005.75/85

▼2

22
090

▼a

005.7585

▼b

O15
245

0

0

▼a

OCA :

▼b

Oracle 10g administration I study guide /

▼c

Chip Dawes ... [et al.].
246

3

0

▼a

Oracle 10g administration I
260

▼a

San Francisco [Calif.] ;

▼a

London :

▼b

SYBEX ,

▼c

c2005.
300

▼a

xl, 629 p. :

▼b

ill. ;

▼c

23 cm. +

▼e

1 CD-ROM (4 3/4 in.).
500

▼a

"Exam 1Z0-042"--Cover.
500

▼a

Includes index.
538

▼a

System requirements for accompanying disc: Windows 98 (or higher).
630

0

0

▼a

Oracle (Computer file)

▼x

Examinations

▼v

Study guides.
650

0

▼a

Electronic data processing personnel

▼x

Certification.
650

0

▼a

Database management

▼x

Examinations

▼v

Study guides.
700

1

▼a

Dawes, Chip.
945

▼a

KINS
---
Holdings Information
No.
Location
Call Number
Accession No.
Availability
Due Date
Make a Reservation
Service

No.

1

Location

Science & Engineering Library/Sci-Info(Stacks2)/

Call Number

005.7585 O15

Accession No.

121114472

Availability

Available

Due Date

Make a Reservation

Service
Contents information
Author Introduction
Table of Contents
Introduction.

Assessment Test.

Chapter 1: Oracle Database 10g Components and Architecture.

Chapter 2: Creating and Controlling a Database.

Chapter 3: Database Storage and Schema Objects.

Chapter 4: Oracle Net Services.

Chapter 5: Oracle Shared Server.

Chapter 6: User Administration and Security.

Chapter 7: Managing Data With SQL, PL/SQL, and Utilities.

Chapter 8: Managing Consistency and Concurrency.

Chapter 9: Proactive Database Maintenance and Performance Monitoring.

Chapter 10: Implementing Database Backups.

Chapter 11: Implementing Database Recovery.

Glossary.

Index.
Information Provided By: :