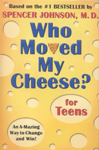 000
01014camuu2200277 a 4500
001
000045201486
005
20051102140211
008
020711s2002 nyua j 000 0 eng
010

▼a

2002026981
020

▼a

0399240071
040

▼a

DLC

▼c

DLC

▼d

DLC

▼d

211009
042

▼a

lcac
050

0

0

▼a

BF637.C4

▼b

J643 2002
082

0

0

▼a

155.2/4

▼2

21
090

▼a

155.24

▼b

J69wh
100

1

▼a

Johnson, Spencer.
245

1

0

▼a

Who moved my cheese? for teens :

▼b

an a-mazing way to change and win! /

▼c

Spencer Johnson.
260

▼a

New York :

▼b

G.P. Putnam's Sons ,

▼c

c2002.
300

▼a

96 p. :

▼b

ill. ;

▼c

22 cm.
520

▼a

Presents the author's parable about change framed in a story about a group of high school friends trying to handle change in their lives.
650

0

▼a

Change (Psychology)

▼v

Juvenile literature.
650

0

▼a

Teenagers

▼x

Conduct of life

▼v

Juvenile literature.
650

1

▼a

Change (Psychology)
650

1

▼a

Conduct of life.
945

▼a

KINS
---
Holdings Information
No.
Location
Call Number
Accession No.
Availability
Due Date
Make a Reservation
Service

No.

1

Location

Main Library/Western Books/

Call Number

155.24 J69wh

Accession No.

111336701

Availability

Available

Due Date

Make a Reservation

Service
Contents information
Book Introduction
Presents the author's parable about change framed in a story about a group of high school friends trying to handle change in their lives.

The author of Who Moved My Cheese relates an amusing and entertaining parable intended to help teens not only cope with--but embrace--unexpected change, from college decisions and dating to dealing with parents and peer pressure.
Information Provided By: :

Author Introduction
스펜서 존슨
(지은이)
전 세계 수많은 이들에게 큰 울림을 전한 작가이자, 사상가이다. 40년이 넘는 시간 동안 간단하면서도 지혜로운 이야기들을 창조해 전 세계 수천만 독자들을 감동시켰다. 그가 풀어놓는 이야기들은 평범하지만 세대와 국적을 초월하는 보편적인 진리를 담고 있다. 그가 발표한 수많은 명저들은 47개국의 언어로 번역되었다. 1938년 미국 사우스다코다주에서 태어났다. 서던캘리포니아대학교에서 심리학을 전공한 뒤, 영국 왕립외과대학에서 의학을 공부했으며, 메이오클리닉과 하버드대학교 의학전문대학원에서 수련의 과정을 마쳤다. 하버드대학교 경영전문대학원 리더십 특별연구원, 하버드대학교 행정대학원 공공리더십센터 고문, 세계적인 컨설팅 기업인 스펜서 존슨 파트너스의 회장을 역임했다. 지은 책으로 세계적인 베스트셀러인 《누가 내 치즈를 옮겼을까?》, 《선물》 외에 《선택》, 《행복》, 《피크 앤드 밸리》, 《부모》, 《내 치즈는 어디에서 왔을까?》 등이 있다. 2017년 7월 췌장암에 의한 합병증으로 세상을 떠났다.
Information Provided By: :