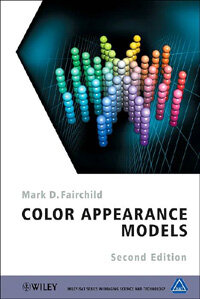 000
00809pamuu22002294a 4500
001
000045189124
005
20050905100539
008
041007s2005 enka b 001 0 eng
020

▼a

0470012161 (alk. paper)
035

▼a

(OCoLC)ocm56686497
040

▼a

DLC

▼c

DLC

▼d

YDX

▼d

DLC

▼d

244002
082

0

0

▼a

612.8/4

▼2

22
090

▼a

612.84

▼b

F165c2
100

1

▼a

Fairchild, Mark D.
245

1

0

▼a

Color appearance models /

▼c

Mark D. Fairchild.
250

▼a

2nd ed.
260

▼a

Chichester, West Sussex, England ;

▼a

Hoboken, NJ :

▼b

J. Wiley ,

▼c

c2005.
300

▼a

xxi, 385 p. :

▼b

ill. (some col.) ;

▼c

25 cm.
440

0

▼a

Wiley-IS&T series in imaging science and technology
504

▼a

Includes bibliographical references (p. [361]-377) and index.
650

0

▼a

Color vision.
---
Holdings Information
No.
Location
Call Number
Accession No.
Availability
Due Date
Make a Reservation
Service

No.

1

Location

Science & Engineering Library/Sci-Info(Stacks2)/

Call Number

612.84 F165c2

Accession No.

121121701

Availability

Available

Due Date

Make a Reservation

Service
Contents information
Book Introduction
디지털 미디어들 간의 컬러 충실도를 얻기 위한, 그리고 인터넷상에서 디스플레이 장치들 간의 컬러 전송용 표준 제정에 대한 꾸준한 요구를 반영하여 컬러 관리와 어피어런스의 빠른 성장 분야를 포함하여 많은 내용이 수정, 업데이트한 두 번째 개정판이다.

컬러 이미지를 사용하는 학생과 엔지니어 모두에게 쉽게 접근할 수 있는 방법을 제공하고 CIE 모델(현CIECAM02)과 색순응 변환의 가장 최근 내용을 포함한다. 그리고 컬러 어피어런스 응용을 위해 개발 중인 연구 분야로서 이미지 어피어런스 모델링을 소개한다. 엔지니어링 컬러 시스템에서 연구하는 기술자, 컬러 과학자, 이미징 전문가와 이를 공부하고자 하는 학생들에게 유용할 것으로 기대된다.

There is an ever-increasing demand for a standard way to transport colours among devices on the Internet, and for achieving colour fidelity across digital media. The rapid growth in colour imaging technology has led to the emergence of colour management systems. These systems require colour appearance models so that images produced in one medium and viewed in a particular environment, may be reproduced in a second medium and viewed under different conditions.
The eagerly anticipated second edition of Colour Appearance Models brings the fundamental issues and current solutions in the area of colour appearance modelling together in a single place for those needing to solve practical problems or looking for background for ongoing research projects. This book provides the relevant information for an updated review of colour appearance and provide details of many of the most widely used models to date, for example, Nayatani et al., Hunt, and RLAB and the ATD and LLAB appearance models that are of increasing interest for some applications. It also includes the recently formulated CIECAM02 model that represents a significant improvement of CIECAM97S and is the best possible model based on current knowledge. Fairchild presents an updated overview of device-independent colour imaging and finally introduces the concept of image appearance modelling as a potential future direction for colour appearance modelling research.

A website accompanies this text that lists developments, publications and calculations related to the material in this book.


Information Provided By: :