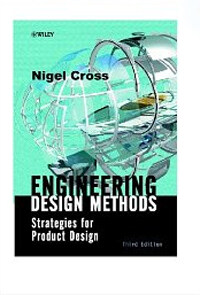 000
00838camuu2200253 a 4500
001
000045186809
005
20050826153153
008
000608s2000 nyua b 001 0 eng
010

▼a

00043339
020

▼a

0471872504
035

▼a

KRIC08926677
040

▼a

DLC

▼c

DLC

▼d

211046

▼d

211046

▼d

211009
050

0

0

▼a

TA174

▼b

.C76 2000
082

0

4

▼a

620.0042

▼2

22
090

▼a

620.0042

▼b

C951e3
100

1

▼a

Cross, Nigel ,

▼d

1942-.
245

1

0

▼a

Engineering design methods :

▼b

strategies for product design /

▼c

Nigel Cross.
250

▼a

3rd ed.
260

▼a

Chichester ;

▼a

New York :

▼b

John Wiley & Sons ,

▼c

c2000.
300

▼a

xi, 212 p. :

▼b

ill. ;

▼c

25 cm.
504

▼a

Includes bibliographical references (p. [209]-210) and index.
650

0

▼a

Engineering design.
945

▼a

KINS
---
Holdings Information
No.
Location
Call Number
Accession No.
Availability
Due Date
Make a Reservation
Service

No.

1

Location

Science & Engineering Library/Sci-Info(Stacks2)/

Call Number

620.0042 C951e3

Accession No.

121108937

Availability

Available

Due Date

Make a Reservation

Service
Contents information
Book Introduction
Building on the outstanding success of the previous editions, this new edition reinforces its original three?part structure: Part I provides an introduction to design, Part II presents design methods as the core feature of the book and finally, Part III puts the methods into a wider context of managing the overall design within the business process of planning and developing new products.

Substantially revised and updated, this text also contains two completely new chapters:

* Design Ability, which takes advantage of the new knowledge about design cognition and designers′ activities, and
* Product Development, which also covers the most recent thinking, including the broader business context of design activity.

This third edition will remain at the forefront of engineering and industrial design as as essential text for students and lecturers, as well as practitioners.
Information Provided By: :

Author Introduction
나이절 크로스
(지은이)
영국 오픈유니버시티Open University의 디자인 연구 전공 교수이자 기술학부 디자인혁신학과 학과장. 1970년부터 오픈유니버시티의 선두적인 멀티미디어 원격 교육 프로그램의 교원으로 재직하고 있으며 디자인 및 테크놀로지에 관한 다양한 과목을 담당한다. 디자인 연구, 특히 디자인 방법론과 디자인 인식 연구 분야에서 국제적인 명성을 얻고 있다. 한편 엘제비어사이언스Elsevier Science가 디자인연구협회와 협력해 발행하는 국제 연구 계간지 《디자인스터디스Design Studies》의 편집장이기도 하다.
Information Provided By: :