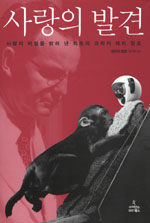 000
00859camccc200265 k 4500
001
000045185619
005
20100806041908
007
ta
008
050718s2005 ulk b 001c kor
020

▼a

8983711671

▼g

03990:

▼c

\22000
035

▼a

KRIC09962073
040

▼a

211052

▼c

211052

▼d

211009
041

1

▼a

kor

▼h

eng
082

0

4

▼a

150.92

▼2

22
090

▼a

150.92

▼b

2005
100

1

▼a

Blum, Deborah ,

▼d

1954-.
245

1

0

▼a

사랑의 발견 :

▼b

사랑의 비밀을 밝혀 낸 최초의 과학자 해리 할로 /

▼d

데버러 블룸 지음 ;

▼e

임지원 옮김.
246

1

9

▼a

Love at Goon Park: Harry Harlow and the science of affection
260

▼a

서울 :

▼b

사이언스북스 ,

▼c

2005.
300

▼a

534 p. ;

▼c

22 cm.
504

▼a

참고문헌(p. [501]-522) 및 색인수록
600

1

▼a

Harlow, Harry Frederick ,

▼d

1905-
700

1

▼a

임지원 ,

▼e

역

▼0

AUTH(211009)75900
945

▼a

KINS
---
Holdings Information
No.
Location
Call Number
Accession No.
Availability
Due Date
Make a Reservation
Service

No.

1

Location

Main Library/Education Reserves(Health Science)/

Call Number

150.92 2005

Accession No.

141046780

Availability

Available

Due Date

Make a Reservation

Service

No.

2

Location

Main Library/Monographs(3F)/

Call Number

150.92 2005

Accession No.

111327895

Availability

Available

Due Date

Make a Reservation

Service

No.

3

Location

Main Library/Monographs(3F)/

Call Number

150.92 2005

Accession No.

111327896

Availability

Available

Due Date

Make a Reservation

Service
Contents information
Book Introduction
어미 없는 새끼 원숭이에게 철사 뭉치로 만든 대리모와 헝겊으로 만든 대리모를 던져 주고 새끼 원숭이가 어떤 대리모를 선택하는지 관찰한 '헝겊 대리모 실험'을 통해 사랑의 중요성을 과학적으로 증명하며 주류 심리학계에 도전장을 내밀었던 해리 할로의 '사랑의 과학'과 '사랑없는 삶'에 관한 책.

스키너와 프로이트가 지배하고 있던 당시 주류 심리학계의 벽에 맞서 사랑의 중요성을 과학적으로 입증하며 심리학에 새로운 지평을 열었으면서도, 바쁘다는 핑계로 아내와 아이들에게 사랑을 주지 않았으며 그들이 떠나가도록 만들었던 그의 모순적인 삶을 추앙하지도, 그렇다고 힐난하지도 않은 채 균형잡힌 시각으로 그려낸다.
Information Provided By: :

Author Introduction
데버러 블룸
(지은이)
1992년 영장류 연구로 퓰리처상을 받은 저자는 <뉴욕 타임스New York Times>, <월스트리트 저널Wall Street Journal>, <로스앤젤레스 타임스Los Angeles Times>, <슬레이트Slate>, <사이콜로지 투데이Psychology Today>, <머더 존스Mother Jones>등에 과학 칼럼을 써왔다. 또한 전미 과학 저술가 협회(National Association of Science Writers) 회장을 지내고, 세계 과학 저널리스트 연합 북미 위원(the North American Board member of the World Federation of Science Journalists)을 지내는 등 미국의 대표 과학 저널리스트로 평가받고 있다. 지금은 위스콘신 대학교에서 과학 저널리즘을 가르치고 있다.
임지원
(옮긴이)
서울대학교에서 식품영양학을 전공하고 같은 대학원을 졸업했다. 전문 번역가로 활동하며 다양한 인문·과학서를 옮겼다. 옮긴 책으로는 『공기』, 『에덴의 용』, 『진화란 무엇인가』, 『섹스의 진화』, 『스피노자의 뇌』, 『넌제로』, 『슬로우데스』, 『루시퍼 이펙트』, 『급진적 진화』, 『사랑의 발견』, 『세계를 바꾼 지도』, 『꿈』, 『육천 년 빵의 역사』(공역), 『교양으로 읽는 희토류 이야기』 등이 있다.
Information Provided By: :

Table of Contents


목차
머리말 = 7
감사의 글 = 15
프롤로그 : 비상하는 사람 = 25
1장 해리 할로의 탄생 = 33
2장 네 아이를 안지 마라 = 71
3장 우두머리 수컷 = 117
4장 호기심 상자 = 157
5장 사랑의 본질 = 195
6장 완벽한 어머니 = 241
7장 사랑의 고리 = 285
8장 절망의 구렁텅이 = 341
9장 진실 저 너머 = 377
10장 사랑의 과학 = 419
에필로그 : 사랑의 탐험가 = 473
참고 문헌 = 501
옮긴이의 글 = 523
찾아보기 = 531