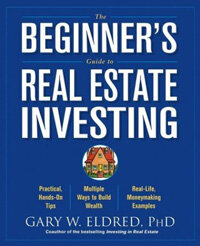 000
01058camuu22002774a 4500
001
000045182333
005
20050801140912
008
040113s2004 nju b 001 0 eng
010

▼a

2004040730
020

▼a

047164711X (paper)
040

▼a

DLC

▼c

DLC

▼d

DLC

▼d

211009
042

▼a

pcc
050

0

0

▼a

HD1375

▼b

.E353 2004
082

0

0

▼a

332.63/24

▼2

22
090

▼a

332.6324

▼b

E37b
100

1

▼a

Eldred, Gary W.
245

0

4

▼a

The beginner's guide to real estate investing /

▼c

Gary W. Eldred.
260

▼a

Hoboken, N.J :

▼b

John Wiley,

▼c

c2004.
300

▼a

xii, 296 p. ;

▼c

24 cm.
504

▼a

Includes bibliographical references (p. 287-290) and index.
650

0

▼a

Real estate investment.
945

▼a

KINS
---
Holdings Information
No.
Location
Call Number
Accession No.
Availability
Due Date
Make a Reservation
Service

No.

1

Location

Main Library/Western Books/

Call Number

332.6324 E37b

Accession No.

111325187

Availability

Available

Due Date

Make a Reservation

Service
Contents information
Book Introduction
------------Book Description-------------
Everything you need to know to begin acquiring properties––now!
No matter what obstacles you think you face, real estate still offers you multiple money making opportunities. In The Beginner's Guide to Real Estate Investing, successful investor and author Gary Eldred presents the tools and knowledge new investors need to get started. This no-hype guide presents case studies of people just like you–regular people who used these simple, smart strategies to earn big returns. You'll not only gain the basics of real estate investing, but also a vault full of specialized techniques that the pros rely on to grow their long-term wealth. Concise yet comprehensive, this practical guide shows you how to:
Find below-market deals
Invest using little or none of your own cash
Use low or no down payment seller financing
Find creative ways to finance your investments
Make money with foreclosures and REOs
Increase the value of an investment property
Negotiate a winning purchase offer
Manage rentals hassle free
Flip properties for fast profit
In addition, Eldred shows you how to tailor your investment strategy to make money in any place in any type of market. With proven techniques and timeless principles, The Beginner's Guide to Real Estate Investing is the prime resource you need to start building a prosperous future–today.

------------Download Description-------------
A hands-on guide for anyone who wants to make a fortune in real estate

In The Beginner's Guide to Real Estate Investing, successful real estate investor and author Gary Eldred gives readers concise and straightforward advice on avoiding common mistakes and achieving uncommon success in the housing market. Full of proven wisdom and the insight of a veteran investor, this comprehensive guide covers everything novices need to know about real estate, but also offers proven guidance that will help experienced investors stay sharp.
Eldred doesn't offer a quick-and-easy blueprint which wouldn't work anyway or promise overnight success. He covers topics real investors need to make real money. Whereas most real estate books take a one-size-fits-all approach, ignoring the fact that the market in Peoria isn't anything like the market in Chicago, Eldred shows investors how to adapt their strategies to fit changing market conditions. He covers more than just types of properties or financing, but also explains topics like tax certificates, commercial property, and discounted notes. Rather than tell investors what to do and exactly how to do it, Eldred provides the conceptual tools investors need to weigh the pros and cons of any course of action, allowing them the freedom to make their own success. This book doesn't just tell readers how to finance a condo or rehab a fixer-upper; The Beginner's Guide to Real Estate Investing covers all the vital aspects of real estate for anyone who's serious about making money.
Gary W. Eldred, PhD (Gainesville, FL), has been a successful real estate investor for over 20 years and has served on the business school faculty at Stanford University and the University of Virginia. He is the author of such successful real estate titles as The 106 Common Mistakes Homebuyers Make (and How to Avoid Them) (0-471-12658-6) and Value Investing in Real Estate (0-471-18520-5), as well as the Make Money series,


Information Provided By: :