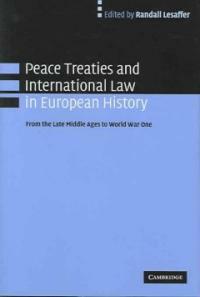 Peace treaties and international law in European history: from the late Middle Ages to World War One
000
00881namuu22002298a 4500
001
000045172776
005
20050609160016
008
030825s2004 nyu b 001 0 eng
020

▼a

0521827248 (hardback):

▼c

GBP75.00
035

▼a

KRIC09780646
040

▼a

221031

▼d

221031

▼d

221031

▼d

211009
082

0

0

▼a

341.6/6/09

▼2

22
090

▼a

341.6609

▼b

P355
245

0

0

▼a

Peace treaties and international law in European history:

▼b

from the late Middle Ages to World War One /

▼c

edited by Randall Lesaffer.
260

▼a

New York :

▼b

Cambridge University Press ,

▼c

2004.
300

▼a

xxii, 481 p. ;

▼c

24 cm.
504

▼a

Includes bibliographical references and index.
650

0

▼a

Peace treaties

▼x

History.
650

0

▼a

International law

▼z

Europe

▼x

History.
651

0

▼a

Europe

▼x

Foreign relations

▼x

Treaties.
700

1

▼a

Lesaffer, Randall.
---
Holdings Information
No.
Location
Call Number
Accession No.
Availability
Due Date
Make a Reservation
Service

No.

1

Location

Main Library/Law Library(Preservation Stacks/B2)/

Call Number

341.6609 P355

Accession No.

111320594

Availability

Available

Due Date

Make a Reservation

Service
Contents information
Table of Contents
1. Introduction Randall Lesaffer; Part I. Peace treaties and international law from Lodi to Versailles (1454?1920): 2. Peace treaties from Lodi to Westphalia Randall Lesaffer; 3. Peace treaties from Westphalia to the Revolutionary Era Heinz Duchhardt; 4. Peace treaties from Paris to Versailles Heinhard Steiger; Part 11. Thinking Peace: voices from the past: 5. Vesitiga pacis. The Roman peace treaty: structure or event? Christian Baldus; 6. The influence of medieval Roman law on peace treaties Karl-Heinz Ziegler; 7. The kiss of peace Hanna Vollrath; 8. Martinus Garatus Laudensis on treaties Alain Wijffels; 9. The importance of medieval canon law and the scholastic tradition for the emergence of the early modern international legal order Dominique Bauer; 10. The Peace Treaties of Westphalia as an instance of the reception of Roman law Laurens Winkel; Part III. Thinking Peace: towards a better future: 11. Peace treaties, bonne foi and European civility in the Enlightenment Marc Belissa; 12. Peace, security and international organisations: the German international lawyers and the Hague Conferences Ingo Hueck; 13. Consent and caution: Lassa Oppenheim and his reaction to World War I Mathias Schmoeckel; 14. Talking peace: social science, peace negotiations and the structure of politics Andreas Osiander; Part IV. Making Peace: aspects of treaty practice: 15. The ius foederis re-examined: the Peace of Westphalia and the constitution of the Holy Roman Empire Ronald G. Asch; 16. The peace treaties of the Ottoman Empire with European Christian powers Karl-Heinz Ziegler; 17. Peace and prosperity: commercial aspects of peacemaking Stephen Neff; 18. The 1871 Peace Treaty between France and Germany and the 1919 Peace Treaty of Versailles Christian Tomuschat; Part V. Conclusion: 19. Conclusion Randall Lesaffer; Appendix; Index. 
Information Provided By: :