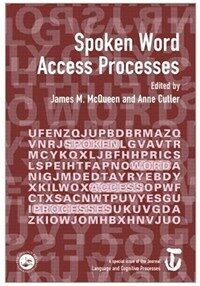 000
01275camuu22002651a 4500
001
000045115795
005
20040827152747
008
030513s2001 enka b 101 0 eng d
020

▼a

1841699160 (hbk)
040

▼a

IQU

▼c

IQU

▼d

211009
082

0

4

▼a

153.7

▼2

21
090

▼a

153.7

▼b

S762
245

0

0

▼a

Spoken word access processes /

▼c

edited by James M. McQueen and Anne Cutler.
260

▼a

Hove, East Sussex :

▼b

Psychology Press ,

▼c

c2001.
300

▼a

p. 465-740 :

▼b

ill. ;

▼c

26 cm.
500

▼a

"This book is also a special issue of the journal Language and Cognitive Processes, and forms issues 5 and 6 of Volume 16 (2002)"--Contents.
500

▼a

"The workshop Spoken Word Access Processes (SWAP) was held in Nijmegen during the last three days of May 2000"--Pref.
500

▼a

"SWAP was ... an International Speech Communication Association (ISCA) Tutorial and Research Workshop"--Pref.
504

▼a

Includes bibliographical references and index.
650

0

▼a

Speech perception

▼v

Congresses.
700

1

▼a

McQueen, James M.
700

1

▼a

Cutler, Anne.
710

2

▼a

International Speech Communication Association.

▼b

Tutorial and Research Workshop.
730

0

▼a

Language and cognitive processes.

▼p

Special number.
---
Holdings Information
No.
Location
Call Number
Accession No.
Availability
Due Date
Make a Reservation
Service

No.

1

Location

Centennial Digital Library/Stacks(Preservation2)/

Call Number

153.7 S762

Accession No.

111292510

Availability

Available

Due Date

Make a Reservation

Service
Contents information
Table of Contents
Preface.  Full Articles.  Spoken Word Access Processes: An Introduction J.M. McQueen, A. Cutler.  New Evidence for Prelexical Phonological Processing in Word Recognition E. Dupoux, C. Pallier, K. Kakehi, J. Mehler.  Subcategorical Mismatches and the Time Course of Lexical Access: Evidence for Lexical Competition D. Dahan, J.S. Magnuson, M.K. Tanenhaus, E.M. Hogan.  Variation and Assimilation in German: Consequences for Lexical Access and Representation E. Coenen, P. Zwitserlood, J. Boelte.  Phonotactics, Density, and Entropy in Spoken Word Recognition P.A. Luce, N.R. Large.  Bottom-up Inhibition in Lexical Selection: Phonological Mismatch Effects in Spoken Word Recognition U.H. Frauenfelder, M. Scholten, A. Content.  Sequence Detection in Pseudowords in French: Where is the Syllable Effect? A. Content, C. Meunier, R. Kearns, U. Frauenfelder. Language-universal Constraints on Speech Segmentation D. Norris, J.M. McQueen, A. Cutler, S. Butterfield, R. Kearns. Lipreading and the Compensation for Coarticulation Mechanism J. Vroomen, B. de Gelder.  Short Reports. Phoneme-like Units and Speech Perception T.M. Nearey. Mapping from Acoustic Signal to Phonetic Category: Internal Category Structure, Context Effects and Speeded Categorization J.L. Miller. Why Phonological Constraints are so Coarse-grained J. Pierrehumbert. Access to Lexical Representations: Cross-linguistic Issues W.D. Marslen-Wilson.  Some Empirical Tests of Merge's Architecture A.G. Samuel.  The Source of a Lexical Bias in the Verbal Transformation Effect M.A. Pitt, L. Shoaf. Phonological Variation and Its Consequences for the Word Recognition System M.G. Gaskell.  Taking the Hit: Leaving Some Lexical Competition to be Resolved Post-lexically E.G. Bard, C. Sotillo, M.L. Kelly, M.P. Aylett.
Information Provided By: :