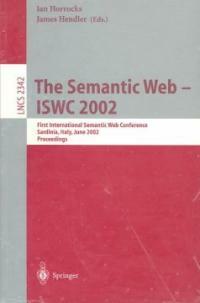 The semantic Web-ISWC 2002 : First International Semantic Web Conference, Sardinia, Italy, June 9-12, 2002 : proceedings
000
01071camuu2200289 a 4500
001
000001081903
005
20021114142959
008
020501s2002 gw a b 101 0 eng
010

▼a

2002070545
020

▼a

3540437606 (softcover : alk. paper)
040

▼a

DLC

▼c

DLC

▼d

DLC

▼d

244002
042

▼a

pcc
049

0

▼l

151131616
050

0

0

▼a

TK5105.88815

▼b

.I89 2002
082

0

0

▼a

004.67/8

▼2

21
090

▼a

004.678

▼b

I87s
111

2

▼a

ISWC 2002

▼d

(2002 :

▼c

Sardinia, Italy)
245

1

4

▼a

The semantic Web-ISWC 2002 :

▼b

First International Semantic Web Conference, Sardinia, Italy, June 9-12, 2002 : proceedings /

▼c

Ian Horrocks, James Hendler (eds.).
260

▼a

Berlin ;

▼a

New York :

▼b

Springer,

▼c

c2002.
300

▼a

xvi, 476 p. :

▼b

ill. ;

▼c

24 cm.
440

0

▼a

Lecture notes in computer science ;

▼v

2342
504

▼a

Includes bibliographical references.
650

0

▼a

Semantic Web

▼v

Congresses.
650

0

▼a

Web site development

▼v

Congresses.
700

1

▼a

Horrocks, Ian ,

▼d

1958-
700

1

▼a

Hendler, James A.
---
Contents information
Table of Contents
Invited Papers.- Semantic Web Enabled Web Services.- The Grid, Grid Services and the Semantic Web: Technologies and Opportunities.- Research Papers.- Matching RDF Graphs.- Layering the Semantic Web: Problems and Directions.- Notions of Indistinguishability for Semantic Web Languages.- The Usable Ontology: An Environment for Building and Assessing a Domain Ontology.- Sesame: A Generic Architecture for Storing and Querying RDF and RDF Schema.- A Formal Model for Topic Maps.- Towards High-Precision Service Retrieval.- Automatic Generation of Java/SQL Based Inference Engines from RDF Schema and RuleML.- Ontology-Based Integration of XML Web Resources.- Benchmarking RDF Schemas for the Semantic Web.- Building the Semantic Web on XML.- Trusting Information Sources One Citizen at a Time.- Querying the Semantic Web: A Formal Approach.- Semantic Configuration Web Services in the CAWICOMS Project.- Integrating Vocabularies: Discovering and Representing Vocabulary Maps.- OntoEdit: Collaborative Ontology Development for the Semantic Web.- Towards a Modification Exchange Language for Distributed RDF Repositories.- Representing Disjunction and Quantifiers in RDF.- Towards Semantic Web Mining.- Bringing Together Semantic Web and Web Services.- Global vs. Community Metadata Standards: Empowering Users for Knowledge Exchange.- Taking the RDF Model Theory Out for a Spin.- Concurrent Execution Semantics of DAML-S with Subtypes.- Semantic Matching of Web Services Capabilities.- DAML-S: Web Service Description for the Semantic Web.- TRIPLE-A Query, Inference, and Transformation Language for the Semantic Web.- A Data Integration Framework for e-Commerce Product Classification.- Position Papers.- Nonmonotonic Rule Systems on Top of Ontology Layers.- An RDF NetAPI.- A Mini-experiment in Semantic Annotation.- SWAD-Europe: Semantic Web Advanced Development in Europe A Position Paper.- Preemptive Reification.- Four Steps Towards the Widespread Adoption of a Semantic Web.- System Descriptions.- Three Implementations of SquishQL, a Simple RDF Query Language.- ClaiMaker: Weaving a Semantic Web of Research Papers.- Business and Enterprise Ontology Management with SymOntoX.- Is Participation in the Semantic Web Too Difficult?.- Consistency Checking of Semantic Web Ontologies.- WebTheme(TM): Understanding Web Information through Visual Analytics.- Browsing Schedules - An Agent-Based Approach to Navigating the Semantic Web.
Information Provided By: :