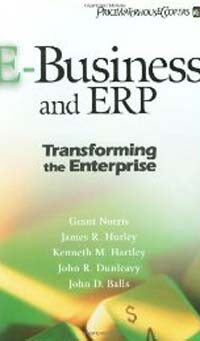 000
00867camuu2200265 a 4500
001
000001064468
005
20130225185134
008
000405s2000 nyua 001 0 eng
020

▼a

0471392081 (cloth : alk. paper)
040

▼a

DLC

▼c

DLC

▼d

DLC

▼d

244002

▼d

211009
049

0

▼l

151101702
050

0

0

▼a

TS155

▼b

.E67 2000
082

0

0

▼a

658.4/038/8011

▼2

23
084

▼a

658.4038011

▼2

DDCK
090

▼a

658.4038011

▼b

E999
245

0

0

▼a

E-Business and ERP :

▼b

transforming the enterprise /

▼c

Grant Norris ... [et al.].
260

▼a

New York :

▼b

Wiley,

▼c

2000.
300

▼a

xiv, 194 p. :

▼b

ill. ;

▼c

24 cm.
500

▼a

Includes index.
650

0

▼a

Production management.
650

0

▼a

Management information systems.
650

0

▼a

Business planning.
650

0

▼a

Electronic commerce.
700

1

▼a

Norris, Grant.
---
Holdings Information
No.
Location
Call Number
Accession No.
Availability
Due Date
Make a Reservation
Service

No.

1

Location

Sejong Academic Information Center/Social Science/

Call Number

658.4038011 E999

Accession No.

151101702

Availability

Available

Due Date

Make a Reservation

Service
Contents information
Book Introduction
Is Your Company Getting the Most from Its Investment in Change?

Many companies have already invested heavily in infrastructure change, some are making that investment now, and all are contemplating the costs of becoming or evolving as an e-business. Is your company a "greenfield" organization with no back-end systems, or one whose infrastructure support systems are integrated across the enterprise? Are you just beginning to think about e-business capabilities, or are you on the leading edge of convergence? Whatever your company′s position on the ERP/E-Business Matrix, E-Business and ERP: Transforming the Enterprise provides the proven techniques you need to know to meld enterprise resource planning capabilities with the communications power of the Internet.

Is Your Company Positioned for E?Business Success?

The Internet has revolutionized twenty-first century business. Organizations today can communicate with customers, suppliers, and sellers at e-speed with the click of a mouse. Yet, with all of the excitement about the external possibilities of the Internet, companies still need efficient internal processes to make and move products, manage finances, recruit and motivate employees, and excel.

E-Business and ERP: Transforming the Enterprise covers the skills and tools you will need to combine existing ERP software and capabilities with emerging Web-based technologies. In this forward-thinking outline for a new business structure, executives and managers will discover:

- Strategies for established companies to penetrate the Internet marketplace
- Procedures that lower costs across the supply and demand chain
- Techniques that help you meet?and master?the dot.com challenge

The companies best positioned to succeed in the near future are those that can balance existing ERP-based infrastructures and capabilities with exciting new e-business innovations. E-Business and ERP: Transforming the Enterprise examines the changing but essential role of ERP, places it in the context of the Web-based technologies defining today′s e-business environment, and reveals how to blend the best aspects of both to create a strong and flexible twenty-first century business enterprise.
Information Provided By: :

Author Introduction
Table of Contents


CONTENTS

Introduction = 1

 ERP and E-Business : An Evolving Relationship = 1

 ERP/E-Business Challenge : Shedding Old Notions = 4

 New Technologies, New Options = 6

Chapter 1 Concepts Behind the Electronic Enterprise = 9

 Adaptive versus Disruptive Technology = 9

 Definitions of ERP and E-Business = 12

 Basic Assumptions = 16

 ERP/E-Business Matrix = 17

 E-Business Options = 18

 ERP Options = 21

 Dominant Architecture in the ERP/E-Business Marriage = 23

Chapter 2 Inside Out, Outside In : Complementary Technologies of ERP and E-Business = 25

 Making Them Work Together = 27

 ERP : The Hub of a Single Enterprise = 30

 ERP Alone Falls Short of Twenty-First Century Customer Demands = 34

 E-Business Provides the Ideal Extension to Internal Processes = 35

 E-nabling Technology = 41

 Open Standards = 42

 End-Stage Architecture = 42

Chapter 3 Web Economics : Valuing Your ERP and E-Business Investments = 45

 Fifty Years of Valuation History = 47

 Traditional Valuation Techniques Work for ERP = 50

 A New Technique Necessary for E-Business = 56

 Doing the ROV™ Analysis = 61

 Making the Right Investments = 65

Chapter 4 ERP/E-Business Matrix : Options and Scenarios = 67

 ERP Scenarios = 67

 Shared Service Center Considerations = 79

 Time and Cost = 79

Chapter 5 Behind the Web : Supply-Chain Management = 81

 E-Supply Chain = 82

 Six Components of the E-Supply Chain = 85

 Three Phases of Supply-Chain Integration = 88

 Advanced Planning and Scheduling = 89

 ERP and E-Business "Supercharge" Each Other = 92

 ERP and Value-Chain Integration Equal Large-Scale E-Business = 94

Chapter 6 Customer Relationship Management = 97

 Why Is Customer Relationship Management on the Agenda Now? = 98

 Technology-Enabled Selling = 99

 Call Centers = 101

 E-nabled Call Centers = 102

 Internet Protocol Telephony = 103

 Field Service = 103

 Data Warehousing and Data Mining = 104

Chapter 7 ERP/E-Business Impact on Shared Services = 107

 Consolidate, Compact, and Dismiss = 108

 Nature of Shared Service Centers = 110

 ERP Is Important for Shared Service Centers = 113

 Alternative Shared Service Center Scenarios = 114

 Extended Enterprise Shared Service Centers = 118

Chapter 8 Triple Play : Technology, Processes, and People = 119

 Undertaking a Major E-Business Effort = 119

 Strategic Issues = 120

 People Make Change Organic = 124

 Executive Sponsorship Is Key = 125

 Operational Issues = 126

 Organizational Scope = 128

 Change Complexity = 129

 Political Resistance = 129

 Cultural Challenge = 130

 Change Capability = 130

 Change-Management Approach = 130

Chapter 9 ERP/E-Business Matrix Destination Goals = 137

 Six Regions on the ERP/E-Business Matrix Defined = 137

 Getting from Here to There = 144

Chapter 10 Migration Path Options = 149

 Determine Where the Company Is Going and Why = 150

 Assess Organizational Capabilities to Get There = 151

 Plan the Route Forward = 153

 Implement on the Route Forward = 156

Chapter 11 Program and Project Management = 163

 Program Management = 163

 Business Model and Governance Structure = 164

 Project Management = 165

Chapter 12 ERP Vendor Responses to E-Business Challenges = 169

 Extend ERP Functionality = 171

 Portals, Communities, and Trading Exchanges = 177

 New ERP Delivery Models = 178

 Where the Players Are = 178

 How Will Companies Connect? = 182

Glossary = 185

Index = 189