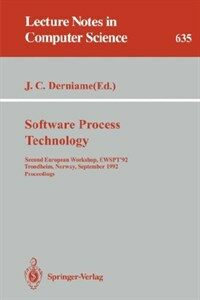 Software process technology : second European workshop, EWSPT '92, Trondheim, Norway, September 7-8, 1992 : proceedings
000
01038camuuu200253 a 4500
001
000000917670
005
19990115131855.0
008
920723s1992 gw a b 100 0 eng
010

▼a

92028845 //r95
020

▼a

3540559280 (Springer-Verlag Berlin Heidelberg New York : acid-free paper)
020

▼a

0387559280 (Springer-Verlag New York Berlin Heidelberg : acid-free paper)
040

▼a

DLC

▼c

DLC

▼d

DLC

▼d

244002
049

0

▼l

151011484

▼v

635
050

0

0

▼a

QA76.751

▼b

.E98 1992
082

0

0

▼a

005.1

▼2

20
090

▼a

004.1

▼b

L471

▼c

635
111

2

▼a

EWSPT '92

▼d

(1992 :

▼c

Trondheim, Norway)
245

1

0

▼a

Software process technology :

▼b

second European workshop, EWSPT '92, Trondheim, Norway, September 7-8, 1992 : proceedings /

▼c

J.C. Derniame, ed.
260

▼a

Berlin ;

▼a

New York :

▼b

Springer-Verlag,

▼c

c1992.
300

▼a

viii, 253 p. :

▼b

ill. ;

▼c

24 cm.
440

0

▼a

Lecture notes in computer science ;

▼v

635.
504

▼a

Includes bibliographical references.
650

0

▼a

Computer software

▼x

Congresses.
700

1

▼a

Derniame, J. C.

▼q

(Jean Claude).
---
Contents information
Table of Contents
Towards a reference framework for process concepts.- SA/CM/IM for process modelling.- Software processes modeling: What, who, and when.- The need of a process engineering method.- Supporting social interaction activities of software processes.- Understanding the software process as a social process.- Specification of coordinated behaviour in the software development process.- Software development is a communication process.- In search of the software process test- and-set introduction to session on process engines and enactment mechanisms.- Process enactment in SPADE.- Oikos at the age of three.- Suitable databases for process-centred environments do not yet exist.- Initial requirements for E 3: An environment for experimenting and evolving software processes.- Session introduction.- Integrating a formal specification method with PML: A case study.- Multiparadigm description of system development processes.- Using CSP and system dynamics as process engineering tools.- Process versus product, abstraction, and formalism: A personal perspective (position paper).- The object role software process model.- Impact of the supported coordination levels on process modelling techniques.- Reusing software processes.- Process modelling at the European Space Agency.- Design, use and implementation of SPELL, a language for software process modeling and evolution.- An example of process change.- An evaluation of FUNSOFT nets.- PEACE: Describing and managing evolving knowledge in the software process.- Software process validation based on FUNSOFT nets.- The process modelling cookbook orientation, description and experience.- Applying process modellingm.- Using SPL to model ISO 9000.- A comprehensive process model for discussing and recording scientific papers.
Information Provided By: :