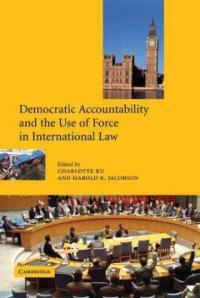 000
01186camuu2200313 a 4500
001
000000882449
005
20040528154605
008
020329s2002 nyua b 001 0 eng
010

▼a

2067084
020

▼a

0521807476 (hc.)
020

▼a

0521002079 (pbk.)
040

▼a

DLC

▼c

DLC

▼d

211009
042

▼a

pcc
049

▼a

OCLC

▼l

111287360
050

0

0

▼a

KZ6376

▼b

.D46 2002
082

0

0

▼a

341.5/84

▼2

21
090

▼a

341.584

▼b

D383
245

0

0

▼a

Democratic accountability and international institutions using military force /

▼c

edited by Charlotte Ku and Harold K. Jacobson.
260

▼a

New York :

▼b

Cambridge University Press,

▼c

2002.
300

▼a

xxv, 440 p. :

▼b

ill. ;

▼c

23 cm.
504

▼a

Includes bibliographical references and index.
610

2

0

▼a

United Nations

▼x

Armed Forces.
650

0

▼a

Intervention (International law)
650

0

▼a

Government liability (International law)
700

1

▼a

Ku, Charlotte,

▼d

1950-.
700

1

▼a

Jacobson, Harold Karan.
---
Holdings Information
No.
Location
Call Number
Accession No.
Availability
Due Date
Make a Reservation
Service

No.

1

Location

Main Library/Law Library(Preservation Stacks/B2)/

Call Number

341.584 D383

Accession No.

111287360

Availability

Available

Due Date

Make a Reservation

Service
Contents information
Table of Contents
List of figures; List of tables; Notes on contributors; Preface; List of abbreviations; Part I. Introduction: 1. Broaching the issues Charlotte Ku and Harold K. Jacobson; Part II. The Domestic and International Context: 2. The interface of national constitutional systems with international law and institutions on using military forces: changing trends in executive and legislative powers Lori F. Damrosch; 3. Domestic political factors and decisions to use military forces Karen A. Mingst; 4. Collective security, peacekeeping, and ad hoc multilateralism Edwin M. Smith; 5. The legal responsibility of military personnel Robert C. R. Siekmann; Part III. Traditional Contributors to International Military Operations: 6. Canada: committed contributor of ideas and forces, but with growing doubts and problems Fen Osler Hampson; 7. Norway: political consensus and the problem of accountability Knut G. Nustad and Henrik Thune; 8. India: democratic, poor, internationalist Ramesh Thakur and Dipankar Banerjee; Part IV. Newcomers to International Military Operations: 9. Japan: moderate commitment within legal strictures Akiho Shibata; 10. Germany: ensuring political legitimacy for the use of military forces by requiring constitutional accountability Georg Nolte; Part V. Permanent Members of the UN Security Council: 11. Russian Federation: the pendulum of powers and accountability Bakhtiyar Tuzmukhamedov; 12. France: Security Council legitimacy and executive primacy Yves Boyer, Serge Sur and Olivier Fleurence; 13. The United Kingdom: increasing commitment requires greater parliamentary involvement Nigel D. White; 14. The United States: democracy, hegemony, and accountability Michael J. Glennon; Part VI. Conclusion: 15. Towards a mixed system of democratic accountability Charlotte Ku and Harold K. Jacobson; Appendix A: uses of military forces under the auspices of the UN and NATO; Appendix B: country participation in international operations, 1945?2000; References; Index.
Information Provided By: :