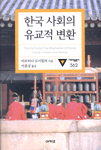 000
01063namccc200313 k 4500
001
000000882308
005
20100806093223
007
ta
008
040220s2003 ulka 001a kor
020

▼a

8957330194

▼g

94910:

▼c

\23000
020

1

▼a

8989103002(세트)
035

▼a

KRIC09160488
040

▼d

211048

▼d

211009

▼a

211048
041

1

▼a

kor

▼h

eng
049

1

▼l

111287946

▼l

111287947

▼l

192026020
082

0

4

▼a

953.05
090

▼a

953.05

▼b

2003s
100

1

▼a

Deuchler, Martina ,

▼d

1935-.

▼0

AUTH(211009)51128
245

1

0

▼a

한국 사회의 유교적 변환/

▼d

마르티나 도이힐러 지음 ;

▼e

이훈상 옮김.
246

1

9

▼a

(The) confucian transformation of Korea : a study of society and ideology
260

▼a

서울 :

▼b

아카넷 ,

▼c

2003.
300

▼a

506 p. :

▼b

삽도 ;

▼c

24 cm.
440

0

0

▼a

대우학술총서 ;

▼v

562 ,

▼p

번역
500

▼a

색인수록
650

0

▼a

Korea

▼x

Social life and customs y 1392-1910.
650

0

▼a

Korea

▼x

Civilization

▼x

Confucian influences.
650

0

▼a

Neo-Confucianism

▼z

Korea

▼x

History.
700

1

▼a

이훈상

▼g

李勛相 ,

▼d

1954-. ,

▼e

역

▼0

AUTH(211009)136392
---
Holdings Information
No.
Location
Call Number
Accession No.
Availability
Due Date
Make a Reservation
Service

No.

1

Location

Main Library/Monographs(4F)/

Call Number

953.05 2003s

Accession No.

111287946

Availability

In loan

Due Date

2021-12-13

Make a Reservation

Available for Reserve

Service

No.

2

Location

Main Library/Research Institute of Korean Studies/

Call Number

953.05 2003s

Accession No.

192026020

Availability

Loan can not(reference room)

Due Date

Make a Reservation

Service
Contents information
Book Introduction
서구 한국학의 대가 마르티나 도이힐러의 주저 <한국 사회의 유교적 변환>이 오랜 번역 작업 끝에 드디어 완역, 출간되었다. 지은이는 동아시아사, 특히 조선사에 대한 체계적인 연구를 통해 브루스 커밍스, 제임스 팔레 등과 함께 서구 한국학의 대가로 손꼽힌다.

지은이는 고려 사회와 조선 사회의 중요한 차이점들은 신유학에서 비롯한다고 보고, 이러한 한국의 유교화가 한국 사회에 어떤 영향을 미쳤는지를 사회인류학적 방법론, 사상사, 사회사를 바탕으로 하여 다루고 있다. 나아가 그 변화의 이해를 돕기 위해 당시 중국 사회와 고대 일본 사회와의 비교를 시도하기도 한다.

이를 통해 지은이는 한국 사회는 설득력이 강한 이데올로기인 유교 사상에 깊은 영향을 받았음에도 완진히 '유교 사회'가 되지 못했음을 밝힌다. 중국 고대의 사회 구조를 모범으로 삼아 부계에 기초한 종족 문화가 차츰 발전하긴 했으나, 유교화 이전에 잔존하던 특징들로 인해 한국만의 특수한 유교 문화가 나타나게 되었다는 것.
Information Provided By: :

Author Introduction
마르티나 도이힐러
(지은이)
1935년 스위스에서 태어나 네덜란드 라이덴대 동아시아학과를 졸업했고, 하버드대 동아시아 언어문명학과에서 박사학위를 받았다. 1967년부터 1969년까지, 1973년부터 1975년까지 서울대 규장각에서 연구했다. 1988년부터 2000년까지 런던대 아시아·아프리카 대학(SOAS) 교수를 지냈다. 현재는 런던대 명예교수이다. 저서로 《한국의 유교화과정: 신유학은 한국사회를 어떻게 바꾸었나》(서울: 너머북스, 2013), 《조상의 눈 아래에서: 한국의 친족, 신분 그리고 지역성》(서울: 너머북스, 2018) 등이 있다. 『한국의 유교화 과정 The Confucian Transformation of Korea』으로 1993년 위암 장지연상을, 2001년에는 용재학술상을 수상하였다. 영국학술원 회원이며 2008년 1회 한국국제교류재단상과 2009년 미국동양학회 아시아연구공로상을 수상하였다. 『Confucian Gentlemen and Barbarian Envoys: The Opening of Korea, 1875~1885』, 『Culture and the State in Late Chos? Korea』(공 편저) 등의 저서와 다수의 한국사 관련 논문이 있다.
이훈상
(옮긴이)
1954년 서울에서 태어났으며, 현재 동아대학교 인문학부 사학전공 교수로 있다. 저서로는 『조선 후기의 향리』, 『향리의 역사서 '연조귀감'과 그 속편을 편찬한 상주의 향리 지식인 이명구 가문과 그들의 문서』(편저), 『조선 후기 동래의 엘리트와 천주교 수용자들 그리고 이에 관한 고문서』(공편저), 『조선 후기 언양의 창녕 성씨 가문과 천주교 수용자들, 그리고 이에 관한 고문서』,『조선후기 동래의 武廳先生案과 武任 총람』(공편저) 외 다수의 고문서 편저가 있고, 역서로는 제임스 팔레의 『전통 한국의 정책과 정치』, 메리 더글러스의 『순수와 위험: 오염과 금기의 분석』(공역), 에드워드 와그너의 『조선왕조사회에 있어서 성취와 귀속』(공역) 등이 있다.
Information Provided By: :

Table of Contents


목차
한국어판 출간에 부쳐 = 7
일러두기 = 12
서론 : 사회와 이데올로기 = 13
 조선 후기의 사회상 = 17
 유교의 전래 = 29
 신유학의 초기 형성 = 37
 변화의 이데올로기로서의 신유학 = 42
제1장 신유학 수용 전의 과거 = 47
 친족과 출계 = 55
 계승과 상속 = 69
 고려시대 혼인의 사회 정치적 측면 = 89
 고려시대 혼인의 제도적 측면 = 101
 상장례 = 114
 결론 : 다시 생각해 본 고려 사회 = 122
제2장 신유학 = 135
 조선 왕조 건국 세력의 등장 = 139
 신흥 엘리트의 지적 형성 = 148
 고려 사회의 해체와 불교 문제 = 153
 새로운 사회 모델의 모색 = 158
 사회의 재편 = 160
 신유학자의 연구 전거와 제도 = 164
 고대 모델의 타당성 = 173
 동화와 갈등 = 179
 엘리트주의와 이데올로기 = 184
제3장 종법과 제사 = 187
 신유학의 사회관 = 188
 제사의 도입 = 193
 종법 개념의 초기 형태 = 195
 승중(承重)과 제사 = 199
 제사와 서얼들 = 213
 제사와 여성들 = 219
 외손 봉사 = 226
 족보 : 출계 집단의 도해 = 229
 조상 의례의 경제적 측면 = 234
 조상 의례의 제도적 측면 = 237
 예서 = 241
 조상 의례의 종교적 측면 = 244
 장자 중심 제사의 정착 = 246
제4장 상장례 = 251
 상례 개정의 전주곡 = 253
 오복제도의 변화 = 254
 의례적 측면 = 268
 장례식과 풍수지리 = 275
제5장 상속 = 283
 국가와 사유재산 = 284
 종법과 상속 = 289
 상속에 영향을 미치는 유언과 규정 = 298
 상속과 여성 = 306
 장자 상속제의 정착 = 310
제6장 유교에 기초를 둔 입법화와 여성에게 일어난 결과 = 321
 처첩의 제도화 = 322
 혼인 규정과 전략 = 328
 유교식 혼례식 = 338
 왕실의 혼례식 = 341
 한국의 혼례식 = 347
 여성에 대한 훈육과 교화 = 355
 시집살이 = 357
 기혼 여성의 법적·의례적 기능 = 364
 첩과 서얼 = 368
 혼인 관계의 해소 = 375
 과부와 재혼 = 379
 변하지 않는 유교적 여성 이미지 = 384
결론 : 종족사회의 출현 = 387
참고문헌 = 417
부록1 : 친족 용어 풀이 및 개념 = 445
부록2 : 나의 책을 말한다 = 458
부록3 : 마르티나 도힐러의 연구 업적 = 464
감사의 말 = 471
역자 후기 = 474
인명 및 씨족 찾아보기 = 485
내용 찾아보기 = 491