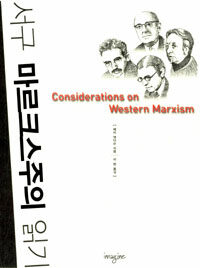 000
00873camccc200289 k 4500
001
000000872639
005
20100806055233
007
ta
008
031127s2003 ulkc b 000a kor
020

▼a

8990816025

▼g

03160 :

▼c

\12000
035

▼a

KRIC09027950
040

▼a

HYUC

▼c

HYUC

▼d

211062

▼d

211009
041

1

▼a

kor

▼h

eng
049

1

▼l

111277462

▼l

111277463

▼l

131017022

▼f

의학
082

0

4

▼a

335.4

▼2

21
090

▼a

335.4

▼b

2003d
100

1

▼a

Anderson, Perry

▼0

AUTH(211009)77564
245

1

0

▼a

서구 마르크스주의 읽기 /

▼d

페리 앤더슨 지음 ;

▼e

이현 옮김.
246

1

9

▼a

Considerations on Western Marxism
260

▼a

서울 :

▼b

이매진 ,

▼c

2003.
300

▼a

236 p. :

▼b

초상화 ;

▼c

21 cm.
504

▼a

참고문헌: p. 228-233
504

▼a

서지적 각주 수록
534

▼p

원본출판사항:

▼c

London : Verso, 1979.

▼z

0860917207
700

1

▼a

이현,

▼e

역
900

1

1

▼a

앤더슨, 페리
---
Contents information
Book Introduction
1987년 이론과실천에서 낸 <서구 마르크스주의 연구>의 개정판인 <서구 마르크스주의 읽기>는 좌파의 눈으로 그려진 20세기 서구 지성사를 다룬다.

여기서의 '서구 지성사'란 칼 마르크스가 <자본론>을 쓰고 혁명을 통해 소련이라는 '공산주의' 국가가 세워진 후 20세기 유럽을 풍미했던 서구 마르크스주의를 일컫는다. 여기에는 루카치, 그람시, 프랑크푸르트 학파, 사르트르, 알튀세 등을 비롯한 많은 이론가와 학자, 실천가들이 등장한다.

지은이의 관심은 '과연 마르크스주의란 무엇인가'라는 한 마디로 정리된다. 그는 이 질문을 해결하기 위해 마르크스주의 역사의 세 단계- 마르크스와 엥겔스에 의해 시작되고, 레닌과 러시아 혁명 시기를 거치며 이론과 실천이 가장 밀접하게 통합되었으며, 1차대전 이후 서구에서 이론과 실천의 연결고리가 끊어짐으로써 생명력을 잃고 급기야 공허한 이론만 좇는 '과학'으로 변하는 과정-를 일관되게 추적하고 있다.
Information Provided By: :

Author Introduction
페리 앤더슨
(지은이)
영국 런던에서 태어나 중국, 미국, 아일랜드에서 소년 시절을 보냈으며, 옥스퍼드 대학을 졸업했다. 1962년 이후 오랜 기간에 걸쳐 『뉴레프트 리뷰』(New Left Review)의 편집을 맡은 바 있고, 지금도 이 잡지의 편집위원으로 있다. 현재 UCLA에서 역사학과 사회학을 가르치고 있다. 저서로 국내에 번역된 『고대에서 봉건제로의 이행』(창비, 1991), 『역사적 유물론의 궤적』(새길, 1994), 『절대주의 국가의 계보』(까치, 1997), 『현대 사상의 스펙트럼: 카를 슈미트에서 에릭 홉스봄까지』(도서출판 길, 2011) 등을 비롯하여 English Questions(1992), A Zone of Engagement(1992), The Origins of Postmodernity(1998), The Indian Ideology(2012), American Foreign Policy and Its Thinkers(2014), The H-Word: The Peripeteia of Hegemony(2017), The Antinomies of Antonio Gramsci(2017) 등이 있다.
류현
(옮긴이)
대학에서 정치학을 공부한 뒤 국제개발협력과 남북교류협력에 종사했다. 지금도 남북교류협력 업무를 하면서 틈틈이 번역일을 하고 있다. 옮긴 책으로 《체 게바라, 혁명의 경제학》 《빈곤의 경제학》 《죽은 경제학자의 살아 있는 아이디어》 《육식의 성정치》 《제임스 마틴의 미래학 강의》 등이 있다.
Information Provided By: :

Table of Contents


목차
제4판 서문 = 8
1장 고전적 전통 = 15
2장 서구 마르크스주의의 도래 = 61
3장 이론과 실천의 분리 = 103
4장 개념의 혁신 = 149
5장 서구 마르크스주의를 넘어서 = 183
후기 = 203
참고문헌 = 228
옮긴이 글 = 234