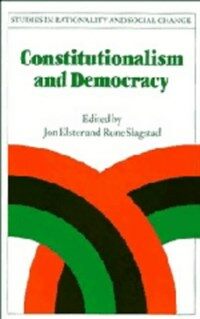 000
01851camuu2200337 a 4500
001
000000850599
005
20031203162015
008
870819s1988 enk b 001 0 eng
010

▼a

87024300
020

▼a

0521345308
020

▼a

8200184838 (Scandinavia)
040

▼a

DLC

▼c

DLC

▼d

UKM

▼d

211009
049

1

▼l

111267742
050

0

▼a

JF51

▼b

.C627 1988
082

0

▼a

321.8

▼2

21
090

▼a

321.8

▼b

C7581
245

0

0

▼a

Constitutionalism and democracy /

▼c

edited by Jon Elster and Rune Slagstad.
260

▼a

Cambridge ;

▼a

New York :

▼b

Cambridge University Press ,

▼c

1988.
300

▼a

vii, 359 p. ;

▼c

22 cm.
440

0

▼a

Studies in rationality and social change
500

▼a

"Published in collaboration with Maison des sciences de l'homme, Paris."
504

▼a

Includes bibliographical (p. 354-356) and index.
505

0

0

▼t

Gag rules or the politics of omission /

▼r

Stephen Holmes --

▼t

Democracy as a contigent outcome of conflicts /

▼r

Adam Przeworski --

▼t

Consequences of constitutional choice /

▼r

Jon Elster --

▼t

Liberal constitutionalism and its critics /

▼r

Rune Slagstad --

▼t

Democracy and the rule of law /

▼r

Francis Sejersted --

▼t

Neo-federalism? /

▼r

Bruce A. Ackerman --

▼t

Precommitment and the paradox of democracy /

▼r

Stephen Holmes --

▼t

American constitutionalism and the paradox of private property /

▼r

Jennifer Nedelsky --

▼t

From liberal constitutionalism to corporate pluralism /

▼r

Francis Sejersted --

▼t

Arguments for constitutional choice /

▼r

Jon Elster --

▼t

Constitutions and democracies /

▼r

Cass R. Sunstein.
650

0

▼a

Constitutional history.
650

0

▼a

Democracy.
650

0

▼a

Comparative government.
653

▼a

Democracies

▼a

Politics
700

1

▼a

Elster, Jon

▼d

1940-
700

1

▼a

Slagstad, Rune

▼d

1945-
710

2

▼a

Maison des sciences de l'homme (Paris, France)
---
Holdings Information
No.
Location
Call Number
Accession No.
Availability
Due Date
Make a Reservation
Service

No.

1

Location

Main Library/Western Books/

Call Number

321.8 C7581

Accession No.

111267742

Availability

Available

Due Date

Make a Reservation

Service
Contents information
Author Introduction
욘 엘스터
(엮은이)
세계적인 사회학자·정치학자·사회이론가로, 1940년 노르웨이에서 태어났다. 파리 데카르트 대학에서 레이몽 아롱의 지도 아래 박사 학위를 취득했고, 분석 맑스주의 운동에 참여했다. 오슬로 대학과 시카고 대학, 이어서 컬럼비아 대학에 재직했으며, 2006년 이래로 콜레주 드 프랑스의 교수이다. 저서로는 『논리와 사회』(Logic and Society, 1978), 『오뒷세우스와 세이렌: 합리성과 비합리성에 관한 연구』(Ulysses and the Sirens: Studies in Rationality and Irrationality, 1979), 『신 포도: 합리성의 전복에 관한 연구』(Sour Grapes: Studies in the Subversion of Rationality, 1983), 『맑스를 이해하기』(An Introduction to Karl Marx, 1986), 『솔로몬의 재판: 합리성의 한계에 관한 연구』(Solomonic Judgments: Studies in the Limitations of Rationality, 1989), 『국지적 정의』(Local Justice, 1992), 『마음의 연금술: 합리성과 감정』(Alchemies of the Mind: Rationality and the Emotions, 1999), 『강렬한 느낌: 감정, 중독, 그리고 인간 행위』(Strong Feelings: Emotion, Addiction, and Human Behavior, 1999), 『풀려난 오뒷세우스: 합리성, 사전조치, 그리고 제약에 관한 연구』(Ulysses Unbound: Studies in Rationality, Precommitment, and Constraints, 2000), 『과거를 청산하기: 역사적 관점에서 본 이행적 정의』(Closing the Books: Transitional Justice in Historical Perspective, 2004), 『자신을 거슬러 행동하기』(Agir contre soi, 2007), 『알렉시 드 토크빌: 최초의 사회과학자』(Alexis de Tocqueville: The First Social Scientist, 2009) 등이 있다.
Information Provided By: :

Table of Contents
Notes on contributors, Introduction Jon Elster; 1. Gag rules or the politics of omission Stephen Holmes; 2. Democracy as a contingent outcome of conflicts Adam Przeworski; 3. Consequences of constitutional choice: reflections on Tocqueville Jon Elster; 4. Liberal constitutionalism and its critics: Carl Schmitt and Max Weber Rune Slagstad; 5. Democracy and the rule of law: some historical experiences of contradictions in the striving for good government Francis Sejersted; 6. Neo-federalism? Bruce A. Ackerman; 7. Precommitment and the paradox of democracy Stephen Holmes; 8. American constitutionalism and the paradox of private property Jennifer Nedelsky; 9. From liberal constitutionalism to corporate pluralism: the conflict over the enabling acts in Norway after the Second World War and the subsequent constitutional development Francis Sejersted; 10. Arguments of constitutional choice: reflections on the transition to socialism Jon Elster; 11. Constitutions and democracies: an epilogue Cass R. Sunstein; Index.
Information Provided By: :