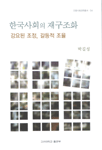 000
01025namcc2200289 c 4500
001
000000839678
005
20141223135028
007
ta
008
031030s2003 ulk b 001c kor
020

▼a

8976414942

▼g

94330
020

1

▼a

8976413598 (세트)
040

▼a

211009

▼c

211009

▼d

211009
049

1

▼l

111265377

▼l

111265378
082

0

4

▼a

303.409519

▼2

23
085

▼a

303.40953

▼2

DDCK
090

▼a

303.40953

▼b

2003a
100

1

▼a

박길성

▼g

朴吉聲

▼0

AUTH(211009)63992
245

1

0

▼a

한국사회의 재구조화 :

▼b

강요된 조정, 갈등적 조율 /

▼d

박길성 지음
246

1

1

▼a

Restructuring of Korean society :

▼b

forced adjustments and contentious coordinations
260

▼a

서울 :

▼b

고려대학교 출판부,

▼c

2003

▼g

(2004)
300

▼a

x, 290 p. ;

▼c

23 cm
490

1

0

▼a

인문사회과학총서 ;

▼v

54
504

▼a

참고문헌(p. 263-280)과 색인수록
536

▼a

이 책은 고려대학교 출판부 조성 인문사회과학출판기금으로 만들어졌음
830

0

▼a

인문사회과학총서 (고려대학교 출판부) ;

▼v

54
900

1

0

▼a

Park, Gil-sung,

▼e

저
---
Contents information
Book Introduction
[2004년 대한민국학술원 우수학술도서 선정]

이 책은 개혁의 시대, 구조조정의 시대로 불리는 지난 10여 년의 한국사회의 변화 모습을 명료하게 보여주려는 의도에서 썼다. 세계화, 정보화, 외환위기, IMF관리체제, 구조조정, 탈위기의 제도화가 때로는 순차적으로 때로는 비선형적으로 복잡하게 얽혀 진행된 지난 10여 년의 한국사회 모습을 읽어내는 키워드로 강요, 조정, 갈등, 조율을 잡았다. 그리고 정치적 결과, 경제적 결과만을 강조하는 기존의 논의에서 간과된 사회적 비용, 사회적 결과, 의도하지 않은 결과에 초점을 맞춘 구조조정의 사회학을 제안하였다.
이 책은 한국사회의 재구조화를 안내하는 총론을 별도로 총 3부, 9장 체제로 구성되어 있다.
제 1부는 현대사회를 아우르는 거시변동구조에 관한 논의이다. 이 시대에 펼쳐지는 거시변동의 구조를 세계시간과 세계공간을 만들어내는 세계화와 정보시간과 정보공간을 만들어내는 정보화의 두 축으로 설정하면서, 이의 운영 질서로서 글로벌 자본주의를 진단하고 있다.
제 2부는 거시변동에 대한 한국사회의 대응과 적응을 분석하는 데 초점을 둔다.'한국사회의 세계화는 어떤 역사적 과정과 굴절의 모습을 보이는가,' '외환위기에 따른 사회적 비용은 어느 정도인가,''한국사회에서 정보화의 현장은 어떤 형태로 자리 잡아가고 있으며, 어떻게 재생산되고 있는가,''정말로 세대의 정치는 한국사회의 새로운 정치지평인가'하는 질문을 검토한다.
제 3부는 무엇을 할 것인가에 대한 문제를 다룬다. 근자에 들어 세계화, 정보화에 쏠리는 관심은 새로운 풍요에 관한 것보다는 이로 인한 배제, 차별, 해체의 문제로 모아진다. 이의 극복을 위한 과제를 문명사의 수준, 시대사의 수준, 글로벌의 수준, 정보화의 수준, 구조조정의 수준으로 세분하여 점검하고 있다.

Information Provided By: :

Author Introduction
박길성
(지은이)
고려대 사회학과를 졸업하고 미국 위스콘신대에서 박사학위를 받았다. 고려대 사회학과 조교수로 임용되어 문과대학장, 대학원장, 교육부총장을 역임하였다. 미국 유타 주립대 겸임교수를 지냈으며, 세계한류학회 회장과 한국사회학회 회장으로 활동하였다. 현재 고려대 사회학과 교수로 재직 중이며, 호암상위원회 위원이며, 지속 가능미래를 위한 사회협력 네트워크 대표를 맡고 있다. 《한 사회학자의 어떤 처음》 《사회는 갈등을 만들고 갈등은 사회를 만든다》 《한국사회의 재구조화》 《세계화: 자본과 문화의 구조변동》 《Development and Globalization in South Korea: From Financial Crisis to K-pop》 외 다수의 국내·외 책을 출간하였다.
Information Provided By: :

Table of Contents


목차
제1장 총론 : 한국사회 재구조화의 이해
 1. 오늘의 한국사회 = 1
  1) 과거를 버린 한국사회 = 1
  2) 준비되지 않은 세계화 = 4
  3) 경직된 IMF 처방과 그 결과 = 6
 2. 새로운 문명 = 7
  1) 경계짓기 시대에서 네트워크 시대로의 전환 = 8
  2) 시간과 공간의 벽이 허물어지는 시대 = 10
 3. 구조조정의 사회학 = 11
  1) 사회학적 관심과 제도화 시각 = 11
  2) 분석틀 = 14
제Ⅰ부 거시변동의 구조
 제2장 세계화
  1. 세계화 시대의 주요 쟁점 = 19
  2. 세계화의 의미 = 25
  3. 세계화의 역사성과 사회성 = 28
   1) 1980년대 후반의 역사성 = 28
   2) 낙관과 비관의 대립 = 31
  4. 세계화의 관점 : 과잉론, 회의론, 변형론 = 35
  5. 세계화 논의 재구성 = 40
   1) 기존 논의에 대한 평가 = 40
   2) 세계화 논제 = 43
 제3장 정보화
  1. 네트워크의 시대 = 51
   1) 정보화의 새로운 문명 = 51
   2) 정보사회 논의의 큰 획 : 다니엘 벨, 앨빈 토플러, 마뉴엘 카스텔 = 54
   3) 낙관과 비관의 첨예한 논쟁 = 57
  2. 정보사회의 기술·경제 패러다임 = 60
   1) 정보기술혁명의 출현 = 60
   2) 정보기술혁명의 동학 = 64
   3) 정보사회의 경제양식 = 68
  3. 정보사회의 사회·문화 패러다임 = 73
   1) 이동의 사회, 이동의 문화 = 73
   2) 접속의 사회, 접속의 문화 = 76
   3) 다원의 사회, 다원의 문화 = 79
   4) 합성의 사회, 합성의 문화 = 82
   5) 가상의 사회, 가상의 문화 = 84
 제4장 글로벌 자본주의
  1. 현대판 자본주의의 재구조화 = 89
  2. 글로벌 자본주의의 동학 = 93
   1) 경쟁과 상호의존의 이데올로기 = 93
   2) 미국식 자본주의 방식 = 96
   3) 금융자본의 주도 = 100
  3. 불평등의 정치경제 = 103
   1) 국제불평등의 현실 = 103
   2) 불평등 관리체제의 현실 = 109
 부록 밀레니엄 시간 마디에서 읽어 내는 글로벌 자본주의 = 111
  1) 글로벌 경제와 정보혁명의 결합에 의한 신세계의 풍경 = 113
  2) 미래 없는 미국식 모델의 글로벌 자본주의 = 115
  3) 여전히 유효한 대안으로서의 사회주의 = 118
  4) 자본주의에 대한 인본주의적 반면(反面) 교사 = 120
  5) 글로벌 자본주의의 성찰적 과제 = 121
제Ⅱ부 한국 사회의 대응과 적응
 제5장 한국의 세계화 : 굴절과 동형화의 10년
  1. 외환위기와 세계화 = 127
  2. 한국의 세계화 : 열망적 세계화에서 강요된 세계화를 거쳐 규범적 세계화로 = 129
   1) 열망적 세계화 = 129
   2) 강요된 세계화 = 134
   3) 규범적 세계화 = 137
  3. IMF 처방의 신화 = 139
  4. 굴절된 구조조정 = 143
   1) 자본과 노동의 다른 길 = 144
   2) 약자의 약화 = 149
 제6장 외환위기의 사회적 비용 : 정체성, 사회갈등, 신뢰구조
  1. 3년 8개월의 사회적 비용 = 153
  2. 외환위기 100일째의 단상 = 156
  3. 삶의 질 = 159
  4. 정체성의 재구성 = 164
  5. 사회갈등 = 169
  6. 사회적 신뢰 = 170
  7. 맺음말 : 사회적 관계가 중요하다 = 176
 제7장 N 세대 : 정보화의 문화와 경험
  1. 왜 N 세대에 주목하는가 : Made in 20 = 181
  2. N 세대 논의의 재구성 = 185
  3. N 세대 출현의 거시변동과 미시적응 = 189
   1) 정보화의 사회변동 = 189
   2) N 세대의 정보 일상화 = 193
   3) 디지털 환경의 등장과 정체성 형성 = 199
  4. N 세대의 문화 성향 = 202
   1) 따로 또 같이의 정체성 = 202
   2) 기성세대의 사회질서 거부 = 205
   3) 네트워크화된 개인주의와 마니아 성향 = 208
  5. 맺음말 : 연결의 문화를 담고, 또 하나의 세상을 = 209
 제8장 세대의 정치
  1. 지역정치에서 세대정치로? = 213
  2. 세대 : 역사적 행위자, 시대적 산물, 이해관계의 기획물 = 219
  3. 세대논의의 범위와 논제 : 세대구조, 세대형성, 세대실천 = 224
  4. 한국 현대사의 세대지평 : 베이비붐 세대, 386세대, N세대 = 227
  5. 맺음말 : 한국사회의 재구조화와 새로운 정치·사회·문화 코드 = 231
제Ⅲ부 과제
 제9장 무엇을 할 것인가
  1. 문명사적 과제 = 238
   1) 인본주의적 성찰 = 238
   2) '다름'을 존중하고 '같음'을 모색하는 공존의 논리 모색 = 242
  2. 시대사적 과제 = 244
   1) 국가·시장·시민사회의 균형적 긴장 = 244
   2) 국가 역할의 재인식 = 247
  3. 글로벌 과제 = 249
   1) 미국식 자본주의의 숙지 = 249
   2) 금융자본의 속도 조절 = 250
  4. 정보화의 과제 = 253
   1) 기술경제적 추진력과 사회문화적 견인력과의 균형 = 253
   2) 과잉정보화의 경계 = 256
  5. 구조조정의 과제 = 258
   1) 시스템 디자인 = 258
   2) 일자리 우선의 구조조정 = 260
참고문헌 = 263
논문발표지 및 수록지 = 281
찾아보기 = 282