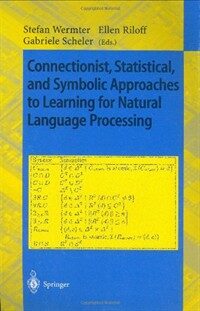 000
01189camuu22003018a 4500
001
000000829661
005
20030922144032
008
960209s1996 gw a b 000 0 eng
010

▼a

96006925
020

▼a

3540609253 (alk. paper)
035

▼a

KRIC00252423
040

▼a

211032

▼c

211032

▼d

211009
049

1

▼l

111250906
050

0

0

▼a

QA76.9.N38

▼b

C67 1996
082

0

0

▼a

006.3/5

▼2

20
090

▼a

006.35

▼b

C752
245

0

0

▼a

Connectionist, statistical, and symbolic approaches to learning for natural language processing /

▼c

Stefan Wermter, Ellen Riloff, Gabriele Scheler, eds.
260

▼a

Berlin ;

▼a

New York :

▼b

Springer,

▼c

c1996.
300

▼a

ix, 468 p. :

▼b

ill. ;

▼c

24 cm.
490

1

▼a

Lecture notes in computer science ;

▼v

1040.

▼a

Lecture notes in artificial intelligence
504

▼a

Includes bibliographical references.
650

0

▼a

Natural language processing (Computer science)
700

1

▼a

Riloff, Ellen.
700

1

▼a

Scheler, Gabriele.
700

1

▼a

Wermter, Stefan.
830

0

▼a

Lecture notes in computer science ;

▼v

1040.
830

0

▼a

Lecture notes in computer science.

▼p

Lecture notes in artificial intelligence.
---
Holdings Information
No.
Location
Call Number
Accession No.
Availability
Due Date
Make a Reservation
Service

No.

1

Location

Main Library/Western Books/

Call Number

006.35 C752

Accession No.

111250906

Availability

Available

Due Date

Make a Reservation

Service
Contents information
Table of Contents
Learning approaches for natural language processing.- Separating learning and representation.- Natural language grammatical inference: A comparison of recurrent neural networks and machine learning methods.- Extracting rules for grammar recognition from Cascade-2 networks.- Generating English plural determiners from semantic representations: A neural network learning approach.- Knowledge acquisition in concept and document spaces by using self-organizing neural networks.- Using hybrid connectionist learning for speech/language analysis.- SKOPE: A connectionist/symbolic architecture of spoken Korean processing.- Integrating different learning approaches into a multilingual spoken language translation system.- Learning language using genetic algorithms.- A statistical syntactic disambiguation program and what it learns.- Training stochastic grammars on semantical categories.- Learning restricted probabilistic link grammars.- Learning PP attachment from corpus statistics.- A minimum description length approach to grammar inference.- Automatic classification of dialog acts with Semantic Classification Trees and Polygrams.- Sample selection in natural language learning.- Learning information extraction patterns from examples.- Implications of an automatic lexical acquisition system.- Using learned extraction patterns for text classification.- Issues in inductive learning of domain-specific text extraction rules.- Applying machine learning to anaphora resolution.- Embedded machine learning systems for natural language processing: A general framework.- Acquiring and updating hierarchical knowledge for machine translation based on a clustering technique.- Applying an existing machine learning algorithm to text categorization.- Comparative results on using inductive logic programming for corpus-based parser construction.- Learning the past tense of English verbs using inductive logic programming.- A dynamic approach to paradigm-driven analogy.- Can punctuation help learning?.- Using parsed corpora for circumventing parsing.- A symbolic and surgical acquisition of terms through variation.- A revision learner to acquire verb selection rules from human-made rules and examples.- Learning from texts - A terminological metareasoning perspective.
Information Provided By: :