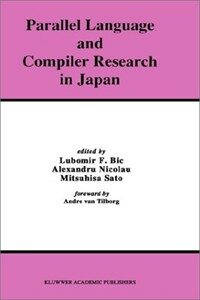 000
00936camuu2200277 a 4500
001
000000822582
005
20030725102112
008
950519s1995 mau b 001 0 eng
010

▼a

95021140
020

▼a

0792395069
035

▼a

KRIC01242098
040

▼a

241050

▼c

241050

▼d

211009
043

▼a

a-ja---
049

1

▼l

111244186
050

0

0

▼a

QA76.58

▼b

.P3775 1995
082

0

0

▼a

005.2

▼2

21
090

▼a

005.2

▼b

P222
245

0

0

▼a

Parallel language and compiler research in Japan /

▼c

edited by Lubomir F. Bic, Alexandru Nicolau, Mitsuhisa Sato.
260

▼a

Boston, Mass. :

▼b

Kluwer Academic,

▼c

c1995.
300

▼a

x, 522 p. ;

▼c

24 cm.
504

▼a

Includes bibliographical references (p. 485-519) and index.
650

0

▼a

Parallel processing (Electronic computers)

▼x

Research

▼z

Japan.
700

1

▼a

Bic, Lubomir ,

▼d

1951-
700

1

▼a

Nicolau, Alexandru.
700

1

▼a

Sato, Mitsuhisa.
---
Holdings Information
No.
Location
Call Number
Accession No.
Availability
Due Date
Make a Reservation
Service

No.

1

Location

Main Library/Western Books/

Call Number

005.2 P222

Accession No.

111244186

Availability

Available

Due Date

Make a Reservation

Service
Contents information
Table of Contents
Foreword. 1. Introduction; L.F. Bic, et al. 2. Language Design and Implementation of DFCII for a Dataflow Supercomputer Sigma-1; S. Sekiguchi, et al. 3. EM-C: Programming with Explicit Parallelism and Locality for EM-4 Multiprocessor; M. Sato, et al. 4. Introduction of RWC Massively Parallel Programming Languages; Y. Ishikawa, et al. 5. Compiling and Managing Concurrent Objects for Efficient Execution on High-Performance MPPs; S. Matsuoka, et al. 6. Implementation of Parallel Functional Language on Conventional Multiprocessor; S. Kusakabe, et al. 7. A FORTRAN Compiler and a Visual Environment of Program Development for Dataflow Machines; T. Yasue, Y. Muraoka. 8. Static Task Scheduling on Fine-Grain Supporting Multiprocessors; T. Inagaki, et al. 9. FLENG on PIE74 and its Programming Environment; H. Nakada, H. Tanaka. 10. Parallel Inference System Research in the Japanese FGCS Project; T. Chikayama, K. Rokusawa. 11. OSCAR FORTRAN Multigrain Compiler; H. Kasahara, et al. 12. The Vectorizing/Parallelizing Compiler V-PASCAL; T. Tsuda, et al. 13. Automatic Parallelizing Compiler for Distributed Memory Parallel Computers: New Algorithms to Improve the Performance of the Inspector/Executor; A. Kubota, et al. 14. Toward the Single and Multiple Programmed Environments for the Future Large-Scaled Parallel Systems; A. Fukuda, K. Joe. 15. SM-1 and its Language Systems; T. Yuasa, et al. 16. PCASE: a Programming Environment for Parallel Supercomputers; Y. Seo, et al. 17. VPP FORTRAN forDistributed Memory Parallel Computers; T. Shindo, et al. 18. Parallel Programming Language ADETRAN; K. Zaiki, et al. 19. PDEQSOL (Partial Differential Equation Solver Language) for Parallel Computers; T. Okochi. Bibliography, Author/Subject Index.
Information Provided By: :