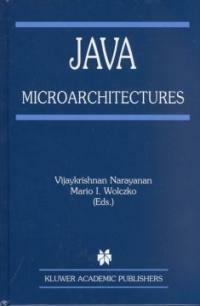 000
01033camuu22002894a 4500
001
000000818714
005
20030619100144
008
020213s2002 maua b 001 0 eng
010

▼a

2023691
015

▼a

GBA2-X8806
020

▼a

1402070349 (alk. paper)
040

▼a

DLC

▼c

DLC

▼d

UKM

▼d

C#P

▼d

OHX

▼d

211009
042

▼a

pcc
049

1

▼l

121079728

▼f

과학
050

0

0

▼a

QA76.73.J38

▼b

J376 2002
072

7

▼a

QA

▼2

lcco
082

0

0

▼a

005.13/3

▼2

21
090

▼a

005.133

▼b

J414
245

0

0

▼a

Java microarchitectures /

▼c

edited by Vijaykrishnan Narayanan, Mario I. Wolczko.
260

▼a

Boston :

▼b

Kluwer Academic Publishers,

▼c

c2002.
300

▼a

xiv, 252 p. :

▼b

ill. ;

▼c

25 cm.
440

0

▼a

Kluwer international series in engineering and computer science ;

▼v

SECS 679
504

▼a

Includes bibliographical references (p. [231]-250) and index.
650

0

▼a

Java (Computer program language).
700

1

▼a

Narayanan, Vijaykrishnan ,

▼d

1972-
700

1

▼a

Wolczko, Mario I. ,

▼d

1962-
---
Holdings Information
No.
Location
Call Number
Accession No.
Availability
Due Date
Make a Reservation
Service

No.

1

Location

Science & Engineering Library/Sci-Info(Stacks2)/

Call Number

005.133 J414

Accession No.

121079728

Availability

Available

Due Date

Make a Reservation

Service
Contents information
Table of Contents
List of Figures. List of Tables. Preface. 
1. Benchmarking the Java Virtual Architecture; D. Gregg, et al. 
2. A Study of Memory Behavior of Java Workloads; Y. Shuf, et al. 
3. An Efficient Hardware Implementation of Java Bytecodes, Threads, and Processes for Embedded and Real-Time Applications; D.S. Hardin, et al. 
4. Stack Dependency Resolution for Java Processors based on Hardware Folding and Translation: A Bytecode Processing Analysis; M.W. El-Kharashi, et al. 
5. Improving Java Performance in Embedded and General-Purpose Processors; R. Radhakrishnan, et al. 
6. The Delft-Java Engine; J. Glossner, S. Vassiliadis. 
7. Quicksilver: A Quasi-static Java Compiler for Embedded Systems; S.P. Midkiff, et al. 8. Concurrent Garbage Collection Using Hardware-Assisted Profiling; T. Heil, J.E. Smith.
9. Space-Time Dimensional Computing for Java Programs on the MAJC Architecture; S. Chaudhry, M. Tremblay. 
10. Java Machine and Integrated Circuit Architecture (JAMAICA); A. El-Mahdy, et al. 
11. Dynamic Java Threads on the JAMAICA Single-Chip Multiprocessor; G. Wright, et al. 
References. Index.
Information Provided By: :