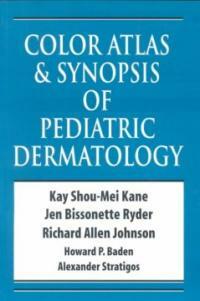 000
01353camuu22003498a 4500
001
000000818600
005
20041028101921
008
010828s2002 nyua b 001 0 eng
010

▼a

1044820
015

▼a

GBA2-V5122
016

7

▼a

101126847

▼2

DNLM
020

▼a

0070062943
020

▼a

0071124527
040

▼a

DNLM

▼c

NLM

▼d

DLC

▼d

OHI

▼d

UKM

▼d

211009
049

1

▼l

131013774

▼f

의학
050

0

0

▼a

RJ511

▼b

.C65 2002
060

1

0

▼a

WS 17

▼b

C7176 2002
082

0

0

▼a

618.92/5

▼2

21
090

▼a

618.925

▼b

C719
245

0

0

▼a

Color atlas and synopsis of pediatric dermatology /

▼c

Kay Shou-Mei Kane ... [et al.].
260

▼a

New York :

▼b

McGraw-Hill, Medical Pub. Division,

▼c

c2002.
300

▼a

xix, 652 p. :

▼b

col. ill. ;

▼c

23 cm.
504

▼a

Includes bibliographical references and index.
580

▼a

Also available in the following translations:Korean: 소아피부질환
650

0

▼a

Pediatric dermatology

▼v

Atlases.
650

0

▼a

Children

▼x

Diseases

▼v

Atlases.
650

2

▼a

Skin Diseases

▼x

Child

▼v

Atlases.
700

1

▼a

Kane, Kay Shou-Mei.
767

1

▼t

소아피부질환

▼w

(211009)45125926
---
Holdings Information
No.
Location
Call Number
Accession No.
Availability
Due Date
Make a Reservation
Service

No.

1

Location

Medical Library/Closed Stacks4/

Call Number

618.925 C719

Accession No.

131013774

Availability

Available

Due Date

Make a Reservation

Service
Contents information
Author Introduction
Richard Allen Johnson
(지은이)
<Color Atlas & Synopsis of Pediatric Dermatology>
Jen Bissonette Ryder
(지은이)
<Color Atlas & Synopsis of Pediatric Dermatology>
Howard P. Baden
(지은이)
<Color Atlas & Synopsis of Pediatric Dermatology>
Kay Shou-Mei Kane
(엮은이)
<Color Atlas & Synopsis of Pediatric Dermatology>
Information Provided By: :

Table of Contents
Section 1. Cutaneous disorders of the newborn.
Section 2. Eczematous dermatitis.
Section 3. Diaper dermatitis and rashes in the diaper area.
Section 4. Disorders of epidermal proliferation.
Section 5. Primary bullous dermatoses.
Section 6. Disorders of the sebaceous and apocrine glands.
Section 7. Disorders of melanocytes.
Section 8. Disorders of blood/lymph vessels.
Section 9. Benign epidermal proliferations.
Section 10. Benign appendageal proliferations.
Section 11. Benign dermal proliferations.
Section 12. Disorders of pigmentation.
Section 13. Neurocutaneous disorders
Section 14. Miscellaneous inflammatory disorders.
Section 15. Hypersensitivity reactions.
Section 16. Photosensitivity and photoreactions.
Section 17. Collagen vascular disorders.
Section 18. Endocrine disorders and the skin.
Section 19. Skin signs of reticuloendothelial disease.
Section 20. Cutaneous bacterial infections.
Section 21. Cutaneous fungal infections.
Section 22. Tick-borne infection.
Section 23. Cutaneous viral infection.
Section 24. Aquatic infestations.
Section 25. Insect bites and infestations.
Section 26. Hair and nails.


Information Provided By: :