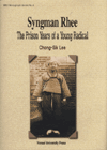 000
00749camuu2200217 a 4500
001
000000812295
005
20030421143251
008
030421s2001 ko a b 001 beng c
020

▼a

8971415363

▼g

03910 :

▼c

\10000
040

▼a

211009

▼c

211009
049

▼l

192019772
082

▼a

951.9043092

▼2

21

▼a

953.072092
090

▼a

953.072092

▼b

L477s
100

1

▼a

Lee, Chong Sik

▼0

AUTH(211009)54316
245

1

0

▼a

Syngman Rhee

▼b

the prison years of a young radical /

▼c

by Chong Sik Lee.
260

▼a

Seoul :

▼b

Yonsei University Press,

▼c

2001.
300

▼a

xix, 208 p. :

▼b

ill. ;

▼c

23 cm.
440

0

▼a

The institute for modern korean studies monograph series ;

▼v

4
500

▼a

Includes bibliographies and index
600

1

0

▼a

Rhee, Syngman
---
Holdings Information
No.
Location
Call Number
Accession No.
Availability
Due Date
Make a Reservation
Service

No.

1

Location

Main Library/Research Institute of Korean Studies/

Call Number

953.072092 L477s

Accession No.

192019772

Availability

Loan can not(reference room)

Due Date

Make a Reservation

Service
Contents information
Book Introduction
* 이 책의 번역서(< 초대 대통령 이승만의 청년시절>)를 보시려면 여기를 클릭하세요.
Information Provided By: :

Author Introduction
이정식
(지은이)
1931년 평안남도 출생. 1956년 UCLA를 졸업하고 1961년 캘리포니아 대학교 버클리 캠퍼스UC Berkeley 대학원에서 정치학 박사 학위를 받았다. 콜로라도 대학교, 다트머스 대학교를 거쳐서 1963년부터 펜실베이니아 대학교 정치학과 교수직을 역임하였고, 고려대학교 연구교수, 연세대학교 용재 석좌교수, 경희대학교 평화복지대학원 석좌교수를 지냈다. 2020년 현재 펜실베이니아 대학교 명예교수이다. 1974년 우드로 윌슨 파운데이션 상, 1990년 제1회 위암학술상, 2012년 경암학술상, 2018년 인촌상을 수상했다. 주요 저서로 The Politics of Korean Nationalism, Communism in Korea (로버트 스칼라피노와 공저), Japan and Korea: The Political Dimension, Syngman Rhee: The Prison Years of a Young Radical, Park Chung Hee: From Poverty to Power, 『구한말의 개혁.독립투사 서재필』, 『이승만의 구한말 개혁운동』, 『여운형』, 『대한민국의 기원』, 『21세기에 다시 보는 해방후사』 등이 있다.
Information Provided By: :

Table of Contents


목차
표제지 = ⅰ
口繪 = ⅷ
Foreword = xi
Contents = xiii
Preface = xv
CHAPTER Ⅰ. The Emergence of a Radical = 1
CHAPTER Ⅱ. The Prison School = 45
CHAPTER Ⅲ. Rhee's "Diplomatic Mission" = 113
CHAPTER Ⅳ. Summing Up = 129
Appendix 1 Cheguk Shinmun Editorials by Sybgman Rhee : Synopses = 133
Appendix 2 "Evangelism in Prison" Testimony of Syngman Rhee in Prison = 139
Appendix 3 Authobiographical Notes of Syngman Rhee = 145
Appendix 4 Robert T. Oliver's Interview with Shin Hung - wu = 181
Works Cited = 191
Glossary = 197
INDEX = 201