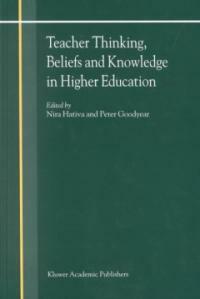 000
02750camuu22002894a 4500
001
000000807689
005
20030318104455
008
010913s2002 ne a b 001 0 eng
010

▼a

?1050219
020

▼a

1402000944
020

▼a

1402000952
040

▼a

DLC

▼c

DLC

▼d

UKM

▼d

OHX

▼d

PMC

▼d

211009
042

▼a

pcc
049

1

▼l

111238962
050

0

0

▼a

LB2331

▼b

.T315 2002
082

0

0

▼a

378.1/25

▼2

21
090

▼a

378.125

▼b

T253
245

0

0

▼a

Teacher thinking, beliefs, and knowledge in higher education /

▼c

edited by Nira Hativa and Peter Goodyear.
260

▼a

Dordrecht ;

▼a

Boston :

▼b

Kluwer Academic Publishers ,

▼c

c2002.
300

▼a

vii, 367 p. :

▼b

ill. ;

▼c

25 cm.
504

▼a

Includes bibliographical references and index.
505

0

0

▼t

Introduction : Research on teacher thinking, beliefs and knowledge in higher education /

▼r

Peter Goodyear and Nira Hativa --

▼t

Strategic alertness and expanded awareness within sophisticated conceptions of teaching /

▼r

Noel Entwistle and Paul Walker --

▼t

Novice and award-winning teachers' concepts and beliefs about teaching in higher education : effectiveness, efficacy and evaluation /

▼r

Michael J. Dunkin --

▼t

Reflection : Issues related to improving professors' teaching and students' learning /

▼r

Lynn McAlpine and Cynthia Weston --

▼t

Teaching online /

▼r

Peter Goodyear --

▼t

What university teachers teach and how they teach it /

▼r

Elaine Martin ... [et al.] --

▼t

Planning introductory college courses : content, context and form /

▼r

Joan S. Stark --

▼t

(Thinking about) faculty thinking about teacher and course evaluation results /

▼r

Jennifer Franklin and Michael Theall --

▼t

Teaching self-concept in higher education : reflecting on multiple dimensions of teaching effectiveness /

▼r

Lawrence A. Roche and Herbert W. Marsh --

▼t

Lecturers' approaches to teaching and their relationship to conceptions of good teaching /

▼r

David Kember and Kam-Por Kwan --

▼t

Views of learning, teaching practices and conceptions of problem solving in science /

▼r

Keith Trigwell ... [et al.] --

▼t

Learning to teach : Changes in technical college teachers' beliefs about learning and teaching over a two-year teacher education program /

▼r

Alex Radloff --

▼t

Becoming a better teacher : a case of changing the pedagogical knowledge and beliefs of law professors /

▼r

Nira Hativa --

▼t

Use of multiple methods in research on college teachers /

▼r

Sarah M. Dinham --

▼t

Research on teacher thinking, beliefs, and knowledge in higher education : foundations, status and prospects /

▼r

Nira Hativa and Peter Goodyear.
650

0

▼a

College teaching.
650

0

▼a

College teachers

▼x

Attitudes.
700

1

▼a

Hativah, Nirah.
700

1

▼a

Goodyear, Peter

▼d

1952-
---
Holdings Information
No.
Location
Call Number
Accession No.
Availability
Due Date
Make a Reservation
Service

No.

1

Location

Main Library/Western Books/

Call Number

378.125 T253

Accession No.

111238962

Availability

Available

Due Date

Make a Reservation

Service
Contents information
Table of Contents
Introduction: Research on teacher thinking, beliefs and knowledge in higher education; P. Goodyear, N. Hativa. 
1. Strategic alertness and expanded awareness within sophisticated conceptions of teaching; N. Entwistle, P. Walker. 
2. Novice and award-winning teachers' concepts and beliefs about teaching in higher education: Effectiveness, efficacy and evaluation; M.J. Dunkin. 
3. Reflection: Issues related to improving professors' teaching and students' learning; L. McAlpine, C. Weston. 
4. Teaching online; P. Goodyear. 
5. What university teachers teach and how they teach it; E. Martin, et al. 
6. Planning introductory college courses: Content, context and form; J.S. Stark. 
7. (Thinking about) faculty thinking about teacher and course evaluation results; J. Franklin, M. Theall. 
8. Teaching self-concept in higher education: Reflecting on multiple dimensions of teaching effectiveness; L.A. Roche, H.W. Marsh. 
9. Lecturers' approaches to teaching and their relationship to conceptions of good teaching; D. Kember, Kam-Por Kwan. 
10. Views of learning, teaching practices and conceptions of problem solving in science; K. Trigwell, et al. 
11. Changes in technical college teachers' beliefs about learning and teaching over a two-year teacher education program; A. Radloff. 
12. Becoming a better teacher: A case of changing the pedagogical knowledge and beliefs of law professors; N. Hativa. 
13. Use of multiple methods in research on college teachers; S.M. Dinham. 
14. Research on teacher thinking, beliefs, and knowledge in higher education: foundations, status and prospects; N. Hativa, P. Goodyear. 
Index.
Information Provided By: :