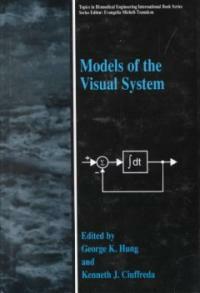 000
01194camuu22003374a 4500
001
000000800187
005
20030310170109
008
011011s2002 nyua b 001 0 eng
010

▼a

1053924
020

▼a

0306467151
040

▼a

DLC

▼c

DLC

▼d

C#P

▼d

UKM

▼d

NLM

▼d

211009
042

▼a

pcc
049

1

▼l

111228755
050

0

0

▼a

QP475

▼b

.M634 2002
082

0

0

▼a

612.8/4

▼2

21
090

▼a

612.84

▼b

M689
245

0

0

▼a

Models of the visual system /

▼c

edited by George K. Hung and Kenneth J. Ciuffreda.
260

▼a

New York :

▼b

Kluwer Academic/Plenum Publishers,

▼c

c2002.
300

▼a

xv, 781 p. :

▼b

ill. ;

▼c

26 cm.
440

0

▼a

Topics in biomedical engineering international book series
504

▼a

Includes bibliographical references and index.
650

0

▼a

Vision

▼x

Research

▼x

Methodology.
650

0

▼a

Vision

▼x

Computer simulation.
650

0

▼a

Vision

▼x

Mathematical models.
650

0

▼a

Visual pathways

▼x

Research

▼x

Methodology.
650

0

▼a

Visual cortex

▼x

Research

▼x

Methodology.
650

1

2

▼a

Vision

▼x

physiology.
650

2

2

▼a

Models, Biological.
700

1

▼a

Hung, George K.
700

1

▼a

Ciuffreda, Kenneth J. ,

▼d

1947-
---
Holdings Information
No.
Location
Call Number
Accession No.
Availability
Due Date
Make a Reservation
Service

No.

1

Location

Main Library/Western Books/

Call Number

612.84 M689

Accession No.

111228755

Availability

Available

Due Date

Make a Reservation

Service
Contents information
Table of Contents
Optical System Models. (a) Cornea: Physiological System Models of the Cornea; J. Ruberti, S. Klyce. (b) Lens and Aging: Models of Lens and Aging; J. Koretz.
 Neurosensory System Models. (a) Retina: Anatomy and Physiology of the Retina; R.N.S. Guillory. Intraocular Retinal Prostheses and Related Signal Processing; D. Scribner, et al. Push-Pull Model of Dopamine's Action in the Retina; I. Bodis-Wollner, A. Tzelepi. (b) Visual Cortex: The Laminar Organization of the Visual Cortex; S. Grossberg. Striate Cortical Mechanisms Associated with Voluntary Saccades and Attention; I. Bodis-Wollner. 
Oculomotor System Models. (a) Accommodation: Models of Accommodation; G. Hung, et al. (b) Vergence and Accommodation: Models of Vergence and Accommodation-Vergence Interactions; B.-C. Jiang, et al. (c) Eye Tracking: The Saccadic and Smooth Pursuit Systems; J. Pola. Models of Saccade-Vergence Interactions; G. Hung, K. Ciuffreda. 
Perceptual System Models. (a) Texture: Psychophysics and Modeling of Texture Segregation; R. Kashi, et al. (b) Motion: Neural Models of Motion Perception; T. Papathomas, et al. (c) Visual Attention: Computational Models of Visual Attention; S. Steinman, B. Steinman. (d) Cognitive Processing: Cognitive Processing and Models of Reading; E. Reichle, K. Rayner. (e) Perceptual Space: Model of Visual Perceptual Space; V. Lakshminarayanan. 
Clinical System Models. (a) Vergence Model Parameters and Clinical Vergence Tests: Model-Based Understanding of Clinical Vergence Testing; K. Ciuffreda, G. Hung. (b) Refractive Error Development: Models of Refractive Error Development; G. Hung, K. Ciuffreda. (c) Reading Disability: Models of Reading Disability and Their Implications; H. Solan. (d) Dysfunction: Nystagmus Basics; L. Dell'Osso. Multisensory Feedback Therapy for Oculomotor Dysfunction; K. Ciuffreda, et al.
Information Provided By: :