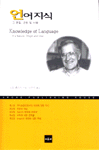 000
00000cam c2200205 c 4500
001
000000798613
005
20211115110550
007
ta
008
020711s2000 ulk b 001c kor
020

▼a

8988791568

▼g

93700
035

▼a

KRIC07889271
040

▼a

211036

▼c

211036

▼d

211009
041

1

▼a

kor

▼h

eng
049

1

▼l

121068684

▼f

과학

▼l

121068685

▼f

과학

▼l

111238460

▼f

개가

▼l

111238461

▼f

개가
082

0

4

▼a

410

▼2

21
090

▼a

410

▼b

2000b
100

1

▼a

Chomsky, Noam,

▼d

1928-

▼0

AUTH(211009)41272
245

1

0

▼a

언어지식 :

▼b

그 본질, 근원 및 사용 /

▼d

노엄 촘스키 지음 ;

▼e

이선우 옮김.
246

1

9

▼a

Knowledge of language : its nature, origin, and use
260

▼a

서울 :

▼b

아르케,

▼c

2000.
300

▼a

446 p. ;

▼c

24 cm.
500

▼a

찾아보기(인명): p. 427-432
500

▼a

찾아보기(한글용어): p. 433-441
500

▼a

찾아보기(영어용어): p. 442-446
504

▼a

참고문헌: p.393-405
504

▼a

각 장마다 원주 수록
534

▼p

원본출판사항:

▼c

New York : Praeger, 1986
700

1

▼a

이선우,

▼e

역
900

1

1

▼a

촘스키, 노엄
---
Contents information
Book Introduction
인간의 언어능력에 대한 본질, 근원 및 사용(언어능력이란 무엇인가?, 언어능력이란 어떻게 습득되는가?, 그리고 언어능력은 실제 어떻게 쓰이는가?) 등의 문제를 깊이 있게 논의한 책.

이 책의 서언에서 언급하고 있는 'Plato의 문제'와 'Orwell의 문제'는 촘스키가 이 책을 통해 언어구조에 대한 연구와 함께 언어철학 및 정신철학의 문제를 다루고 있음을 보여준다. 그는 언어능력의 본질을 설명하는 이 책에서 언어구조에 대한 연구가 인간정신에 대한 통찰을 제공한다는 생각을 설득력 있게 옹호하고 있다.

저자는 논리학, 수리 언어학에 대한 해박한 지식을 토대로 과학으로서의 언어학을 더욱 발전시켰다. 그는 문법을 기술하고 설명하는 데에 있어, 자료의 현실성과 일련의 규칙 등으로 대입할 수 있는 철저한 명시성의 확보가 이루어져야 한다고 주장한다. 이러한 철학적, 심리학적, 논리학적 배경에서 출발한 촘스키의 '변형-생성문법'은 '표준이론', '확대표준이론'을 거쳐 '수정확대표준이론'으로 발전되어 왔으며 이 책에서 더욱 심화되어 나타난다.

이 책이 촘스키 교수 자신의 학문체계 속에서 차지하는 위치는 원리 체계 내에서 '지배-결속이론'을 경험적 자료를 바탕으로 하여 더욱 깊이 있게 논의를 전개했다는 것, 그리고 다른 이론의 틀을 수정 보완했다는 것에서 찾을 수 있다. 또한 내재적 언어와 외재적 언어와의 구분을 자세히 설명하며 언어 연구의 초점이 내재적 언어로 이동되어야 함을 밝힌 점과 기존의 여러 통사적 조건들을 통합해서 '면허조건'을 제시했다는 점도 이 책의 중요한 성과이다.
Information Provided By: :

Author Introduction
놈 촘스키
(지은이)
미국 필라델피아에서 러시아계 유대인 이민 2세로 태어났다. 펜실베이니아 대학교에 진학한 뒤 언어학자 젤리그 해리스를 만나면서 언어학의 세계에 발을 디뎠다. 대학을 졸업하고 하버드 대학교의 특별연구원으로 있으면서 펜 실베이니아 대학교에서 박사 학위를 받았다. MIT에서 1958년(30세) 부교수, 1961년(33세) 종신교수, 1966년(38세) 석좌교수, 1976년(48세) '인스티튜트 프로페서Institute Professor(독립적인 학문기관으로 대우하는 교수)'가 된 그는 지금까지 논문 1,000여 편과 저서 100여 권을 발표했다. 노엄 촘스키는 언어학자이자 인지과학 혁명의 주역으로서 명성을 누리는 데 머물지 않았다. 젊은 시절부터 약자의 편에 서서 사회운동에 적극적으로 참여해왔다. 1967년 〈지식인의 책무〉를 발표하면서 세계 지식인들의 양심에 경종을 울린 그는, 여든 살을 넘긴 오늘날까지도 시대의 양심이자 행동하는 지식인으로서, 또한 세계 민중의 한 사람으로서 거대 다국적기업들이 주도하는 신자유주의 세계 질서와 미국의 제국주의, 자본의 언론 장악과 프로파간다를 신랄하게 파헤친다. 주요 저서로는 《촘스키, 누가 무엇으로 세상을 지배하는가》 외에도 《미국이 진정으로 원하는 것》, 《비밀, 거짓말 그리고 민주주의》, 《공공선을 위하여》, 《촘스키, 知의 향연》, 《촘스키, 사상의 향연》, 《촘스키, 고뇌의 땅 레바논에 서다》, 《촘스키, 러셀을 말하다》, 《촘스키와 푸코, 인간의 본성을 말하다》, 《숙명의 트라이앵글》, 《지식인의 책무》, 《여론조작》, 《통사 구조》, 《언어 이론의 논리적 구조》 등이 있다.
이선우
(옮긴이)
대구 출생으로 경북대학교 사범대 영어과를 졸업했다. 통역장교로 육군에서 복무했으며, 미국 The University of Wisconsin에서 언어학 석사 및 박사 학위를 취득했다. 외무고시 영어분야 출제위원, 하버드 대학교 객원교수를 역임했고, 한국언어학회와 한국생성문법학회, 한국촘스키학회 등에서 활동했다. 2006년 현재 한국외국어대학교 영어학과 교수로 재직 중이다.
Information Provided By: :

Table of Contents


목차

역자 서문 = 5

저자 서문 = 13

제1장 연구초점으로서의 언어에 대한 지식 = 21

제2장 언어의 개념 = 39

 2.1 상식적 개념과 그로부터의 일탈 = 39

 2.2 외재적 언어(E-언어) = 44

 2.3 내재적 언어(I-언어) = 48

 2.4 E-언어에서 I-언어로의 초점의 변화 = 51

  2.4.1 초점의 변화에 대한 이해 = 51

  2.4.2 I-언어 연구를 위한 경험적 기초 = 67

  2.4.3 초점의 변화에 따른 결과 = 72

제3장 Plato의 문제에 처하여 = 85

 3.1 설명의 모형 = 85

 3.2 규칙체계 = 92

 3.3 다양한 규칙체계에 대한 제한 = 108

  3.3.1 변형부 = 108

  3.3.2 구구조부 = 125

  3.3.3 UG의 일반원리들 = 129

   3.3.3.1 투사원리와 공범주들 = 129

   3.3.3.2 어휘부의 몇몇 특성 = 132

   3.3.3.3 표시에 대한 조건들 = 141

    3.3.3.3.1 면허, 의미역 이론과 가시성 = 141

    3.3.3.3.2 완전해석 = 145

 3.4 UG의 원리 및 매개변항 이론에 있어서의 설명 = 153

  3.4.1 몇몇 표본적 경우 = 153

  3.4.2 공범주에 관한 상세한 고찰 = 171

  3.4.3 논항의 추상적 표시에 관하여 = 193

 3.5 원리와 매개변항 체계로서의 UG = 212

  3.5.1 몇가지 문제에 대한 재고 = 212

  3.5.2 문법의 단위원리들 = 232

   3.5.2.1 X-횡선이론 = 232

   3.5.2.2 성분통어와 지배 = 234

   3.5.2.3 결속이론 = 237

   3.5.2.4 의미역이론 = 264

   3.5.2.5 격이론 = 266

제4장 규칙에 대한 문제들 = 307

 4.1 몇몇의 회의론적 생각 = 307

 4.2 규칙체계와 규칙준수의 속성에 관하여 = 337

 4.3 규칙의 지식에 관하여 = 362

제5장 Orwell의 문제에 대한 주해 = 377

참고문헌 = 393

역자해제 = 407

저자에 관하여 = 425

인명 찾아보기 = 427

한글용어 찾아보기 = 433

영어용어 찾아보기 = 442