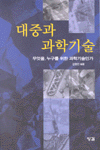 000
00873camcc2200289 c 4500
001
000000797640
005
20121126134243
007
ta
008
020306s2001 ulk b 000c kor
020

▼a

8989757002

▼g

03330
035

▼a

KRIC08022271
040

▼a

211046

▼c

211046

▼d

211009
082

0

4

▼a

303.483

▼2

22
085

▼a

303.483

▼2

DDCK
090

▼a

303.483

▼b

2001g
245

0

0

▼a

대중과 과학기술 :

▼b

무엇을, 누구를 위한 과학기술인가 /

▼d

김명진 編著
260

▼a

서울 :

▼b

잉걸,

▼c

2001
300

▼a

271 p. ;

▼c

23 cm
500

▼a

지은이: Dorothy Nelkin, Spencer Weart, Mae-Wan Ho, Hartmut Meyer, Joe Cummins
504

▼a

참고문헌 수록
700

1

▼a

김명진,

▼e

편

▼0

AUTH(211009)79264
700

1

▼a

Nelkin, Dorothy,

▼e

저

▼0

AUTH(211009)7398
700

1

▼a

Weart, Spencer,

▼e

저
700

1

▼a

Ho, Mae-wan,

▼e

저
700

1

▼a

Meyer, Hartmut,

▼e

저
700

1

▼a

Cummins, Joe,

▼e

저
---
Contents information
Book Introduction
이 책은 20세기 동안 급격한 변화를 겪은, 더구나 90년대 이후 더욱 급속히 변화하는 대중과 과학기술의 상호관계를 여러 각도에서 다룬다. 편저자가 지난 2년동안 참여연대의 『시민과학』에 연재했던 글을 엮은 책이다. 편저자가 직접 쓴 글과 번역된 글들이 함께 실렸다.

이 책이 다루는 주제는 매우 광범위 해서, 한편으로는 대중문화(영화)에서의 과학기술과 과학자에 대한 이미지(보통 위험한 것이고 미친 과학자에 의해 수행되는 것으로 묘사되는), 과학과 언론보도의 양상과 같은 과학기술이 표현되고 인식되는 방식에 대한 내용을 설명할 뿐 아니라, 또 한편으로는 과학기술이 여성에메 미치는 영향, 인간의 복지에 미치는 영향 등과 같이 과학기술의 빛과 그림자를 조명하기도 한다.

이 책은 이러한 과정 속에서, 민주적으로 통제될 뿐 아니라, 그를 위해서라도 대중에게 그 의미가 정확히 이해되어야할 과학기술이 어떻게 왜곡되고 있는 지를 비판한다. 과학기술은 한편으로는 신화화(혹은 악마화)되고, 한편으로는 대중의 통제를 벗어난다.

대중의 통제를 벗어나는 과학은 결국 허울 좋은 발전의 이면에 불평등과 새로운 착취를 낳고 있다. 이런 점에서 편저자는 "과학기술의 민주화"가 왜 제기되는 지를 여러 쟁점들과의 비교를 통해서 제시하고 있다. 단지 '정책'의 민주화로 제한되지 않는 과학기술 자체의 민주화가 요청된다는 것.

게놈 프로젝트의 완성과 정보통신 기술의 급격한 발전 속에서 과학기술의 사회적 영향이 더욱 극대화되고 있는 상황에서, 이를 민주적으로 통제한다는 것은 어느 때보다 더 중요한 쟁점이 되고 있다는 점에서 흥미를 끄는 책이다.
Information Provided By: :

Author Introduction
스펜서 위어트
(지은이)
1971년부터 2009년까지 미국물리학회 물리학 역사 연구소 소장을 역임했다. 물리학으로 박사학위를 받았으며 지금은 현대물리학과 지구물리학의 역사를 연구하고 있다. 과학사와 관련된 많은 연구 논문, 2권의 어린이 책, 여러 단행본을 썼다. 주요 저서로는 현대물리학을 발전시킨 주요 과학자들을 인터뷰한 《크리스털 미로에서 탈출하기Out of the Crystal Maze》, 프랑스에서 핵무기 개발을 주도했던 인물들을 다룬 《권력에 갇힌 과학자들Scientists in Power》, 핵전쟁과 핵에너지의 이미지를 분석한 《핵 공포Nuclear Fear》, 민주정치 · 과두정치· 독재정치 체제에서 국제 관계를 역사적으로 연구한 《결코 전쟁은 안 된다Never at War》 등이 있다. 이 책 《지구온난화를 둘러싼 대논쟁》(원제 : 지구온난화의 발견The Discovery of Global Warming)은 2003년 《디스커버Discover》 올해의 과학책, 《USA 투데이USA TODAY》 올해의 책으로 선정되었다. 또한 위어트는 지구온난화에 대한 연구 결과를 웹사이트 www.aip.org/history/climate에 공개하고 정기적으로 업데이트 하여 관련 연구의 역사를 추적하고 있다.
김명진
(지은이)
서울대학교 전자공학과를 졸업한 후 동 대학원 과학사 및 과학철학 협동과정에서 미국 기술사로 석사학위를 받고 박사과정을 수료했다. 현재는 한국항공대학교와 서울대학교에서 강의하면서 번역과 집필 활동을 하고 있다. 원래 전공인 과학기술사 외에 과학 논쟁, 대중의 과학이해, 약과 질병의 역사, 과학자들의 사회운동 등에 관심이 많으며, 최근에는 냉전 시기와 '68 이후의 과학 기술에 관심을 두고 공부하고 있다. 지은 책으로는 『모두를 위한 테크노사이언스 강의』, 『20세기 기술의 문화사』, 『세상을 바꾼 기술, 기술을 만든 사회』, 『야누스의 과학』, 『할리우드 사이언스』가 있고, 『미국 기술의 사회사』, 『현대 미국의 기원』, 『과학을 뒤흔들다』(공역), 『냉전의 과학』(공역) 등을 우리말로 옮겼다. 『20세기 기술의 문화사』로 제37회 한국과학기술 도서상 최우수저술상을 받았다.
도로시 넬킨
(지은이)
뉴욕대학교 법대 및 사회학과 겸임교수를 지냈다. 과학과 대중의 불편한 관계에 주목하고, 이들의 새로운 관계를 모색하는 데 관심을 쏟은 과학사회학자이다. 1980년대까지 과학논쟁과 과학언론을 다룬 많은 책을 저술하고 편집했다. 1990년대부터는 생명공학의 사회적 문제에 천착하는 여러 권의 저서를 발표했다. 지은 책으로는 『The DNA Mystique』(1995/공저), 『Dangerous Diagnostics』(1994/공저), 『The Body Bazaar』(2001/공저, 한국어판: 『인체 시장』(궁리)), 『Selling Science』(1987, 1995, 한국어판: 『셀링 사이언스』(궁리))『The Molecular Gaze』(2004/공저) 등이 있다. 미국과학아카데미의 의학한림원 회원으로, 미국과학진흥협회(AAAS) 회원과 이사로 활동하였고, 과학기술 학회인 4S(Society for Social Studies of Science)의 회장을 지냈다. 미국 에너지부와 국립보건원이 지원하는, 인간게놈프로젝트의 '윤리ㆍ법ㆍ사회적 영향(ELSI)' 프로그램에 참여하기도 했다. 2003년에 69세의 나이로 세상을 떠났다.
매완 호
(지은이)
캘리포니아대학에서 박사 후 과정을 마치고 런던대학에서 연구활동을 수행했다. 유전공학에 반대 입장을 가진 저명 과학자 중 한사람으로 꼽힌다. 2005년 현재 영국 개방대학 생물학과 조교수 및 미국국립유전학재단의 특별연구원으로 있다. 지은 책으로는 <Genetic Engineering, Dream or Nightmare?>가 있다.
하트무트 메이어
(지은이)
독일 '생물다양성에 관한 환경 및 개발 연구집단 포럼'의 멤버이다.
조 커밍스
(지은이)
캐나다 웨스트 온타리오 대학의 유전학 명예교수.
Information Provided By: :

Table of Contents


목차
들어가는 말 = 3
지은이 소개 = 11
제1부 과학과 대중, 그 현재적 관계
 1. 과학기술에 얽힌 통념들, 혹은 과학기술의 신화화를 넘어서 = 15
 2. 대중의 과학이해 - 이론적 흐름과 실천적 함의 = 29
제2부 과학기술 논쟁
 1. 과학기술 논쟁 연구의 전개와 함의 = 55
 2. 과학 논쟁 - 미국 대중논쟁의 내부동학 / 도로시 넬킨 = 72
제3부 과학기술과 대중매체
 1. 대중영화 속의 과학기술 이미지 = 103
 2. 미친 과학자로서의 물리학자 / 스펜서 웨어트 = 120
 3. 과학과 언론보도 - 과학 팔아먹기 / 도로시 넬킨 = 147
제4부 과학기술의 빛과 그림자
 1. 기술의 발전은 여성을 해방시켰는가 = 171
 2. 현대의학은 인간의 복지를 진정으로 향상시켰는가 = 182
 3. 과학기술의 발전은 '노동의 인간화'를 수반하는가 = 192
 4. 생명공학 거품 / 매완 호 ; 하트무트 메이어 ; 조 커밍스 = 203
제5부 인간을 위한 과학기술, 대안을 찾아서
 1. 생명공학과 대중 - 역사·이론·대안 = 241
 2. '과학기술 민주화'의 개념정립을 위한 시론 = 257