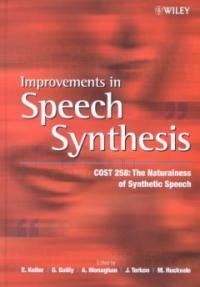 000
01077pamuu22002894a 4500
001
000000768891
005
20020603143717
008
010516s2002 enka b 001 0 eng
010

▼a

01026649
015

▼a

GBA1-61267
020

▼a

0471499854 (alk. paper)
040

▼a

DLC

▼c

DLC

▼d

UKM

▼d

211009
042

▼a

pcc
049

1

▼l

121063296

▼f

과학
050

0

0

▼a

TK7882.S65

▼b

I55 2002
082

0

0

▼a

006.5/4

▼2

21
090

▼a

006.54

▼b

I34
245

0

0

▼a

Improvements in speech synthesis :

▼b

COST 258: the naturalness of synthetic speech /

▼c

edited by E. Keller ... [et al.].
260

▼a

Chichester, West Sussex ;

▼a

New York :

▼b

J. Wiley,

▼c

c2002.
300

▼a

xiv, 393 p. :

▼b

ill. ;

▼c

25 cm.
500

▼a

Includes errata slip.
504

▼a

Includes bibliographical references and index.
650

0

▼a

Speech synthesis.
700

1

▼a

Keller, Eric.
710

2

▼a

European Cooperation in the Field of Scientific and Technical Research (Organization).

▼b

COST 258.
---
Holdings Information
No.
Location
Call Number
Accession No.
Availability
Due Date
Make a Reservation
Service

No.

1

Location

Science & Engineering Library/Sci-Info(Stacks2)/

Call Number

006.54 I34

Accession No.

121063296

Availability

Available

Due Date

Make a Reservation

Service
Contents information
Table of Contents
List of Contributors.
 
 Preface.
 
 PART I: ISSUES IN SIGNAL GENERATION.
 
 Towards Greater Naturalness: Future Directions of Research in Speech Synthesis (Keller, E.).
 
 Towards More Versatile Signal Generation Systems (Bailly, G).
 
 A Parametric Harmonic + Noise Model (Bailly, G.).
 
 The COST 258 Signal Generation Test Array (Bailly, G.).
 
 Concatenative Text-to-Speech Synthesis Based on Sinusoidal Modelling (Banga, E.R. et al).
 
 Shape Invariant Pitch and Time-Scale Modification of Speech Based on a Harmonic Model (O'Brien, D. & Monaghan, A.).
 
 Concatenative Speech Synthesis Using SRELP (Rank, E.).
 
 PART II: ISSUES IN PROSODY.
 
 Prosody in Synthetic Speech: Problems, Solutions and Challenges (Monaghan, A.).
 
 State-of-the-Art Summary of European Synthetic Prosody R&D (Monaghan,A.).
 
 Modelling F0 Contour in Various Romance Languages: Implementation in Some TTS Systems (Martin, P.).
 
 Acoustic Characterisation of the Tonic Syllable in Portuguese (Teixeira, J.P. and Freitas, D.).
 
 Prosodic Parameter of Synthetic Czech: Developing Rules for Duration and Intensity (Dohalska, M. et al).
 
 MFGI, a Linguistically Motivated Quantitative Model of German Prosody (Mixdorff, H.).
 
 Improvements in Modelling the FO Contour for Different Types of Intonation Units in Slovene (Dobnikar, A.).
 
  Representing Speech Rhythm (Keller, B.Z. and Keller, E.).
 
 Phonetic and Timing Considerations in a Swiss High German TTS System (Siebenhaar, B. et al).
 
 Corpus-based Development of Prosodic Models Across Six Languages (Fackrell, J. et al).
 
 Vowel Reduction in German Read Speech (Widera, C.).
 
 PART III: ISSUES IN STYLES OF SPEECH.
 
 Variability and Speaking Styles in Speech Synthesis (Terken, J.).
 
 An Auditory Analysis of the Prosody of Fast and Slow Speech Styles in English, Dutch and German (Monaghan, A.).
 
 Automatic Prosody Modelling of Galician and its Application to Spanish (Gonzalo, E.L. et al).
 
 Reduction and Assimilatory Processes in Conversational French Speech: Implications for Speech Synthesis (Duez, D.).
 
 Acoustic Patterns of Emotions (Pollermann, B.Z. and Archinard, M).
 
 The Role of Pitch and Tempo in Spanish Emotional Speech: Towards Concatenative Synthesis (Montero, J.M. et al).
 
 Voice Quality and the Synthesis of Affect (Chasaide, A.N. and Gobl, C.).
 
  Prosodic Parameters of a 'Fun' Speaking Style(Gustafson, K. and House, D.).
 
 Dynamics of the Glottal Source Signal: Implications for Naturalness in Speech Synthesis (Gobl, C. and Chasaide, A.N.).
 
 A Nonlinear Rhythmic Components in Various Styles of Speech (Keller, B.Z. ad Keller, Ec.).
 
 PART IV: ISSUES IN SEGMENTATION AND MARK-UP.
 
 Issues in Segmentation and Mark-UP (Huckvale, M.).
 
 The Use and Potential of Extensible Mark-UP (XML) in Speech Generation (Huckvale, M.).
 
 Mark-Up for Speech Synthesis: A Review and Some Suggestions (Monaghan, A.).
 
 Automatic Analysis of Prosody for Multi-lingual Speech Corpora (Hirst,D.).
 
 Automatic Speech Segmentation Based on Alignment with a Text-to-Speech System (Horak, P.).
 
 Using the COST 249 Reference Speech Recogniser for Automatic Speech Segmentation (Warakagoda, N.D. and Natvig, J.E.).
 
 PART V: FUTURE CHALLENGES.
 
 Future Challenges (Keller, E.).
 
 Towards Naturalness, or the Challenge of Subjectivenss (Caerlen-Haumont, G.).
 
 Synthesis within Multi-Modal Systems (Breen, A.).
 
 A Multi-Modal Speech Synthesis Tool Applied to Audio-Visual Prosody (Beskow, J et al).
 
 Interface Design for Speech Synthesis Systems (Flach, G.).
 
 Index.
Information Provided By: :