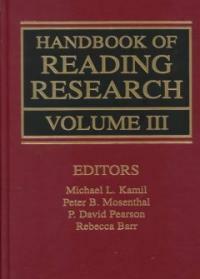 000
03553namuu2200265 a 4500
001
000000766541
005
20120713173224
008
000413s2000 nju 000 0 eng d
020

▼a

0805823980 (cloth)
020

▼a

0805823999 (pbk.)
040

▼a

CTU

▼c

CTU

▼d

211009
049

1

▼l

111214407
082

0

0

▼a

418/.4

▼2

22
084

▼a

418.4

▼2

DDCK
090

▼a

418.4

▼b

H236

▼c

3
245

0

0

▼a

Handbook of reading research.

▼n

Volume III /

▼c

edited by Michael L. Kamil ... [et al.].
260

▼a

Mahwah, N.J. :

▼b

L. Erlbaum Associates,

▼c

c2000.
300

▼a

xiv, 1010 p. ;

▼c

26 cm.
500

▼a

The original 2-vol. ed. was published by New York : Longman, c1984-1991. Vol. 2 was reprinted by L. Erlbaum in 1996.
504

▼a

Includes bibliographical references and indexes.
505

0

▼a

pt. 1. Literacy research around the world. Reading Research in Australia and Aotearoa/New Zealand -- Reading research in the United Kingdom -- Education in transition: trends in Central and Eastern Europe -- Literacy research in Latin America -- Trends in reading research in the United States: changing intellectual currents over three decades -- pt. 2. Methods of literacy research. Making sense of classroom worlds: methodology in teacher research -- Designing programmatic interventions -- Undertaking historical research in literacy -- Narrative approaches -- Critical approaches -- Ethnographic approaches to literacy Research -- Verbal reports and protocol analysis -- A case for single-subject experiments in literacy research -- Discourse and sociocultural studies in reading -- Research synthesis: making sense of the accumulation of knowledge in reading -- pt. 3. Literacy processes. The neurobiology of reading and reading disability (dyslexia) -- Phonological and lexical processes -- Vocabulary processes -- Learning from text: a multidimensional and developmental perspective -- Structural aspects of constructing meaning from text -- Classroom language and literacy learning --Children's literature --Research on response to literature -- Engagement and motivation in reading -- pt. 4. Literacy practices. Emergent literacy: a matter (polyphony) of perspectives -- Beginning reading instruction: research on early interventions -- Phonological awareness -- Vocabulary instruction -- Spelling -- What should comprehensive instruction be the instruction of? -- Literature-based reading instruction -- Integrated literacy instruction -- The role of text in classroom learning -- Reading in the content areas: social constructivist dimensions -- College studying -- Re-mediating reading difficulties: appraising the past, reconciling the present, constructing the future -- Teacher research in the contact zone -- Teaching teachers to teach reading: paradigm shifts, persistent problems, and challenges -- Literacy and Technology: deictic consequences for literacy education in an information age -- The effects of other technologies on literacy and literacy learning -- pt. 5. Literacy policies. Second-language reading as a case study of reading scholarship in the 20th century -- Bilingual children's reading -- A multicultural perspective on policies for improving literacy achievement: equity and excellence -- Family literacy -- Intergenerational literacy within families -- Policy and instruction: what is the relationship? -- Policy-oriented research on literacy standards and assessment.
650

0

▼a

Reading.
650

0

▼a

Reading

▼x

Research

▼x

Methodology.
700

1

▼a

Kamil, Michael L.
---
Holdings Information
No.
Location
Call Number
Accession No.
Availability
Due Date
Make a Reservation
Service

No.

1

Location

Main Library/Stacks 2(Large Size)/

Call Number

418.4 H236 3

Accession No.

111214407

Availability

Available

Due Date

Make a Reservation

Service
Contents information
Table of Contents
Contents: Preface. Part I: Literacy Research Around the World. I.A.G. Wilkinson, P. Freebody, J. Elkins, Reading Research in Australia and Aotearoa/New Zealand. C. Harrison, Reading Research in the United Kingdom. K.S. Meredith, J.L. Steele, Education in Transition: Trends in Central and Eastern Europe. I.S. Santana, Literacy Research in Latin America. J.S. Gaffney, R.C. Anderson, Trends in Reading Research in the United States: Changing Intellectual Currents Over Three Decades. Part II: Methods of Literacy Research. J.F. Baumann, A.M. Duffy-Hester, Making Sense of Classroom Worlds: Methodology in Teacher Research. T.D. Piggot, R. Barr, Designing Programmatic Interventions. E.J. Monaghan, D.K. Hartman, Undertaking Historical Research in Literacy. D.E. Alvermann, Narrative Approaches. M. Siegel, S.L. Fernandez, Critical Approaches. S. Florio-Ruane, M. McVee, Ethnographic Approaches to Literacy Research. P. Afflerbach, Verbal Reports and Protocol Analysis. S.B. Neuman, S. McCormick, A Case for Single-Subject Experiments in Literacy Research. J.P. Gee, Discourse and Sociocultural Studies in Reading. T. Shanahan, Research Synthesis: Making Sense of the Accumulation of Knowledge in Reading. Part III: Literacy Processes. B.A. Shaywitz, K.R. Pugh, A.R. Jenner, R.K. Fulbright, J.M. Fletcher, J.C. Gore, S.E. Shaywitz, The Neurobiology of Reading and Reading Disability (Dyslexia). U. Goswami, Phonological and Lexical Processes. W.E. Nagy, J.A. Scott, Vocabulary Processes. P.A. Alexander, T.L. Jetton, Learning From Text: A Multidimensional and Developmental Perspective. S.R. Goldman, J.A. Rakestraw, Jr., Structural Aspects of Constructing Meaning From Text. L.C. Wilkinson, E.R. Silliman, Classroom Language and Literacy Learning. L. Galda, G.E. Ash, B.E. Cullinan, Children's Literature. J. Marshall, Research on Response to Literature. J.T. Guthrie, A. Wigfield, Engagement and Motivation in Reading. Part IV: Literacy Practices. D.B. Yaden, Jr., D.W. Rowe, L. MacGillivray, Emergent Literacy: A Matter (Polyphony) of Perspectives. E.H. Hiebert, B.M. Taylor, Beginning Reading Instruction: Research on Early Interventions. B.A. Blachman, Phonological Awareness. C.L.Z. Blachowicz, P. Fisher, Vocabulary Instruction. S. Templeton, D. Morris, Spelling. M. Pressley, What Should Comprehension Instruction Be the Instruction of? L.M. Morrow, L.B. Gambrell, Literature-Based Reading Instruction. J.R. Gavelek, T.E. Raphael, S.M. Biondo, D. Wang, Integrated Literacy Instruction. S.E. Wade, E.B. Moje, The Role of Text in Classroom Learning. T.W. Bean, Reading in the Content Areas: Social Constructivist Dimensions. S.L. Nist, M.L. Simpson, College Studying. L. Klenk, M.W. Kibby, Re-Mediating Reading Difficulties: Appraising the Past, Reconciling the Present, Constructing the Future. S.L. Lytle, Teacher Research in the Contact Zone. P.L. Anders, J.V. Hoffman, G.G. Duffy, Teaching Teachers to Teach Reading: Paradigm Shifts, Persistent Problems, and Challenges. D.J. Leu, Jr., Literacy and Technology: Deictic Consequences for Literacy Education in an Information Age. M.L. Kamil, S.M. Intrator, H.S. Kim, The Effects of Other Technologies on Literacy and Literacy Learning. Part V: Literacy Policies. E.B. Bernhardt, Second-Language Reading as a Case Study of Reading Scholarship in the 20th Century. G.E. García, Bilingual Children's Reading. K.H. Au, A Multicultural Perspective on Policies for Improving Literacy Achievement: Equity and Excellence. V. Purcell-Gates, Family Literacy. V.L. Gadsden, Intergenerational Literacy Within Families. A. McGill-Franzen, Policy and Instruction: What Is the Relationship? S.W. Valencia, K.K. Wixson, Policy-Oriented Research on Literacy Standards and Assessment.

Information Provided By: :