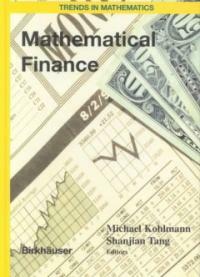 Mathematical finance : Workshop of the Mathematical Finance Research Project, Konstaz, Germany, October 5-7, 2000
000
01077camuu2200289 a 4500
001
000000755337
005
20020218134156
008
010308s2001 sq a b 100 0 eng
010

▼a

?01025663
020

▼a

3764365536 (alk. paper)
020

▼a

0817665536 (alk. paper)
040

▼a

DLC

▼c

DLC

▼d

211009
042

▼a

pcc
049

1

▼l

111198066
050

0

0

▼a

HG63

▼b

.W658 2000
082

0

0

▼a

332/.01/51

▼2

21
090

▼a

332.0151

▼b

W926m
111

2

▼a

Workshop of the Mathematical Finance Research Project

▼d

(2000 :

▼c

Konstanz, Germany)
245

1

0

▼a

Mathematical finance :

▼b

Workshop of the Mathematical Finance Research Project, Konstaz, Germany, October 5-7, 2000 /

▼c

Michael Kohlmann, Shanjian Tang, editors.
260

▼a

Basel ;

▼a

Boston :

▼b

Birkhauser Verlag,

▼c

c2001.
300

▼a

374 p. :

▼b

ill. ;

▼c

24 cm.
440

0

▼a

Trends in mathematics
504

▼a

Includes bibliographical references.
650

0

▼a

Finance

▼x

Mathematical models

▼v

Congresses.
700

1

▼a

Kohlmann, M.

▼q

(Michael)
700

1

▼a

Tang, Shanjian.
---
Holdings Information
No.
Location
Call Number
Accession No.
Availability
Due Date
Make a Reservation
Service

No.

1

Location

Main Library/Western Books/

Call Number

332.0151 W926m

Accession No.

111198066

Availability

Available

Due Date

Make a Reservation

Service
Contents information
Table of Contents
Note: in the titles of co-authored papers the lecturer's name is in bold face).- Preface.- Participants.- On-line portfolio strategy with prediction.- Continuous time financial market, transaction cost and transaction intensity.- Demand Heterogeneity and Price Volatility.- Optimal default boundary in a discrete time setting.- An Infinite Factor Model for the Interest Rate Derivatives.- Arbitrage and Pricing with Collateral.- On the existence of optimal controls for a singular stochastic control problem in finance.- A Quadratic Approach To Interest Rates Models In Incomplete Markets.- Risk Sensitive Asset Management: Two Empirical Examples.- Bounded Variation Singular Stochastic Control and Associated Dynkin Game.- Option Pricing and Hedging Under Regular Levy Processes of Exponential Type.- Installment Options and Static Hedging.- Fractional Brownian Motion and Financial Modelling.- Stochastic Volatility and Epsilon-Martingale Decomposition.- Mutual Debts Compensation as Graph Theory Problem.- First Steps to Stochastic Finance.- Fractional Calculus and Continuous-Time Finance III: the Diffusion Limit.- Passport Options Outside the Black Scholes World.- New Developments in Backward Stochastic Riccati Equations and Their Applications.- Quantile hedging for a jump-diffusion financial market model.- Exponential formula and Girsanov theorem for mixed semilinear stochastic differential equations.- An introduction to optimal consumption with partial observation.- Continuous Time CAPM, Price for Risk and Utility Maximization.- LQ control and mean-variance portfolio selections: The stochastic parameter case.- Liquidity Risk in Energy Markets.- Riccati Equation and Viscosity Solutions in Mean Variance Hedging.- A Minimal Financial Market Model.- A note on equivalent martingale measures with bounded density.- Local optimality in the multi-dimensional multi-period mean-variance portfolio problem.- Transaction Processes among Autonomous Traders.- The Laplace transform approach to valuing exotic options: the case of the Asian option.- Reversible Real Options.- A Toolbox for Generalized Relative Entropies, EMM and Contingent Claim Valuation.- Incremental Value-at-Risk: traps and misinterpretations.- On option expected returns.
Information Provided By: :