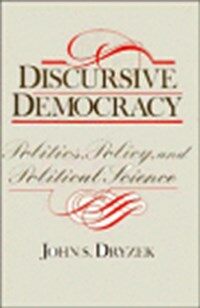 000
00888camuu2200289 a 4500
001
000000746105
005
20011226134415
008
900208s1990 enk b 001 0 eng
010

▼a

90001502
020

▼a

0521392349
020

▼a

0521478278
035

▼a

KRIC00677685
040

▼a

211046

▼c

211046

▼d

211009
049

1

▼l

111204058
050

0

0

▼a

JC423
082

▼a

321.8

▼2

21
090

▼a

321.8

▼b

D811d
100

1

▼a

Dryzek, John S.,

▼d

1953-
245

1

0

▼a

Discursive democracy :

▼b

politics, policy, and political science /

▼c

John S. Dryzek.
260

▼a

Cambridge :

▼b

Cambridge University Press,

▼c

c1990.
300

▼a

x, 254 p. ;

▼c

24 cm.
504

▼a

Includes bibliographical references (p. 230-247) and index.
650

0

▼a

Democracy
650

0

▼a

Rationalism
650

0

▼a

Consensus (Social sciences)
650

0

▼a

Policy sciences
---
Holdings Information
No.
Location
Call Number
Accession No.
Availability
Due Date
Make a Reservation
Service

No.

1

Location

Main Library/Western Books/

Call Number

321.8 D811d

Accession No.

111204058

Availability

Available

Due Date

Make a Reservation

Service
Contents information
Author Introduction
존 S. 드라이젝
(지은이)
영국에서 태어나 영국과 미국에서 공부했고, 메릴랜드 대학 정치학과에서 박사학위를 받았다. 오하이오 주립대학, 오리건 대학, 멜버른 대학에서 가르쳤고, 오리건 대학과 멜버른 대학 정치학부 학장이었다. 오스트레일리아 정치학 저널의 선임 편집자이자 사회과학아카데미 특별회원이며, 2005년 현재 오스트레일리아 국립대학 정치사회학 학장으로 있다. 저서로는 <자본주의 시대의 민주주의(Democracy in Capitalist Times)>(1996), <담론 민주주의:정치, 정책, 그리고 정치학(Discursive Democracy: Politics, Policy, and Political Science>(1990), <합리적 생태학:환경과 정치경제(Rational Ecology: Environment and Political Economy)>(1987) 등이 있다.
Information Provided By: :

Table of Contents
Preface; Part I. Introduction: 1. Democratizing rationality; Part II. Political Institutions: 2. Discursive designs; 3. Complexity; 4. Discursive dynamics; 5. International discursive designs (with Susan Hunter); Part III. Public Policy: 6. Policy sciences of democracy; 7. The ambitions of policy (with Brian Ripley); Part IV. Political Science: 8. The mismeasure of political man; 9. The measure of political man - and woman; 10. Progress and rationality; Part V. Conclusion: 11. On extending democracy; Notes; Bibliography; Index.
Information Provided By: :