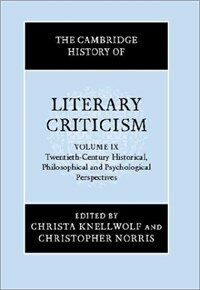 000
00910camuu2200241 a 4500
001
000000740471
005
20011213172400
008
010716s2001 enk 011 0 eng
020

▼a

0521300142
040

▼a

UKM

▼c

UKM

▼d

OCLCQ

▼d

211009
049

1

▼l

111198028
082

0

4

▼a

801.9509

▼2

21
090

▼a

801.9509

▼b

C178

▼c

9
245

0

4

▼a

Twentieth-century historical, philosophical and pychological perspectives /

▼c

edited by Christa Knellwolf and Christopher Norris ; assistant editor Jessica Osborn.
260

▼a

Cambridge :

▼b

Cambridge University Press,

▼c

2001.
300

▼a

xiii, 482 p. ;

▼c

24 cm.
440

4

▼a

The Cambridge history of literary criticism ;

▼v

v.9
504

▼a

Includes bibliographical references and index.
650

0

▼a

Criticism

▼x

History.
700

1

▼a

Knellwolf, Christa.
700

1

▼a

Norris, Christopher ,

▼d

1947-
700

1

▼a

Osborn, Jessica.
---
Holdings Information
No.
Location
Call Number
Accession No.
Availability
Due Date
Make a Reservation
Service

No.

1

Location

Main Library/Western Books/

Call Number

801.9509 C178 9

Accession No.

111198028

Availability

Available

Due Date

Make a Reservation

Service
Contents information
Table of Contents
Notes on contributors; Introduction Christa Knellwolf and Christopher Norris; Part I. History: 1. Historicism and historical criticism Paul Hamilton; 2. Literary criticism and the history of ideas Timothy Bahti; 3. Cultural materialism John Drakakis; 4. New historicism Duncan Salkeld; 5. Fascist politics and literary criticism Ortwin de Graef, Dirk de Geest and Eveline Vanfrausen; Part II. Marxism and Post Marxism: 6. Marxism and literary criticism Alex Callinicos; 7. Marxism and poststructuralism Michael Ryan; 8. Adorno and the early Frankfurt School Andrew Edgar; 9. The German-French debate: critical theory, hermeneutics and deconstruction Andrew Bowie; 10. Post-war Italian intellectual culture: from Marxism to cultural studies Renate Holub; Part III. From Folk Narratives to Cultural Studies: 11. Mikhail Bakhtin: language, narrative and literature Ken Hirschkop; 12. Cultural studies Chris Weedon; 13. Literature and the institutional context Gary Day; Part IV. Psychoanalytic Approaches: 14. Literary criticism and psychoanalytic positions Rainer Emig; Part V. Gender and Sexuality: 15. The history of feminist criticism Christa Knellwolf; 16. Deconstruction and feminism Diane Elam; 17. Gay, lesbian, bisexual, queer and transgender criticism Joseph Bristow; Part VI. Colonialism, Post-Coloniality, Nation and Race: 18. Post-colonial theory Firdous Azim; 19. African American literary history Simon Lee Price; 20. Anthropological criticism Brian Coates; Part VII. Modernity and Postmodernism: 21. Modernism, modernity, modernisation Robert Holub; 22. Postmodernism Patricia Waugh; Part VIII. Philosophy, Aesthetics and Literary Criticism: 23. Words and things in phenomenology and existentialism Clive Cazeaux; 24. Criticism, aesthetics and analytic philosophy Peter Lamarque; 25. Italian idealism Stephen Moller; 26. Spanish and Spanish American poetics and criticism Manuel Barbeito Varela; 27. American neopragmatism and its background Dan Latimer; 28. Ethics and literary studies Geoffrey Harpham; Part IX. Interdisciplinary Approaches: 29. Literature and theology Kevin Mills; 30. Literary theory, science and philosophy of science Christopher Norris; Bibliography; Index.
Information Provided By: :