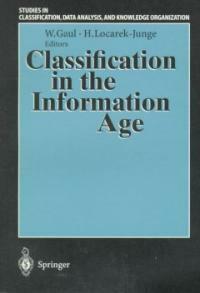 Classification in the information age : proceedings of the 22nd annual GfKI Conference, Dresden, March 4-6, 1998
000
01226camuu2200301 a 4500
001
000000722417
005
20011018151812
008
990427s1999 gw a b 101 0 eng
010

▼a

99023637
020

▼a

3540658556 (pbk. : alk. paper)
040

▼a

DLC

▼c

DLC

▼d

OHX

▼d

C#P

▼d

211009
049

▼l

111199302
050

0

0

▼a

QA276.A1

▼b

G47 1998
072

7

▼a

HB

▼2

lcco
082

0

0

▼a

001.4/22

▼2

21
090

▼a

001.422

▼b

G389c
110

2

▼a

Gesellschaft fur Klassifikation.

▼t

Jahrestagung

▼d

(1998 :

▼c

University of Dresden)
245

1

0

▼a

Classification in the information age :

▼b

proceedings of the 22nd annual GfKI Conference, Dresden, March 4-6, 1998 /

▼c

Wolfgang Gaul, Hermann Locarek-Junge, editors.
260

▼a

Berlin ;

▼a

New York :

▼b

Springer,

▼c

c1999.
300

▼a

xi, 608 p. :

▼b

ill. ;

▼c

25 cm.
440

0

▼a

Studies in classification, data analysis, and knowledge organization
504

▼a

Includes bibliographical references and index.
650

0

▼a

Statistics

▼v

Congresses.
650

0

▼a

Classification

▼v

Congresses.
650

0

▼a

Information storage and retrieval systems

▼v

Congresses.
700

1

▼a

Gaul, W.

▼q

(Wolfgang) ,

▼d

1945-
700

1

▼a

Locarek, Hermann.
---
Holdings Information
No.
Location
Call Number
Accession No.
Availability
Due Date
Make a Reservation
Service

No.

1

Location

Main Library/Western Books/

Call Number

001.422 G389c

Accession No.

111199302

Availability

Available

Due Date

Make a Reservation

Service
Contents information
Table of Contents
From the contents:
Plenary and Semi Plenary Presentations: Classification and Information: M. Grotschel, J. Lugger: Scientific Information Systems and Metadata.- J. Kittler: Multiple Expert Fusion.- T. Ottmann, M. Will: How to Make a Multimedia Textbook and How to Use It.- H.-H. Bock: Clustering and Neural Network Approaches.- O. Gascuel: Data Model and Classification by Trees.- A. Pombortsis, S. Demetriadis, A. Karoulis: A Framework for the Design, Development and Evaluation of Multimedia Based Learning Environments: "ISTOS: An Application in the Computer Networking Domain".- E. Trauwaert: Natural and Constrained Classification of Data by Fuzzy Clustering Techniques.- Finance and Risk: H. Brachinger: From Variance to Value at Risk: A Unified Perspective on Standardized Risk Measures.- G. Bamberg, D. Dorfleitner, R. Lasch: Does the Planning Horizon Affect the Portfolio Structure?.- K. Jajuga: Statistical Approach in Financial Risk Analysis and Management - Review of Concepts.- Classification and Related Aspects of Data Analysis and Learning: Classification, Data Analysis, and Statistics: T. Augustin: On Data-Based Checking of Hypothesis in the Presence of Uncertain Knowledge.- T. Bregenzer: Multivariate Directional Tests with Incomplete Data.- W. Gaul, F. Sauberlich: Classification and Positioning of Data Mining Tools.- O. Gefeller: Hazard Rate Estimation from Censored Data.- J. Grim: A Sequential Modification of EM Algorithm.- U. Halekoh, K. Schweizer: Analysis of the Stability of Clusters of Variables via Bootstrap.- C. Hennig: Models and Methods for Clusterwise Linear Regression.- Yu. Kharin: Statistical Clustering Under Distortions: Optimality and Robustness.- J. Krauth: Discrete Scan Statistics for Detecting Change-points in Binominal Sequences.- J. Mattes, J. Demongeot: Dynamic Confinement, Classification, and Imaging.- K. Parna, J. Lember, A. Viiart: Approximation of Distributions by Sets.- C. Pesch: Computation of the Minimum Covariance Determinant Estimator.- M. Riani, A. Cerioli: Graphical Tools for the Detection of Multiple Outliers in Spatial Statistics Models.- W.-D. Richter: Classification for Repeated Measurements in Gaussian and Related Populations.- M. Rohl, C. Weihs: Optimal vs. Classical Linear Dimension Reduction.- M. Wagner, S. Michalek, J. Timmer: Testing for the Number of States in Hidden Markov Models with Application to Ion Channel Data.- D. Wishart: ClustanGraphics3: Interactive Graphics for Cluster Analysis.- Conceptual Analysis and Learning: P. Bittner, C. Eckes, K. Wolff: Conceptional Meaning of Clusters.
Information Provided By: :