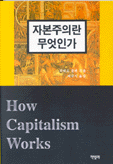 000
00807namccc200277 k 4500
001
000000671132
005
20100806040012
007
ta
008
000828s2000 ulk 000a kor
020

▼a

8989056012

▼g

03320 :

▼c

\6000
040

▼a

211009

▼c

211009
041

1

▼a

kor

▼h

fre
049

1

▼l

111160766

▼f

개가

▼l

111160767

▼f

개가

▼l

111160768

▼f

개가
082

0

4

▼a

335.412

▼2

21
090

▼a

335.412

▼b

2000
100

1

▼a

Jalee, Pierre

▼0

AUTH(211009)98539
245

1

0

▼a

자본주의란 무엇인가 /

▼d

피에르 잘레 지음 ;

▼e

배규식 옮김.
246

0

▼i

번역표제:

▼a

How capitalism works
246

1

9

▼a

(L')exploitation capitaliste
246

3

9

▼a

Exploitation capitaliste
260

▼a

서울 :

▼b

책벌레 ,

▼c

2000.
300

▼a

148 p. ;

▼c

23 cm.
490

0

0

▼a

책벌레 좋은 책 ;

▼v

2
700

1

▼a

배규식,

▼e

옮김
950

0

▼b

\6000
---
Holdings Information
No.
Location
Call Number
Accession No.
Availability
Due Date
Make a Reservation
Service

No.

1

Location

Main Library/Monographs(3F)/

Call Number

335.412 2000

Accession No.

111160766

Availability

Available

Due Date

Make a Reservation

Service

No.

2

Location

Main Library/Monographs(3F)/

Call Number

335.412 2000

Accession No.

111160768

Availability

Available

Due Date

Make a Reservation

Service
Contents information
Book Introduction
자본주의 경제와 사회 체제를 단순 명쾌하게 분석한 자본주의 입문서. 저자는 이 분야에 대해 예비지식이 전혀 없는 사람이라도 자본주의 체제의 작동원리를 한눈에 알 수 있고 간결하면서도 포괄적인 관점들을 살펴볼 수 있도록 하자는 목적에서 이 책을 쓰게 되었다고 한다.

자본주의란 과연 무엇인가? 인간 생활의 물질적 토대인 생산과 교환, 소비 등 경제활동은 자본주의 체제에서 어떻게 이루어지고 있는가? 자본주의 경제의 움직임과 우리의 일상 생활은 서로 어떤 관계가 있는가, 가치와 잉여가치, 이윤이란 무엇인가, 화폐가치는 왜 오르고 내리는가, 부르주아 민주주의 의 현실은 어떠한가 등의 테마로 알기 쉽게 씌여졌다.
Information Provided By: :

Author Introduction
피에르 잘레
(지은이)
프랑스의 경제학자. 미국의 진보잡지인 '먼슬리 리뷰 Monthly Review'의 필자로 활동했다. 30여년 동안 모로코에서 프랑스 관리로 재직했고, 모로코가 독립한 뒤에는 신생 정부의 요청을 받아 경제부 장관의 고문으로 일했으며 제3세계 문제에 많은 관심을 보였다. 지은책에 <제3세계의 약탈 Pillage of the Third World><세계경제 속의 제3세계 The Third World in World Economy><1970년대의 제국주의 Imperialism in the Seventies> 등이 있다.
Information Provided By: :

Table of Contents


목차
저자의 말 = 8
제1장 생산: 무엇을 가지고 어떻게 만드는가 = 13
제2장 생계에서 상품으로: 가치란 무엇인가 = 20
제3장 노동력: 잉여가치를 창조하는 유일무이한 상품 = 29
제4장 이윤 = 40
제5장 여러 형태의 이윤: 산업 이윤, 상업 이윤, 이자, 금리 = 51
제6장 잉여가치의 재분배 = 60
제7장 화폐 가치의 오르내림 = 70
제8장 자본의 무제한적 축적과 경제 위기 = 79
제9장 독점 권력: 제국주의의 새 얼굴 = 89
제10장 국가의 신비를 벗기기: 부르주아 민주주의의 현실 = 99
제11장 사회 계급과 자본주의에 반대하는 투쟁 = 112
제12장 일반적 소외: 갈수록 불합리해지는 체제 = 127
제13장 맺음말 = 138
후주 = 147