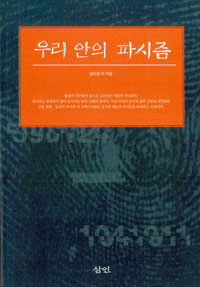 000
00592namccc200205 k 4500
001
000000669054
005
20100806032721
007
ta
008
000726s2000 ulka 000a kor
020

▼a

8987519368

▼g

03300 :

▼c

\8500
040

▼a

211009

▼c

211009

▼d

211009
049

1

▼l

111161884

▼f

개가

▼l

111161885

▼f

개가

▼l

111161886

▼f

개가

▼l

131011297

▼f

의학
082

0

4

▼a

320.533

▼2

21
090

▼a

320.533

▼b

2000
245

0

0

▼a

우리 안의 파시즘 /

▼d

임지현 외지음.
260

▼a

서울 :

▼b

삼인 ,

▼c

2000.
300

▼a

255 p. :

▼b

삽도 ;

▼c

23 cm.
700

1

▼a

임지현

▼0

AUTH(211009)57985
950

0

▼b

\8500
---
Contents information
Book Introduction
이 책은 우리의 의식 심층에 여전히 내면화된 규율권력, 즉 일상적 파시즘이 우리 사회의 민주적 실현을 억제하면서 실제로 정치적 파시즘이나 제도적 파시즘의 극복 노력을 무위로 이끌고 있다는 인식과 반성에서 출발한다.

일상적 파시즘이라는 집단심성은 "제국주의가 강제한 식민지 규율체제, 뒤이은 분단과 냉전, 한국전쟁이 결화한 반공 규율체제, 유신독재와 1980년대 신군부 집권에 따른 긴 어둠의 터널에 대한 경험"에서 비롯된 것으로 "시민사회를 규율화시키는 이념적 도구인 반공주의, 전체주의적 심성과 위계질서를 구조화하는 언어생활, 청소년 시절부터 규율과 복종을 내면화시키는 학교교육, 군사화된 생산현장과 회사 조직, 카드 섹션처럼 일사분란한 학생운동, 사적 이해를 공적으로 포장한 정치문화, 여성을 내적 식민지로 만든 가부장주의, 여성과 외국인 노동자-약자와 소수자를 타자화시키는 가부장적 혈통주의"등은 물론 지난 총선에서도 재차 확인된 지역주의의 강고함 같은 징후에서 여실히 확인되고 있다.

저자들은 "지금까지 한국의 비판 세력이 겨냥해왔던 정치적 파시즘 혹은 제도적 파시즘의 극복"이 그 자체 명확한 한계를 가지고 있으며, 일상적 파시즘을 극복하려는 노력을 동시에 기울이지 않고서는 결코 실현되기 어렵다는 점을 지적하면서, 그 구조화되고 내면화된 규율권력에 대한 싸움을 일상적 차원으로까지 끌어내려야 한다는 당위를 제기하는 데 일차적인 목표를 두고 있다.

이 책은 [당대비평]8호(1999년 가을)와 9호(1999년 겨울)에 연속해서 다룬 '우리 안의 파시즘'특집 주제의 글들을 위주로 하고, [당대비평]10호(2000년 봄)에 실렸던 박노자씨의 글, 월간 [건축인 포아]의 대표로 있는 전진삼 씨의 새 글을 묶어서 펴낸 것이다. 여기에 [당대비평] 편집위원으로 있는 임지현 교수가 이책의 발간에 맞춰 새로 쓴 긴 분량의 머리글이 붙어있다.
Information Provided By: :

Author Introduction
임지현
(지은이)
서강대학교 사학과 교수 겸 트랜스내셔널인문학연구소 소장. 유럽 지성사·폴란드 근현대사·지구사 연구자. 전 세계의 트랜스내셔널 히스토리 연구자들과 함께 초국가적 역사의 관점에서 일국사 패러다임을 비판하는 작업을 주도해왔다. 현재는 역사에서 기억으로 관심을 이동하여 인문한국 프로젝트인 '지구적 기억의 연대와 소통: 식민주의, 전쟁, 제노사이드'를 주도하며 기억의 연대를 통한 동아시아의 역사 화해를 모색하고 있다. 100편이 넘는 논문을 국내와 미국, 일본, 영국, 독일, 폴란드, 프랑스 등지의 저명 저널과 출판사에서 출간했다. 최근작으로는 《기억 전쟁》(휴머니스트, 2019)과 Mnemonic Solidarity: Global Interventions(편저, Palgrave Macmillan, 2021)가 있으며, 2022년 미국의 컬럼비아 대학 출판부에서 Global Easts: Remembering-Imagining-Mobilizing을 출간할 예정이다. 독일의 Moving the Social, 미국의 Global-e를 비롯해 여러 국제 저널의 편집위원으로 있으며, 팔그레이브 출판사의 기억 총서 'Entangled Memories in the Global South'의 책임편집을 맡고 있다. 2015년 '글로벌 히스토리 국제네트워크(NOGWHISTO)'의 회장으로 선출되었으며, '세계역사학대회(CISH)', '토인비재단(Toynbee Prize Foundation)', '기억연구학회(Memory Studies Association)' 등 국제학회의 이사 및 자문위원으로 있다. 최근에는 기억활동가를 자처하며 홀로코스트 집시 희생자 사진전 〈이웃하지 않은 이웃〉(2019)을 기획·전시하고 '메모리 액티비즘'에 대한 기획 강연 등 기억 연구와 풀뿌리 역사의 실천적 접목을 시도하고 있다.
권혁범
(지은이)
대전대학교 정치미디어학과 교수. 계간 《비평》, 《당대비평》 및 《시민과 세계》 등의 편집위원을 지냈다. 고려대 정외과를 졸업하고 미 매사추세츠 대학교(엠허스트)에서 정치학 박사 학위를 받았다. 미국 '식량 및 발전정책연구소' 연구원, 일리노이 대학 방문학자를 지냈다. 주요 관심 분야는 민족주의, 환경, 페미니즘이다. 지은 책으로는 《민족주의와 발전의 환상》(2000), 《국민으로부터의 탈퇴》(2004), 《여성주의, 남자를 살리다》(2006), 《갈치조림 정치학》(2008), 《우리 안의 파시즘》(2000, 공저) 등이 있다. e-mail_ kwonhb@dju.kr
김진호
(지은이)
한신대 신학대학원에서 성서학 전공. 한백교회 담임목사. 계간《당대비평》주간 역임. 주요 저서로 『성서와 동성애』, 『대형교회와 웰빙보수주의』, 『리부팅 바울』, 『시민 K, 교회를 나가다』, 『예수의 독설』, 『반신학의 미소』,『급진적 자유주의자들: 요한복음과의 낯선 여행』 등이 있다.
Information Provided By: :

Table of Contents


목차
머리말 : 파시즘은 살아있다 = 5
1. 일상적 파시즘의 코드 읽기 / 임지현 = 23
2. 반공규율 사회의 집단의식
 내 몸 속의 반공주의 회로와 권력, '분단규율'을 넘어서기 위하여 / 권혁범 = 49
 전체주의적 법 질서의 토대, 주민 등록제 / 김기중 = 64
 인간성을 파괴하는 한국의 '군사주의'  / 박노자 = 85
3. 가부장적 혈통주의의 배제 논리
 한국 근대화 프로젝트의 문화 논리와 가부장성  / 김은실 = 105
 진보, 권위 그리고 성 차별 / 권인숙 = 131
 한국의 '제3국인', 외국인 노동자 / 유명기 = 149
4. 파시즘의 일상 문화
 너 뉘집 아들이야?, 언어 안의 파시즘 / 김근 = 177
 한국 교회의 승리주의 / 김진호 = 194
 한국 건축, 파시즘의 증식로, 그림자 없는 건축의 아침에 쓰는 편지 / 전진삼 = 209
5. 잃어버린 기억을 찾아서, 광기의 시대를 생각함 / 문부식 = 231