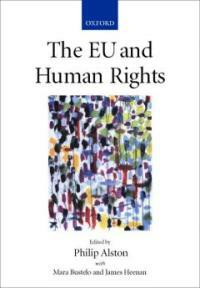 000
03891camuu2200301 a 4500
001
000000666566
005
20120621144435
008
990331s1999 enk b 000 0 eng
010

▼a

99028822
020

▼a

0198298064
020

▼a

0198298099 (pbk.)
040

▼a

DLC

▼c

DLC

▼d

UKM

▼d

GUL

▼d

J2H

▼d

211009
043

▼a

e------
049

▼l

111157614
050

0

0

▼a

KJE5132

▼b

.E9 1999
082

0

0

▼a

341.4/8094

▼2

22
084

▼a

341.48094

▼2

DDCK
090

▼a

341.48094

▼b

E86
245

0

4

▼a

The EU and human rights /

▼c

edited by Philip Alston, with the assistance of Mara Bustelo and James Heenan.
260

▼a

Oxford, England ;

▼a

New York :

▼b

Oxford University Press,

▼c

1999.
300

▼a

xxiii, 946 p. ;

▼c

26 cm.
504

▼a

Includes bibliographical references.
505

0

▼a

An 'ever closer union' in need of a human rights policy: the European Union and human rights / Philip Alston and J. H. H. Weiler -- Is there a European approach to human rights? / Charles Leben -- The effect of rights on political culture / Martii Koskenniemi -- The legacies of injustice and fear: a European approach to human rights and their effects on political culture / Klaus Gunther -- a human rights policy for the European Community and Union: the question of competences / J. H. H. Weiler and S. C. Fries -- Human rights and the third pillar / Steve Peers -- Access to justice as a human right: the European Convention and European Union / Carol Harlow -- Gender equality in the EU: a balance sheet / Catherine Barnard -- The human rights of people with disabilities under EU law / Gerard Quinn -- The internal and external 'other' in the Union legal order: racism, religious intolerance and xenophobia in Europe / Conor A. Gearty -- Non-Communitarians: refugee and asylum policies / Gregor Noll and Jens Vedsted-Hansen -- The quest for a consistent set of rules governing the status of non-Community nationals / Blanca Vila Costa -- Striking the elusive balance between economic freedom and social rights in the EU / Miguel Poiares Maduro -- From Strasbourg to Amsterdam: prospects for the convergence of European social rights policy / Silvana Sciarra -- Human rights and European identity: the debate about European citizenship / Ulf Bernitz and Hedvig Lokrantz Bernitz -- The future of environmental rights in the European Union / Pavlos Z. Eleftheriadis -- Holding multinational corporations accountable for human rights abuses: a challenge for the EC / Menno T. Kamminga -- Human rights considerations in the development co-operation activities of the EC / Bruno Simma, Jo Beatrix Aschenbrenner, and Constance Schultze -- Where is the EU's human rights common foreign policy, and how is it manifested in multilateral fora? / Andrew Clapham -- Human rights 'conditionality' in relation to entry to, and full participation in, the EU / Manfred Nowak -- Trade preferences and human rights / Barbara Bandtner and Allan Rosas -- Human rights clauses in external agreements of the EC / Eibe Riedel and Martin Will -- Human rights case law in the Strasbourg and Luxembourg courts: conflicts, inconsistencies, and complementarities / Dean Spielmann -- New instruments and institutions for enhancing the protection of human rights in Europe? / Giorgio Gaja -- The role of the European Parliament: past and future / Reinhard Rack and Stefan Lausegger -- Reflections on the human rights role of the European Parliament / Kieran St C. Bradley -- The past and future role of the European Court of Justice in the protection of human rights / Bruno de Witte -- Human rights and civil society / Emmanuel Decaux -- Annex: Leading by example: a human rights agenda for the European Union for the year 2000.
650

0

▼a

Human rights

▼z

European Union countries.
700

1

▼a

Alston, Philip.
700

1

▼a

Bustelo, Mara R.
700

1

▼a

Heenan, James.
---
Holdings Information
No.
Location
Call Number
Accession No.
Availability
Due Date
Make a Reservation
Service

No.

1

Location

Main Library/Law Library(Preservation Stacks/B2)/

Call Number

341.48094 E86

Accession No.

111157614

Availability

Available

Due Date

Make a Reservation

Service
Contents information
Table of Contents
CONTENTS
List of abbreviations = xiii
Notes on the Contributors = xv
A. Introduction
  1. An 'Ever Closer Union' in Need of a Human Rights Policy : The European union and Human Rights / Philip Alston ; J. H. H. Weiler = 3
B. Some Philosophical Dimensions of Human Rights Policies within Europe
  2. Is there a European Approach to Human Rights? / Charles Leben = 69
  3. The Effect of Rights on Political Culture / Martti Koskenniemi = 99
  4. The Legacies of Injustice and Fear : AEuropean Approach to Human Rights and their Effects on Political Culture / Klaus G u ·· nther = 117
C. The Human Rights Context within which the European Union Functions
  5. A Human Rights Policy for the European Community and Union : The Question of Competences / J. H. H. Weiler ; S. C. Fries = 147
  6. Human Rights and the Third Pillar / Steve Peers = 167
  7. Access to Justice as a Human Right : The European Convention and the European Union / Carol Harlow = 187
  8. Gender Equality in the EU : A Balance Sheet / Catherine Barnard = 215
  9. The Human Rights of People with Disabilities under EU Law / Gerard Quinn = 281
  10. The Internal and External 'Other' in the Union Legal Order : Racism. Religious Intolerance and Xenophobia in Europe / Conor A. Gearty = 327
  11. Non-Communitarians : Refugee and Asylum Policies / Gregro Noll ; Jens Vedsted-Hansen = 359
  12. The Quest for a Consistent Set of Rules Governing the Status of non-Community Nationals / Blanca Vil a ´ Costa = 411
D. Social Rights : European Union Perspectives
  13. Striking the Elusive Balance Between Economic Freedom and Social Rights in the EU / Miguel Poiares Maduro = 449
  14. From Strasbourg to Amsterdam : Prospects for the Convergence of European Social Rights Policy / Silvana Sciarra = 473
E. Additional Challenges for the Future
  15. Human Rights and European Identity : The Debate about European Citizenship / Ulf Bernitz ; Hedvig lokrantz Bernitz = 505
  16. The Future of Environmental Rights in the European union / Pavlos Z. Eleftheriadis = 529
F. Human Rights in External Relations
  17. Holding Multinational Corporations Accountable for Human Rights Abuses : A Challenge for the EC / Menno T. Kamminga = 553
  18. Human Rights Considerations in the Development Co-operation Activities of the EC / Bruno Simma ; Jo Beatrix Aschenbrenner ; Constanze Schulte = 571
  19. Where is the EU's Human Rights Common Foreign Policy, and How is it Manifested in Multilateral Fora? / Andrew Clapham = 627
G. Human Rights 'Conditionality', Both Internal and External
  20. Human Right 'Conditionality' in Relation to Entry to, and Full Participation in, the EU / Manfred Nowak = 687
  21. Trade Preferences and Human Rights / Barbara Bandtner ; Allan Rosas = 699
  22. Human Rights Clauses in External Agreements of the EC / Eibe Riedel ; Martin Will = 723
H. The Role of Key Institutions and Actors
  23. Human Rights Case Law in the Strasbourg and Luxembourg Courts : Conflicts, Inconsistencies, and Complementarities / Dean Spielmann = 757
  24. New Instruments and Institutions for Enhancing the Protection of Human Rights in Europe? / Giorgio Gaja = 781
  25. The Role of the European Parliament : Past and Future / Reinhard Rack ; Stefan Lausegger = 801
  26. Reflections on the Human Rights Role of the European Parliament / Kieran St C. Bradley = 839
  27. The past and Future Role of the European Court of Justice in the Protection of Human Rights / Bruno de Witte = 859
  28. Human Rights and Civil Society / Emmanuel Decaux = 899
Annex : Leading by Example : A Human Rights Agenda For the European Union for the Year 2000 = 919
Select Bibliography = 929
Index = 941